Rectangle Glasses Frames For Women's | Vlookoptical™
With virtually everyone turning to eyeglasses for various reasons, the need for style keeps increasing. You wouldn't want to remain with the same old design of glasses when the rest of the world is upgrading its look to match the trends. Therefore, getting yourself a design of glasses frames that match your face and occasion is the right thing to do.
Mostly, women in business find it difficult to occasionally swap their frames because finding the right look is often compromised. That is why they stick to that one pair of glasses frame to maintain a more relevant look. The good news is, there are various types of frames that women can easily switch their style and remain beautiful.
Here in this article, we put more focus on rectangle glasses frames for women in general. We have gathered the best selections for these rectangle women glasses and how to go about them.
What are Rectangle Glasses Frames?
Rectangle eyeglasses are frames with broader rims than they are tall. The rectangular frame design for spectacles has been with us for the longest time. It's just that recently, eyewear manufacturers added a few decorative features that accentuate different styles. As it is, this design offers unmatched versatility and durability in the market.
If you are looking to augment your overall business, architectural, sporty, and contemporary look, go for rectangle frames. This design instantly and effortlessly adds an edge to your appearance. Rectangle glasses feature a smooth alignment of acute angles and structured outlines that add a splash of confidence to your general appearance. Examples include Callis, Briella, Reane, Alvin, and Sophia, among others on VlookGlasses.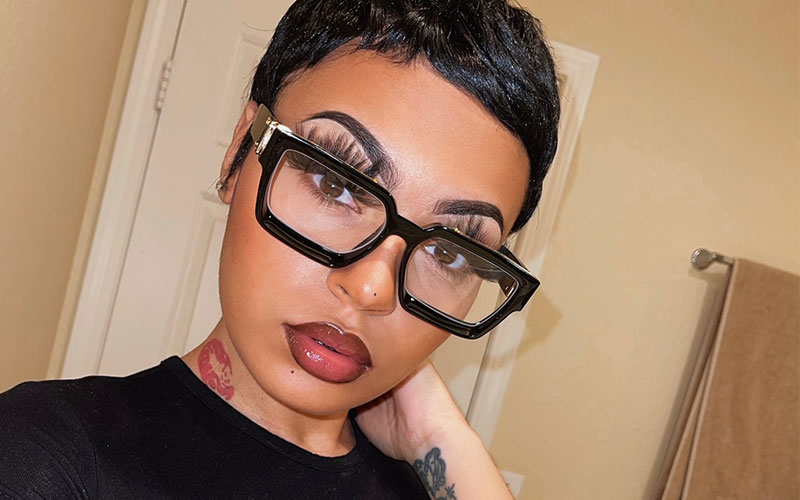 Types of Rectangle Glasses Frames
On the market, rectangle glasses frames come in various forms.
Metal body rectangular glasses. This type of frame is extremely durable, chic, and comfortable.
Plastic frames rectangular glasses portray a sleek appearance that you can't get anywhere else.
If you are looking for sophisticated, subtle, and lightweight eyepieces, you can never go wrong with rimless rectangular glasses.
For a comfortable, statement-making appearance, going for semi-rimless rectangular frames is your best option.
The full-rim rectangle glasses are bold yet subtle, and add more sharpness to your facial features for an outstanding appearance.
What Face Shape Do Rectangular Glasses Suit?
As stylish as rectangular glasses are, they are built for a certain face shape. Therefore, you should pay attention to the shape of your face to determine whether rectangle glasses are your thing or not. While rectangle frames are for everyone, they look even better on individuals with round or oval face shapes.
The edges on rectangular frames play a huge role in adding sharpness to your face while accentuating the features on your face. These frames are uniquely designed to make rounder faces look longer and thinner. Unlike other shapes, rectangular frames aid to achieve an angular appeal. Oval face shapes will also benefit from having rectangular eyeglasses. Not to worry if you don't fit in the round or oval face shape category because rectangular frames are the most versatile. It is just a matter of choosing the right size and color for your face.
Rectangle Vs Square Glasses Frames
The sides of square frames are equal, whereas the ones for rectangular feature varying width and length. Oftentimes, square and rectangular glasses frames are used interchangeably because of their close similarities. However, square glasses frames look best on a triangular face shape. Rectangular, on the other hand, is perfect for round and ovate face shapes. In addition, square glasses are ideal in oversized designs, whereas rectangular are not. Both rectangular and square frames add balance and angulate the softer features on rounder faces.
Thick Black Frames Glasses Rectangle
If you are looking to make a statement with your eyewear, go for thick black rectangle frames. Thick and black are qualities that deliver a bold and stylish appearance. This design aids in portraying a confident and chic look like the one you get with Victory and Event women glasses. So, if you want to leave heads turning, don't be afraid to try this thick, black rectangular frame design.
Rectangle Thin Glasses Frames
The best part about having rectangular frames for your glasses is that they offer versatility that can't be found in other designs. So, if you want to present a blend of polished professionalism and contemporary geek chic style, then go for thin rectangle women glasses frames. They are lightweight as they are comfortable and stylish. Mostly, in this category, the frame material used is metal. Metal frames are thin and lightweight to provide a classic, fashion-forward appearance like with Dawn.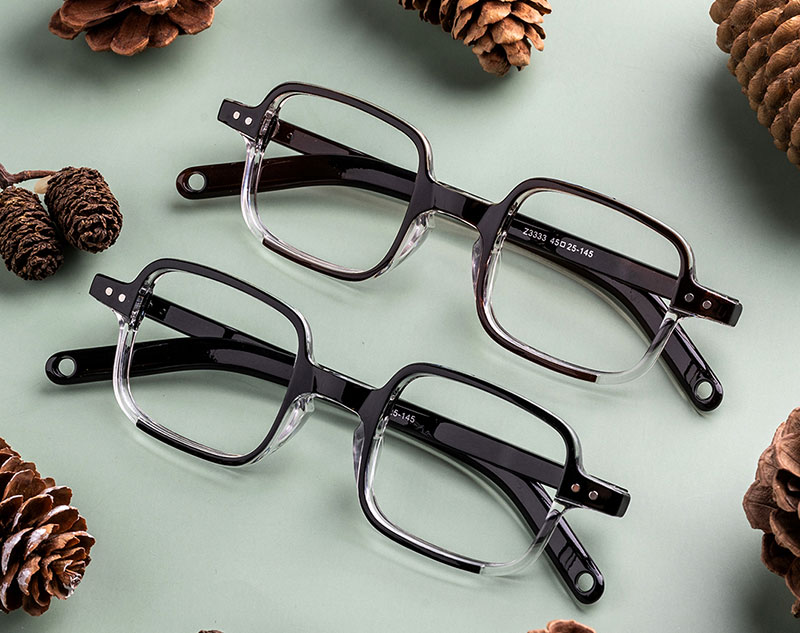 Rectangle Glasses Frames With Slight Cateye
If you've been wondering whether rectangle glasses will match your face shape, we have just the right solution. A rectangular frame with a hint of cat-eye detail makes an ideal versatile option for these glasses. Rectangle cat-eye design displays a contemporary style that turns heads. Individuals with rounded foreheads (oval face shape) and other round features towards the eyes look amazing trying the rectangular, cat-eye frames. This type helps to fully highlight the features on one's face. This pair of Terence eyeglasses is the perfect example of a rectangular cat-eye frame design.
Light Colored Rectangle Glasses Frames
We understand that it is never easy to blend your eyewear with your outfit. Sometimes you want to maintain a minimalist appearance with your glasses, and you can't achieve that by having bold-looking frames. Fortunately, with VlookGlasses, you can make it happen. Light color rectangle women glasses frames make one look simple and yet stylish at the same time. These glasses frames go well with different types of outfits and occasions. What's more, the light colors flatter most features on your face making you look intelligent and chic. The perfect example in this category includes Lady and Connie.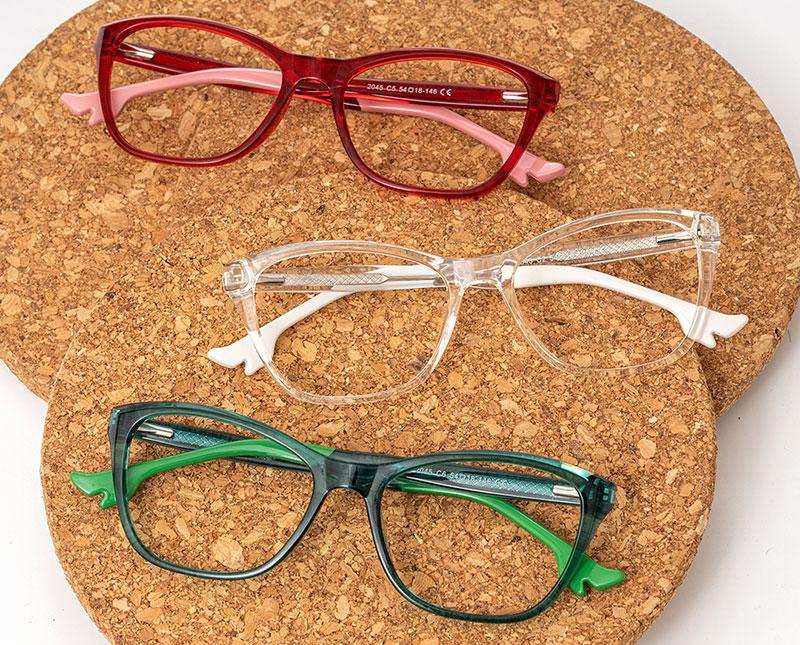 Conclusion of Rectangle Glasses Frames For Women's
Eyewear has dominated the fashion world today and with good reason. That said, you need to always look for the type that blends well with your face shape and other features. Rectangle glasses frames have come a long way and are a perfect fit for women looking to augment their overall appearance in the business world.