Privacy policy
PRIVACY STATEMENT
We take your privacy seriously and this privacy statement explains how vlookoptical.com (collectively, "we," "us," or "our") collect, use, share and process your information.
Collection and Use of Personal Data
Personal data is information that can be used to directly or indirectly identify you. Personal data also includes anonymous data that is linked to information that can be used to directly or indirectly identify you. Personal data does not include data that has been irreversibly anonymized or aggregated so that it can no longer enable us, whether in combination with other information or otherwise, to identify you.
Promoting safety and security
We abide by the principles of legality, legitimacy, and transparency, use, and process the least data within a limited scope of purpose, and take technical and administrative measures to protect the security of the data. We use personal data to help verify accounts and user activity, as well as to promote safety and security, such as by monitoring fraud and investigating suspicious or potentially illegal activity or violations of our terms or policies. Such processing is based on our legitimate interest in helping ensure the safety of our products and services. Here is a description of the types of personal data we may collect and how we may use it:
What Personal Data We Collect
ⅰ. Data you provide:
We collect the personal data you provide when you use our products and services or otherwise interact with us, such as when you create an account, contact us, participate in an online survey, use our online help or online chat tool. If you make a purchase, we collect personal data in connection with the purchase. This data includes your payment data, such as your credit or debit card number and other card information, and other account and authentication information, as well as billing, shipping, and contact details.
ⅱ. Data about use of our services and products:
When you visit our websites, we may collect data about the type of device you use, your device's unique identifier, the IP address of your device, your operating system, the type of Internet browser that you use, usage information, diagnostic information, and location information from or about the computers, phones, or other devices on which you install or access our products or services. Where available, our services may use GPS, your IP address, and other technologies to determine a device's approximate location to allow us to improve our products and services.
How We Use Your Personal Data
Generally speaking, we use personal data to provide, improve, and develop our products and services, to communicate with you, to offer you targeted advertisements and services, and to protect us and our customers.
ⅰ. Providing, improving, and developing our products and services:
We use personal data to help us provide, improve, and develop our products, services, and advertising. This includes using personal data for purposes such as data analysis, research, and audits. Such processing is based on our legitimate interest in offering you products and services and for business continuity. If you enter a contest, or other promotion, we may use the personal data you provide to administer those programs. Some of these activities have additional rules, which may contain further data about how we use personal data, so we encourage you to read those rules carefully before participating.
ⅱ. Communicating with you:
Subject to your prior express consent, we may use personal data to send you marketing communications in relation to our own products and services, communicate with you about your account or transactions, and inform you about our policies and terms. If you no longer wish to receive email communications for marketing purposes, please contact us to opt-out. We also may use your data to process and respond to your requests when you contact us. Subject to your prior express consent, we may share your personal data with third party partners who may send you marketing communications in relation to their products and services. Subject to your prior express consent, we may use personal data to personalize your experience with our products and services and on third-party websites and applications and to determine the effectiveness of our promotional campaigns. NOTE: For any of the uses of your data described above that require your prior express consent, note that you may withdraw your consent by contacting us.
Definition of "Cookies"
Cookies are small pieces of text used to store information on web browsers. Cookies are widely used to store and receive identifiers and other information on computers, phones, and other devices. We also use other technologies, including data we store on your web browser or device, identifiers associated with your device, and other software, for similar purposes. In this Cookie Statement, we refer to all of these technologies as "cookies."
Use of Cookies
We use cookies to provide, protect, and improve our products and services, such as by personalizing content, offering and measuring advertisements, understanding user behavior, and providing a safer experience. Please note that the specific cookies we may use vary depending on the specific websites and services you use.
Disclosure of Personal Data
We make certain personal data available to strategic partners that work with us to provide our products and services or help us market to customers. Personal data will only be shared by us with these companies in order to provide or improve our products, services, and advertising; it will not be shared with third parties for their own marketing purposes without your prior express consent.
Data Disclosure or Storage, Transfer, and Processing
ⅰ. Fulfilment of legal obligations:
Due to the mandatory laws of the European Economic Area or the country in which the user lives, certain legal acts exist or have occurred and certain legal obligations need to be fulfilled. Treatment of personal data of EEA residents ---As described below, if you reside within the European Economic Area (EEA), our processing of your personal data will be legitimized: Whenever we require your consent for the processing of your personal data such processing will be justified pursuant to Article 6(1) of the General Data Protection Regulation (EU) ("GDPR").
ⅱ. For the purpose of reasonable implementation or application of this article:
We may share personal data with all our-affiliated companies. In the event of a merger, reorganization, acquisition, joint venture, assignment, spin-off, transfer, or sale or disposition of all or any portion of our business, including in connection with any bankruptcy or similar proceedings, we may transfer any and all personal data to the relevant third party. We may also disclose personal data if we determine in good faith that disclosure is reasonably necessary to protect our rights and pursue available remedies, enforce our terms and conditions, investigate fraud, or protect our operations or users.
ⅲ. Legal Compliance and Security or Protect Other Rights
It may be necessary—by law, legal process, litigation, and/or requests from public and governmental authorities within or outside your country of residence—for us to disclose personal data. We may also disclose personal data if we determine that for purposes of national security, law enforcement, or other issues of public importance, disclosure is necessary or appropriate.
Children
Our products and services are intended for adults. Accordingly, we do not knowingly collect, use, or disclose data from children under 16. If we learn that we have collected the personal data of a child under 16, or the equivalent minimum age depending on the jurisdiction, we will take steps to delete the data as soon as possible. Please immediately contact us if you become aware that a child under 16 has provided us with personal data.
Your Rights
We take reasonable steps to ensure that your personal data is accurate, complete, and up to date. You have the right to access, correct, or delete the personal data that we collect. You are also entitled to restrict or object, at any time, to the further processing of your personal data. You have the right to receive your personal data in a structured and standard format. You may lodge a complaint with the competent data protection authority regarding the processing of your personal data. To protect the privacy and the security of your personal data, we may request data from you to enable us to confirm your identity and right to access such data, as well as to search for and provide you with the personal data we maintain. There are instances where applicable laws or regulatory requirements allow or require us to refuse to provide or delete some or all of the personal data that we maintain. You may contact us to exercise your rights. We will respond to your request in a reasonable timeframe, and in any event in less than 30 days.
Third-Party Websites and Services
When a customer operates a link to a third-party website that has a relationship with us, we do not assume any obligation or responsibility for such policy because of the third party's privacy policy. Our websites, products, and services may contain links to or the ability for you to access third-party websites, products, and services. We are not responsible for the privacy practices employed by those third parties, nor are we responsible for the information or content their products and services contain. This Privacy Statement applies solely to data collected by us through our products and services. We encourage you to read the privacy policies of any third party before proceeding to use their websites, products, or services.
Data Security, Integrity, and Retention
We use reasonable technical, administrative, and physical security measures designed to safeguard and help prevent unauthorized access to your data, and to correctly use the data we collect. We will retain your personal data for as long as it is necessary to fulfill the purposes outlined in this Privacy Statement, unless a longer retention period is required or permitted by law.
Changes to this Privacy Statement
We may periodically change this Privacy Statement to keep pace with new technologies, industry practices, and regulatory requirements, among other reasons. Your continued use of our products and services after the effective date of the Privacy Statement means that you accept the revised Privacy Statement. If you do not agree to the revised contact us Privacy Statement, please refrain from using our products or services and contact us  to close any account you may have created.
Contact Us
If you have any questions regarding this Privacy Statement or its implementation, here is how you can reach us: [email protected]
Shipping Information
Our goal is to offer you the best shipping options, no matter where you live. We deliver to hundreds of customers across the world every day, and we strive to provide you with services of the highest level.
A. The time frame of an order delivery is divided into two parts:
Processing time: 2-7 Days
Shipping time: 10~30 Days
B. Shipping methods:USPS Standard Shipping & DHL Express
C. Shipping fee:
Standard Shipping (USPS): $5.85
DHL Express: $18.99
Return Policy
Cancellation
We accept order cancellation before the product is shipped or produced. If the order is cancelled you will get full refund. We cannot cancel the order if the product is already shipped out.
Returns
We accept return of products.Customers have the right to apply for a return within 14 days after delivery the product.
To be eligible for a return, your item must be unused and in the same condition that you received it. It must also be in the original packaging. To complete your return, we require a receipt or proof of purchase. Please ask our customer service to make sure you send the package to the right address.
Notes
Custom-order or personalised itemsdo not have a right to 14 days refund.
If the return is caused by the consumer, consumer should be responsible for the shipping fee. The specific fee should be based on the express company you choose.
If due to our reasons, the goods received are damaged or not correct, the consumer is not required to bear the shipping fee for this reason.
No restocking fee to be charged to the consumers for the return of a product.
Refunds
Once your return is received and inspected, we will email you a notification of receipt. We will also notify you of the approval or rejection of your refund.If you are approved, then your refund will be processed, and a credit will automatically be applied to your credit card or original method of payment, within a certain amount of days.
Late or missing refunds
If you haven't received a refund yet, first check your bank account again.
Then contact your credit card company, it may take some time before your refund is officially posted. Next contact your bank. There is often some processing time before a refund is posted. If you've done all of this and you still have not received your refund, please contact us at [email protected]
Please contact our Customer service at [email protected] to get the return address.
INTELLECTUAL PROPERTY RIGHTS
QuickGuide
We've compiled a list of commonly asked questions for your convenience. If you are unable to find the answer to your question, please contact us for further assistance. It's just one more way vlook makes it easy to get eyeglasses you'll love.
Prescriptions
Your prescription (RX) is a written authorization provide by your ophthalmologist (an MD) or optometrist (a doctor of optometry) to correct your vision with corrective lenses and a pair of corrective lenses.
O.D. stands for oculus dexter, meaning right eye.
O.S. stands for oculus sinister, meaning left eye.
SPH (or Sphere) indicates the strength of your lens, or how strong your lenses need to correct your nearsightedness or farsightedness.
CYL (or Cylinder) indicates the amount of lens power for astigmatism, it also tells the lens strength needed to fix astigmatism.
AXIS describes the degree and direction of your astigmatism.
ADD or NV is added magnifying power in the lower part of a multi-focal lens. It's used to correct presbyopia which is the inability to focus on close objects.
(1)瞳距(PD):左右眼瞳孔中心两点间的水平距离,一般验光单上的PD无特殊备注即表示双眼看远瞳距。一般用英文字母缩写"PD"来表示,单位为毫米(mm)。
(2)球镜(SPH):近视、远视和老光的度数。 SPH为"-",表示近视;SPH为"+",表示远视或老光。
(3)柱镜(CYL):散光的度数。
(4)轴位(AXIS):散光的方向。 注意:有散光度数才有散光轴位;无度数,无轴位。
(5)矫正视力(VA):指配戴眼镜后,检测到的视力。
(6)O.D. 右眼视力
(7)O.S. 左眼视力
(8)ADD或者NV:下加光,下加光是指矫正了看远的光度后看近的度数 分别代表远和近用两个区域。用于配置多焦点镜片包括渐进镜片和双光镜片。
Pupillary distance (PD) is the distance between your pupils. It is necessary for us to ensure the correct positioning of your lenses within the frame you have chosen. Your PD can easily be measured in four simple steps.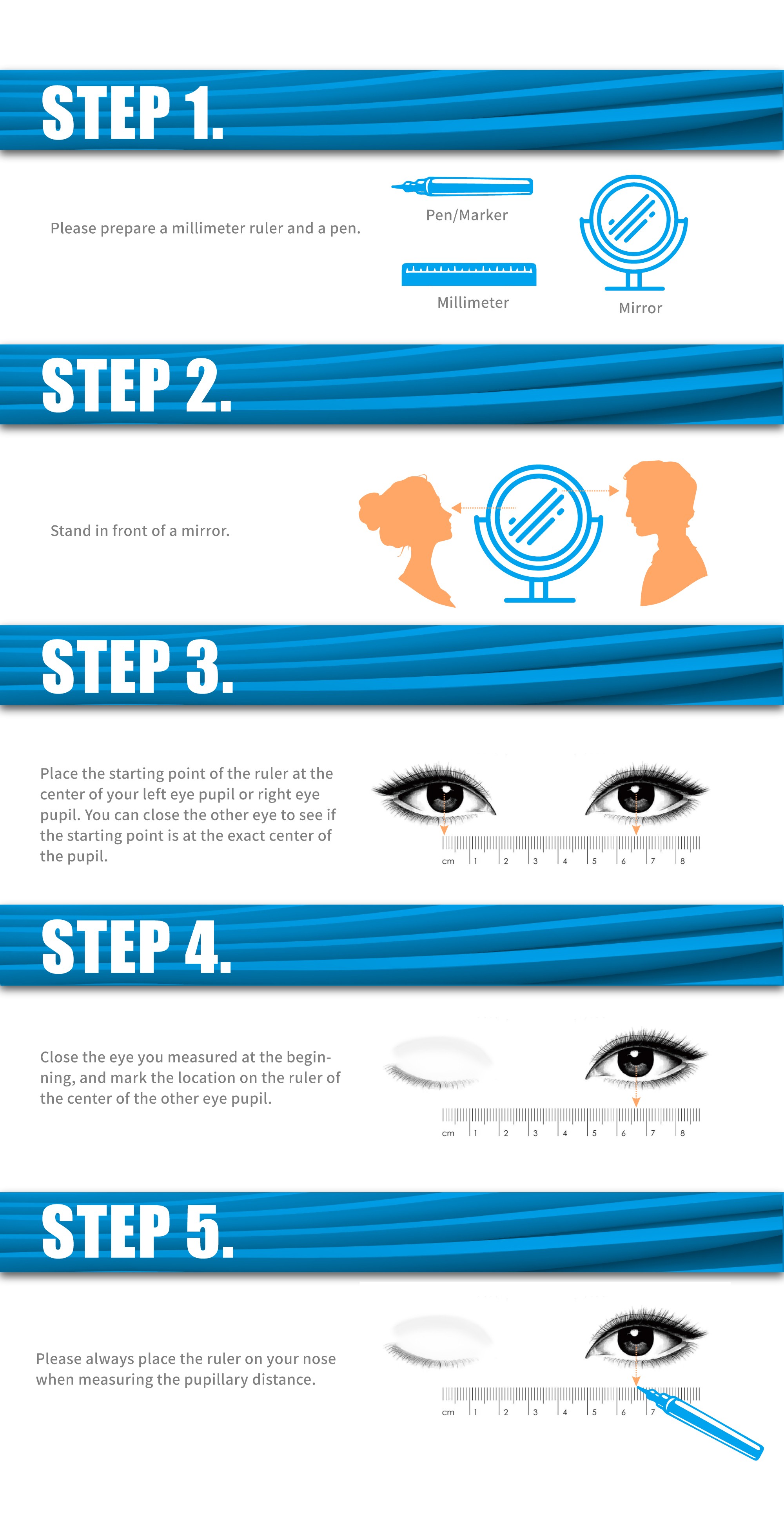 瞳距(PD)是指左右眼瞳孔中心两点间的水平距离,全称瞳孔距离(papillary distance),是指两眼瞳孔中心点之间的距离。验光时测量瞳距是为了能够使配装的镜片光学中心距离与瞳距相符,保证目光能通过光学中心视物。一般用英文字母缩写"PD"来表示,单位为毫米(mm)。您可以点此来下载瞳距尺根据下图所示您可以在家进行瞳距测量。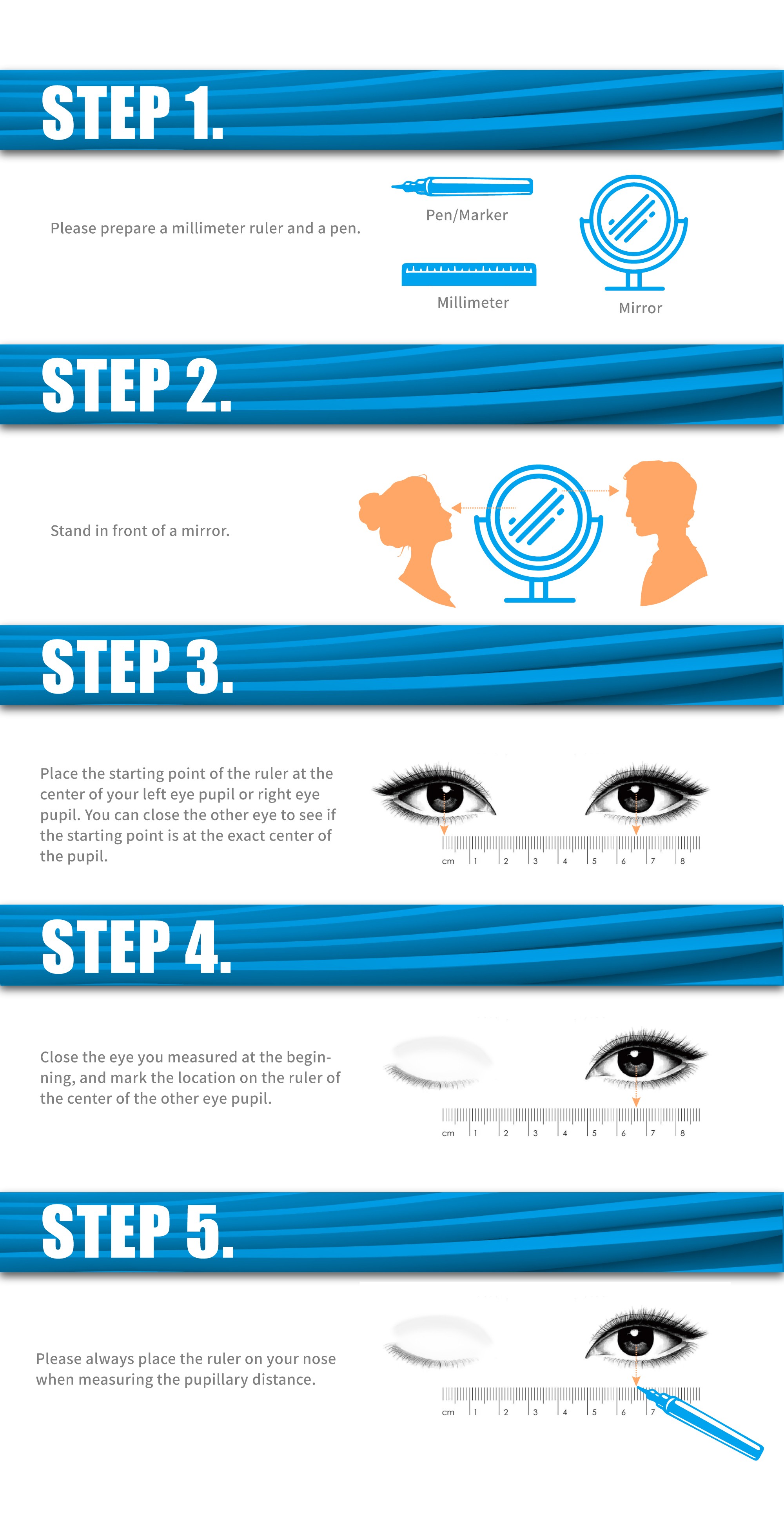 Single-vision Rx:
Up to -20.00 or +12.00 on the Sphere (SPH).
Up to + or - 6.00 on the Cylinder (CYL).
Bifocal Rx:
Up to -9.00 or +6.00 on the SPH.
Up to + or - 6.00 on the CYL.
Up to +3.50 on the NV-ADD.
Prism (single-vision only):
Up to 5.00 in any base direction.
单光镜片,包括近视,远视和老化
Sphere(SPH)球镜度数:-20.00到+12.00
Cylinder(CYL)散光度数:-6.00到+6.00
多焦点镜片,包括双光和渐进镜片
Sphere(SPH)球镜度数:-20.00到+12.00
Cylinder(CYL)散光度数:-6.00到+6.00
NV 或 ADD 下加光度数:0到+3.50

Astigmatism is a type of refractive error and common vision condition that causes blurred vision at all distance. It occurs when the eye does not focus light evenly on the retina
散光(astigmatism)是眼睛的一种屈光不正常表现,与角膜的弧度有关。平行光线进入眼内后,由于眼球在不同子午线上屈光力不等,不能聚集于一点(焦点),也就不能形成清晰的物像,这种情况称为散光。散光眼借助调节作用或移动目标到眼之间的距离,都不能形成清晰的像,只有配戴合适的圆柱镜,才能在视网膜上形成清晰的像。
Currently, we offer:
1.Singles vision lenses including reading and distance glasses for myopia(Nearsightedness) and hyperopic (Farsightedness)
2.Bifocal lenses
3.Progressive lenses
目前VlookGlasses提供下列种类的镜片:
1.单光镜片:分别为Distance Glasses (近视镜片)和 Reading Glasses(远视和老化镜片)
2.双光镜片:镜片分为上下两种光度,中间有一条明显的度数分界线
3.渐进多焦点镜片:多焦点镜片,镜片上分布着多种光度,外观类似于单光镜片,没有可见的度数分界线

a) If you have NV-ADD
The "NV or ADD" on your prescription is for you to choose a multifocal glasses. On Vlook, we provide two kinds of multifocal glasses, Bifocal and Progressive. You can click https://vlookoptical.com/blog/posts/2, to see the different between these two lenses. You can order multifocal reading glasses with your "NV or ADD" after click "Add Lens" button at frame detail page.
b) If you do not have NV-ADD RX
Select "Single Vision" and input your prescription after "ADD LENSES"
1.如果您的验光单上有下加光(NV或ADD)
下加光(NV或ADD)是用于配多焦点镜片,您可以选择双光镜片或者渐进多焦点镜片。在您选择完您喜欢的镜框后请点击添加镜片并且选择双光镜片或者渐进多焦点镜片。随后您需要把您的的验光单上传,然后挑选适合的镜片折射率和功能。
2.如果您的验光单上没有下加光(NV或ADD)
在您选择合适的镜框后请点击添加镜片并且选择远视或老化镜片,然后上传验光单并选择合适的折射率。

We currently can not provide glasses with prism corrections.
It is easy to order non prescription glasses on Vlook through 2 methods as follows:
1. Click the "Frame Only" button, then check out.
2. Choose "Clear Lenses", then "Single Vision" after "Add Lenses", and check out.
VlookGlasses提供无验光单平光镜片。在您选择完您喜欢的镜框后,请您点击添加镜片。在右下角您可以选择只要镜框。我们会帮您配一个无度数平光眼镜。
We recommended that you get an eye exam at least every two years or more frequently?
我们强烈建议您每2年拜访一次您的眼科医生更新您的验光单。
Some people may experience a distortion of their peripheral vision after receiving a new glasses prescription. This is a fairly common occurrence that can be a result of the adjustment period as your eyes get used to the new prescription. This type of peripheral vision distortion can often occur if the new glasses are of a higher prescription or the frames are larger than what you are used to. Glasses focus on the section of the visual field that is right in front of you, in order to help correct your vision and perception. If you've been wearing glasses for a long time, your brain gets used to this and can find it hard to adjust if the prescription is changed.
In addition to this, hi index lens materials can also cause a distortion of peripheral vision. These types of lenses are thinner and lighter than normal, which means the back surface of the lens is placed further away from the natural curve of your eye. This distance can in turn affects your peripheral view. Another type of lens that can cause peripheral distortions are multifocal lenses. These lenses are designed to provide clear vision in certain areas. Towards the edges or sides of multifocal lenses, there are peripheral distortions.
很多长期配戴眼镜的人都会有这样的感觉,换副新眼镜,戴上就会觉得头晕,路好像不平似的,深一脚,浅一脚。等新眼镜戴惯了,再戴老眼镜,又晕了。这是为什么呢?原因主要有以下几个方面:
1.新眼镜戴上会头晕,可能是旧眼镜"改造"了你的眼睛。 但是,有些近视患者采取了医学验光,所配眼镜也与验光处方完全符合,新眼镜戴上仍会头晕。这是因为旧眼镜在长期服务地过程中"改造"了他们的眼睛,使眼球或多或少有些"不正常".另外旧眼镜在使用的过程中,由于吸收紫外线,接触油腻,干擦等等,镜片会发黄,有划痕,清晰度自然也会受到影响,即使是新眼镜与老眼镜的度数一致,也会觉得新镜片比较亮。两相比较就会产生不适的症状。建议新眼镜可在第二天一早使用,经过一夜的休息,眼睛也会比较容易适应新眼镜。连续配戴几天后,头晕的症状也会消失了。
2.新眼镜戴上会头晕,或因为眼镜的款式发生了变化。 新眼镜和旧眼镜的结构可能并不一样(半框、无框、全框),眼镜的角度也可能不太一样,就会造成视觉的差异,出现新眼镜戴上后头晕的症状。经过短期的适应,应该就能恢复正常。
3.如果1-2周还无法适应,可能验光配镜有问题。戴上眼镜后不时出现头痛、恶心、呕吐、注意力不集中,神经衰弱等症状。这可能是验光不准确造成的。您需要及时联系我们并且与您的验光医师取得联系,进行验光复查。
Lenses
The Lens Index number (1.50, 1.57, 1.53, 1.59, 1.61, 1.67, or 1.74) refers to the degree of refraction the lens provides. This means how much the light that enters the lens is refracted (bent) as it passes through the lens. Lens Index is also related to the thickness of the lens. The higher the index, the thinner the lens will be. People with higher prescriptions should choose high-index lenses.
目前市面上主流的镜片折射率有:1.56、1.60、1.67、1.71、1.74等几种。 同等前提条件下,镜片的折射率越高,镜片越薄越轻,带来更为舒适的佩戴体验。同样是屈光度600度,直径60mm,1.71镜片比1.60镜片重量轻7%。但是镜片折射率也不是越高越好,一般情况下,镜片折射率越高,阿贝数越低,色散越明显。随着镜片材料技术的升级,这一规律正在逐渐被打破,例如1.71折射率镜片,折射率高于1.56、1.67,但阿贝数高于1.67折射率镜片和大部分的1.56折射率镜片。
Higher lens index number will give you a thinner lens.
您可以选择更高的折射率,例如1.61,1.67和1.74折射率的镜片。镜片的折射率越高,镜片越薄越轻,带来更为舒适的佩戴体验。
All Vlook lenses come with Anti-Scratch Coating and UV Protection Coating that are totally free.
大部分的VlookGlasses的镜片免费附带防刮镀层和紫外线防护功能。
Photochromic lenses are the lenses turn dark when exposed to UV light. When the lenses are out of the sunlight, they become clear again.
变色镜片,也有人称为"感光镜片"。根据光色互变可逆反应原理,镜片在光线和紫外线照射下可迅速变暗,阻挡强光并吸收紫外线,对可见光呈中性吸收;回到暗处,能快速恢复无色透明状态,保证镜片的透光度。所以变色镜片适合于室内室外同时使用,防止阳光、紫外光、眩光对眼睛的伤害。
Polycarbonate lenses are impact resistant, and are stronger and more lightweight than standard lenses; but they are extremely scratch-prone.
PC片又叫"太空片"、"宇宙片",化学名称为聚碳酸酯,是热塑性材料。即原料为固态,经加热后塑形为镜片,所以这种镜片成品后受热过度也会变形,不适于高湿热场合。PC镜片有着极强韧性,不破碎(2cm可用于防弹玻璃),故又称安全镜片。缺点是耐磨性差,非有特殊使用场合不建议日常佩戴。
Frames
Most of our frames have a series of numbers printed on the inside of a temple arm. which indicate three frame dimensions they are Lens width, Bridge Width, Temple (Arm) Length. Note: all this numbers are in millimeters. For more details you can check: GLASSES MEASUREMENT
眼镜架是标准的光学产品,就好比人的衣服鞋子,都有自己的尺码。通常,框架眼镜的镜腿内侧、鼻梁或标牌上会标有该眼镜尺寸大小的规格参数。  一般来说,眼镜架上会标有例中镜面宽度、鼻梁宽度、镜腿长度这三个数据。例如,镜腿内侧标注:52口18-135,表示镜面宽度52mm,鼻梁宽度18mm,镜腿长度135mm。您可以查看更多关于镜架尺寸的知识在:https://vlookoptical.com/blog/posts/8
Plastic Glasses Frame
If you are looking to make a fashion statement, plastic frames are the way to go! Plastic materials have many styles and material options. It is easily molded into today's popular wraparound styles. However, even plastic is a large category, there are many different plastic materials. Vlook provides serval different plastics such as TR90, polycarbonate,Soft silica gel (kids frame) and acetate. Following chart is the comparison of three common plastic materials.
Stainless Steel Frame
Stainless Steel material is an alloy of iron and carbon steel with chromium and other elements. Stainless steel is non-corrosive, durable, strong, lightweight, and hypoallergenic. It can also be easily shaped into ultra-thin eyewear styles and has flexibility, which adds to the wearer's comfort.
Titanium Glasses Frames
Titanium alloy is a material widely used on artificial bones. Titanium is a high-strength, lightweight resists corrosion flexible material that is aberration resistant. It is expensive and colors are limited. In addition, it can't be fixed once broken.
Combination Material Frames
We highly recommend the combination material frames or Mixed material frames. They are the frames made by at least two kinds of materials, such as TR90, and stainless steel. It combines the advantages for both materials to one frame.
塑料或树脂
塑料材质是目前运用的最多的镜框材质。一般用来制造眼镜架的非金属材料主要采用合成树脂为原材料,分为热塑性和热固性树脂两大类。目前主要分为PC塑料,板材和TR材质。
1.TR:又称记忆塑料,类似于金属的钛合金。韧性高,抗过敏,比普通板材轻,减轻鼻梁的压迫感。
2.板材:在造型上,板材的优势是其他材料无法企及的。有着独特的厚重感和光泽度。不易发生形变,硬度高。结实,经久耐用;但是重量是所有塑料材质中最重的。
3.PC塑料:注塑成型,价格实惠,色彩感比较强。但是韧性和硬度较差。
金属材质
金属分为很多种,目前市面上的一般有铜合金、镍合金以及钛金属三大类,这三种材料都具有一定的硬度、柔软性、弹性以及耐腐蚀、色泽光亮等优点,所以制作成的眼镜都非常的耐用。但是颜色和款式比较单一。
钛:它质地轻盈、轻便舒适,其材质算是眼镜材质中最轻的了,而且它的硬度很好,镜架不易变形,耐腐蚀,不生锈,不引起皮肤过敏,较为耐用。缺点是质地偏软,但做成钛合金后硬度有所提升。
复合材质
VlookGlasses强烈推荐复合材质镜框,这种镜框一般由两种或者两种以上的材质组合而成。如TR90和金属材质。它将两种材料的优点结合到一个框架中。
You can check Face Shape & Frame Style collocation at here.
https://vlookoptical.com/blog/posts/4
Email or chat with us within the first 30 days after you've received the glasses. If the frame is defective, we can send you a new one or give you 100% refund. If you want to reorder a new pair of glasses in the correct size, and we'll explain how to make sure the next frame you get will fit you perfectly.
您可以在收到眼镜的14天内发Email到[email protected]或者点击Contact Us给我们在线留言。我们会给您调换一副眼镜或者给您进行退货处理。如果您希望继续订一副眼镜,我们也会给您详细的建议指导您挑选一副适合您尺寸的镜框。
Sunglasses
Yes! With a few exceptions, the Rx glasses you order on our website can be turned into Rx sunglasses. Just select a standard or gradient lens tint, or choose from our glare-reducing polarized lens selections.
当然,基本上任何的镜框都可以帮您定制成光学太阳镜。首先当您填写完您的处方单后,您可以选择染色太阳镜片或者变色镜片,然后选择合适的折射率和镀层,这样,您就能获得一副为您定制的光学太阳镜了。
We only offer Rx sunglasses. You can choose the lenses index just like normal single vision lenses under "Tint lens" category.
您可以在染色太阳镜片或者变色镜片的选项里面选择折射率和颜色。针对染色太阳镜片我们现阶段仅提供1.56和1.60两种折射率供您选择。
Most of the frames on our website can be ordered as sunglasses.
大多数VlookGlasses的镜框都可以为您装配光学太阳镜片。
Ordering
a)Your prescription (Rx)
b)Your PD
c)Paypal or Credit Card
a)确定你的验光单
b)确定你的瞳距
c)用Paypal和信用卡支付
The frame and lenses you selected, Anti-Scratch Coating, UV protection, a delicate protective case, and a microfiber cleaning cloth.
您选择的镜片和镜框,防划伤涂层,防紫外线膜, 镜盒和超细纤维清洁布。
You can have different prescription for each of glasses you ordered.
Payment
We listed our products in U.S dollar only.
1. Paypal
2. Any cards with VISA, MasterCard logo
1. Paypal
2. 任何带有VISA,MasterCard图标的卡
Sorry, we do not accept insurance currently.
Shipping
我们的准则是不论顾客在哪里,都会给予顾客最好的配送体验。我们每一天都会给世界上成千上万的顾客配送产品,而且我们致力于给予顾客最高的服务质量。
我们把眼镜的配送分为两种选项:
特快配送:1-2天以内送到
标准配送:7-14以内送到
配送价格:
标准配送(USPS)的时间和价格:14-21天/$5.85
Please contact us within 24 hours.
You will receive a confirmation email with a tracking number after your glasses is delivered at our PA sorting center and handed to usps.
You can check your order status at " Shipping Status" under Discover Channel or simply click here.
在你完成支付之后,你会收到我们发出的确认邮件,邮件里有追踪号码,用以追踪包裹。
Sorry, we do not provide overnight shipping.
Basically, we provide shipping service to the most countries from North America, South America, Africa, Asia, Oceania and Europe. You can check our country list at "Ship& Address" page.
大致上,我们为来自北美,南美,非洲,亚洲,大洋洲和欧洲的大多数国家提供运输服务。 您可以在"发货&地址"页面查看我们的国家/地区列表。
Sure, you can choose the country you want to ship to in check out page.
Contact our Customer Service department immediately. We will get your damaged glasses replaced with a new pair as soon as possible.
请立即联系我们的客户服务部门,我们会尽快更换你的产品。
Returns
1.Please contact our customer service by email or live chat.
2.Please show us your problems and provide us with your order tracking number.
3.Please get the refund number.
4.Please send goods to the specified addresses.
We do not have this service right now.
Email or live chat with us to get more details about return services.
These items must be included in package:
1.The eyeglasses, and any accessories in the glasses case that contained the glasses.
2.A note with the Return Code and a brief description about why you want to return your glasses.
3.A copy of the prescription that your licensed optometrist provided, so we can inspect the glasses and determine if they were made according to the prescription. (For manufactory error report only)
Only when the glasses have productive defection or manufactural imperfection can we provide you the return label.
请通过电子邮件或实时两天系统与我们联系以获取退货代码。
以下的物品必须包含在包裹中:
1.眼镜,眼镜盒以及在眼镜盒中任何配件。
2.带有退货代码的注释,以及您想要退回眼镜的原因。
3.由您的验光师提供的验光单的复印件,以便我们检查眼镜是否按照验光单制作。
请您支付运费将眼镜邮寄给我们。如果发现眼镜有制造缺陷,我们将退还$3.00的运费。
When we receive your return, we will process your return procedure immediately. We will email you when we have processed the refund.
当我们收到您退回的货品时,我们会立即处理你的退货申请。我们会在处理完退款后通过电子邮件通知你。
We will sent two pairs of replacement nose pads for your future use.
TERMS OF SERVICE
OVERVIEW
This website is operated by vlookoptical.com. Throughout the site, the terms "we", "us" and "our" refer to Vlookoptical.com. Vlookoptical.com offers this website, including all information, tools and services available from this site to you, the user, conditioned upon your acceptance of all terms, conditions, policies and notices stated here.
By visiting our site and/ or purchasing something from us, you engage in our "Service" and agree to be bound by the following terms and conditions ("Terms of Service", "Terms"), including those additional terms, conditions and policies referenced herein and/or available by hyperlink. These Terms of Service apply to all users of the site, including without limitation users who are browsers, vendors, customers, merchants, and/ or contributors of content.
Please read these Terms of Service carefully before accessing or using our website. By accessing or using any part of the site, you agree to be bound by these Terms of Service. If you do not agree to all the terms and conditions of this agreement, then you may not access the website or use any services. If these Terms of Service are considered an offer, acceptance is expressly limited to these Terms of Service.
Any new features or tools which are added to the current store shall also be subject to the Terms of Service. You can review the most current version of the Terms of Service at any time on this page. We reserve the right to update, change or replace any part of these Terms of Service by posting updates and/or changes to our website. It is your responsibility to check this page periodically for changes. Your continued use of or access to the website following the posting of any changes constitutes acceptance of those changes.
SECTION 1 - ONLINE STORE TERMS
By agreeing to these Terms of Service, you represent that you are at least the age of majority in your country of residence, or that you are the age of majority in your country of residence and you have given us your consent to allow any of your minor dependents to use this site.
You may not use our products for any illegal or unauthorized purpose nor may you, in the use of the Service, violate any laws in your jurisdiction (including but not limited to copyright laws).
You must not transmit any worms or viruses or any code of a destructive nature. A breach or violation of any of the Terms will result in an immediate termination of your Services.
SECTION 2 - GENERAL CONDITIONS
We reserve the right to refuse service to anyone for any reason at any time. You understand that your content (not including credit card information), may be transferred unencrypted and involve (a) transmissions over various networks; and (b) changes to conform and adapt to technical requirements of connecting networks or devices. Credit card information is always encrypted during transfer over networks.
You agree not to reproduce, duplicate, copy, sell, resell or exploit any portion of the Service, use of the Service, or access to the Service or any contact on the website through which the service is provided, without express written permission by us.
The headings used in this agreement are included for convenience only and will not limit or otherwise affect these Terms.
SECTION 3 - ACCURACY, COMPLETENESS AND TIMELINESS OF INFORMATION
We are not responsible if information made available on this site is not accurate, complete or current. The material on this site is provided for general information only and should not be relied upon or used as the sole basis for making decisions without consulting primary, more accurate, more complete or more timely sources of information. Any reliance on the material on this site is at your own risk. This site may contain certain historical information. Historical information, necessarily, is not current and is provided for your reference only. We reserve the right to modify the contents of this site at any time, but we have no obligation to update any information on our site. You agree that it is your responsibility to monitor changes to our site.
SECTION 4 - MODIFICATIONS TO THE SERVICE AND PRICES
Prices for our products are subject to change without notice.
We reserve the right at any time to modify or discontinue the Service (or any part or content thereof) without notice at any time.
We shall not be liable to you or to any third-party for any modification, price change, suspension or discontinuance of the Service.
SECTION 5 - PRODUCTS OR SERVICES (if applicable)
Certain products or services may be available exclusively online through the website. These products or services may have limited quantities and are subject to return or exchange only according to our Return Policy.
We have made every effort to display as accurately as possible the colors and images of our products that appear at the store. We cannot guarantee that your computer monitor's display of any color will be accurate.
We reserve the right, but are not obligated, to limit the sales of our products or Services to any person, geographic region or jurisdiction. We may exercise this right on a case-by-case basis. We reserve the right to limit the quantities of any products or services that we offer. All descriptions of products or product pricing are subject to change at anytime without notice, at the sole discretion of us. We reserve the right to discontinue any product at any time. Any offer for any product or service made on this site is void where prohibited.
We do not warrant that the quality of any products, services, information, or other material purchased or obtained by you will meet your expectations, or that any errors in the Service will be corrected.
SECTION 6 - ACCURACY OF BILLING AND ACCOUNT INFORMATION
We reserve the right to refuse any order you place with us. We may, in our sole discretion, limit or cancel quantities purchased per person, per household or per order. These restrictions may include orders placed by or under the same customer account, the same credit card, and/or orders that use the same billing and/or shipping address. In the event that we make a change to or cancel an order, we may attempt to notify you by contacting the e-mail and/or billing address/phone number provided at the time the order was made. We reserve the right to limit or prohibit orders that, in our sole judgment, appear to be placed by dealers, resellers or distributors.
You agree to provide current, complete and accurate purchase and account information for all purchases made at our store. You agree to promptly update your account and other information, including your email address and credit card numbers and expiration dates, so that we can complete your transactions and contact you as needed.
For more details, please review our Return Policy.
SECTION 7 - OPTIONAL TOOLS
We may provide you with access to third-party tools over which we neither monitor nor have any control nor input. You acknowledge and agree that we provide access to such tools "as is" and "as available" without any warranties, representations or conditions of any kind and without any endorsement. We shall have no liability whatsoever arising from or relating to your use of optional third-party tools.
Any use by you of optional tools offered through the site is entirely at your own risk and discretion and you should ensure that you are familiar with and approve of the terms on which tools are provided by the relevant third-party provider(s).
We may also, in the future, offer new services and/or features through the website (including, the release of new tools and resources). Such new features and/or services shall also be subject to these Terms of Service.
SECTION 8 - THIRD-PARTY LINKS
Certain content, products and services available via our Service may include materials from third-parties.
Third-party links on this site may direct you to third-party websites that are not affiliated with us. We are not responsible for examining or evaluating the content or accuracy and we do not warrant and will not have any liability or responsibility for any third-party materials or websites, or for any other materials, products, or services of third-parties.
We are not liable for any harm or damages related to the purchase or use of goods, services, resources, content, or any other transactions made in connection with any third-party websites. Please review carefully the third-party's policies and practices and make sure you understand them before you engage in any transaction. Complaints, claims, concerns, or questions regarding third-party products should be directed to the third-party.
SECTION 9 - USER COMMENTS, FEEDBACK AND OTHER SUBMISSIONS
If, at our request, you send certain specific submissions (for example contest entries) or without a request from us you send creative ideas, suggestions, proposals, plans, or other materials, whether online, by email, by postal mail, or otherwise (collectively, 'comments'), you agree that we may, at any time, without restriction, edit, copy, publish, distribute, translate and otherwise use in any medium any comments that you forward to us. We are and shall be under no obligation (1) to maintain any comments in confidence; (2) to pay compensation for any comments; or (3) to respond to any comments.
We may, but have no obligation to, monitor, edit or remove content that we determine in our sole discretion are unlawful, offensive, threatening, libelous, defamatory, pornographic, obscene or otherwise objectionable or violates any party's intellectual property or these Terms of Service.
You agree that your comments will not violate any right of any third-party, including copyright, trademark, privacy, personality or other personal or proprietary right. You further agree that your comments will not contain libelous or otherwise unlawful, abusive or obscene material, or contain any computer virus or other malware that could in any way affect the operation of the Service or any related website. You may not use a false e-mail address, pretend to be someone other than yourself, or otherwise mislead us or third-parties as to the origin of any comments. You are solely responsible for any comments you make and their accuracy. We take no responsibility and assume no liability for any comments posted by you or any third-party.
SECTION 10 - PERSONAL INFORMATION
Your submission of personal information through the store is governed by our Privacy Policy.
SECTION 11 - ERRORS, INACCURACIES AND OMISSIONS
Occasionally there may be information on our site or in the Service that contains typographical errors, inaccuracies or omissions that may relate to product descriptions, pricing, promotions, offers, product shipping charges, transit times and availability. We reserve the right to correct any errors, inaccuracies or omissions, and to change or update information or cancel orders if any information in the Service or on any related website is inaccurate at any time without prior notice (including after you have submitted your order).
We undertake no obligation to update, amend or clarify information in the Service or on any related website, including without limitation, pricing information, except as required by law. No specified update or refresh date applied in the Service or on any related website, should be taken to indicate that all information in the Service or on any related website has been modified or updated.
SECTION 12 - PROHIBITED USES
In addition to other prohibitions as set forth in the Terms of Service, you are prohibited from using the site or its content: (a) for any unlawful purpose; (b) to solicit others to perform or participate in any unlawful acts; (c) to violate any international or UK's regulations, rules, laws, or local ordinances; (d) to infringe upon or violate our intellectual property rights or the intellectual property rights of others; (e) to harass, abuse, insult, harm, defame, slander, disparage, intimidate, or discriminate based on gender, sexual orientation, religion, ethnicity, race, age, national origin, or disability; (f) to submit false or misleading information; (g) to upload or transmit viruses or any other type of malicious code that will or may be used in any way that will affect the functionality or operation of the Service or of any related website, other websites, or the Internet; (h) to collect or track the personal information of others; (i) to spam, phish, pharm, pretext, spider, crawl, or scrape; (j) for any obscene or immoral purpose; or (k) to interfere with or circumvent the security features of the Service or any related website, other websites, or the Internet. We reserve the right to terminate your use of the Service or any related website for violating any of the prohibited uses.
SECTION 13 - DISCLAIMER OF WARRANTIES; LIMITATION OF LIABILITY
We do not guarantee, represent or warrant that your use of our service will be uninterrupted, timely, secure or error-free.
We do not warrant that the results that may be obtained from the use of the service will be accurate or reliable.
You agree that from time to time we may remove the service for indefinite periods of time or cancel the service at any time, without notice to you.
You expressly agree that your use of, or inability to use, the service is at your sole risk. The service and all products and services delivered to you through the service are (except as expressly stated by us) provided 'as is' and 'as available' for your use, without any representation, warranties or conditions of any kind, either express or implied, including all implied warranties or conditions of merchantability, merchantable quality, fitness for a particular purpose, durability, title, and non-infringement.
In no case shall we, our directors, officers, employees, affiliates, agents, contractors, interns, suppliers, service providers or licensors be liable for any injury, loss, claim, or any direct, indirect, incidental, punitive, special, or consequential damages of any kind, including, without limitation lost profits, lost revenue, lost savings, loss of data, replacement costs, or any similar damages, whether based in contract, tort (including negligence), strict liability or otherwise, arising from your use of any of the service or any products procured using the service, or for any other claim related in any way to your use of the service or any product, including, but not limited to, any errors or omissions in any content, or any loss or damage of any kind incurred as a result of the use of the service or any content (or product) posted, transmitted, or otherwise made available via the service, even if advised of their possibility. Because some states or jurisdictions do not allow the exclusion or the limitation of liability for consequential or incidental damages, in such states or jurisdictions, our liability shall be limited to the maximum extent permitted by law.
SECTION 14 - INDEMNIFICATION
You agree to indemnify, defend and hold harmless us and our parent, subsidiaries, affiliates, partners, officers, directors, agents, contractors, licensors, service providers, subcontractors, suppliers, interns and employees, harmless from any claim or demand, including reasonable attorneys' fees, made by any third-party due to or arising out of your breach of these Terms of Service or the documents they incorporate by reference, or your violation of any law or the rights of a third-party.
SECTION 15 - SEVERABILITY
In the event that any provision of these Terms of Service is determined to be unlawful, void or unenforceable, such provision shall nonetheless be enforceable to the fullest extent permitted by applicable law, and the unenforceable portion shall be deemed to be severed from these Terms of Service, such determination shall not affect the validity and enforceability of any other remaining provisions.
SECTION 16 - TERMINATION
The obligations and liabilities of the parties incurred prior to the termination date shall survive the termination of this agreement for all purposes. These Terms of Service are effective unless and until terminated by either you or us. You may terminate these Terms of Service at any time by notifying us that you no longer wish to use our Services, or when you cease using our site. If in our sole judgment you fail, or we suspect that you have failed, to comply with any term or provision of these Terms of Service, we also may terminate this agreement at any time without notice and you will remain liable for all amounts due up to and including the date of termination; and/or accordingly may deny you access to our Services (or any part thereof).
SECTION 17 - ENTIRE AGREEMENT
The failure of us to exercise or enforce any right or provision of these Terms of Service shall not constitute a waiver of such right or provision. These Terms of Service and any policies or operating rules posted by us on this site or in respect to The Service constitutes the entire agreement and understanding between you and us and govern your use of the Service, superseding any prior or contemporaneous agreements, communications and proposals, whether oral or written, between you and us (including, but not limited to, any prior versions of the Terms of Service). Any ambiguities in the interpretation of these Terms of Service shall not be construed against the drafting party.
SECTION 18 - GOVERNING LAW
These Terms of Service and any separate agreements whereby we provide you Services shall be governed by and construed in accordance with the laws of UK.
SECTION 19 - CHANGES TO TERMS OF SERVICE
You can review the most current version of the Terms of Service at any time at this page.
We reserve the right, at our sole discretion, to update, change or replace any part of these Terms of Service by posting updates and changes to our website. It is your responsibility to check our website periodically for changes. Your continued use of or access to our website or the Service following the posting of any changes to these Terms of Service constitutes acceptance of those changes.
SECTION 20 - CONTACT INFORMATION
Questions about the Terms of Service should be sent to us at [email protected] Customers will only be charged once for shipping costs (this includes returns); No-restocking to be charged to the consumers for the return of a product.

About us
VLOOK OPTICAL mission is to give our customers the most convenient and delightful online eyewear shopping experience. We adopt Factory-to-Customer(F2C) marketplace so that our company can provide the same or higher quantity eyewear with a lower price. We believe a perfect pair of glasses should make our customers happy and good-looking, so we offer a great variety of frames of high-quality eyewear in vogue. At VLOOK OPTICAL, we are dedicated to providing a fair opportunity and building the best product to make your world clear again.

Contact US
Warehouse Address: 3030 Taranto Heights Ave, Henderson, NV 89044
Email: [email protected]

Henan Xingmu Technology Co.,Ltd.
Office Address: Xinghua Building #B 10th floor 1002-117 room, Jingkai district, Zhengzhou