Eyeglasses for Oval Face Shape
What Eyeglasses Shape is Good for Oval Face?
Indeed, every face shape is unique with its lines and angles. People have distinctive features like pointed chin, angular cheeks, narrow jawline or small forehead which makes them different. Due to dissimilar features what looks good on one person might not look good on another person. Similar is the case with eyeglasses, people with a diamond-shaped face look good in browline glasses. If you have a heart-shaped face, wayfarers and club master would complement your entire personality. So, if you are an eyeglasses wearer and you want to enhance your overall look, the mantra is to pick the right pair of glasses that goes well with your facial features.
The secret ingredient for selecting a perfect pair of eyeglasses is to identify your face shape. If we talk about the oval face shape, such type of faces are characterized by softly curved jawline. Not just this, the forehead is a little wider than the chin with the cheekbones placed a little higher. Besides, an oval face is considered "ideal". So, if you have an oval face shape and you are wearing the right pair of eyeglasses with that, we have good news for you – you look amazing!!!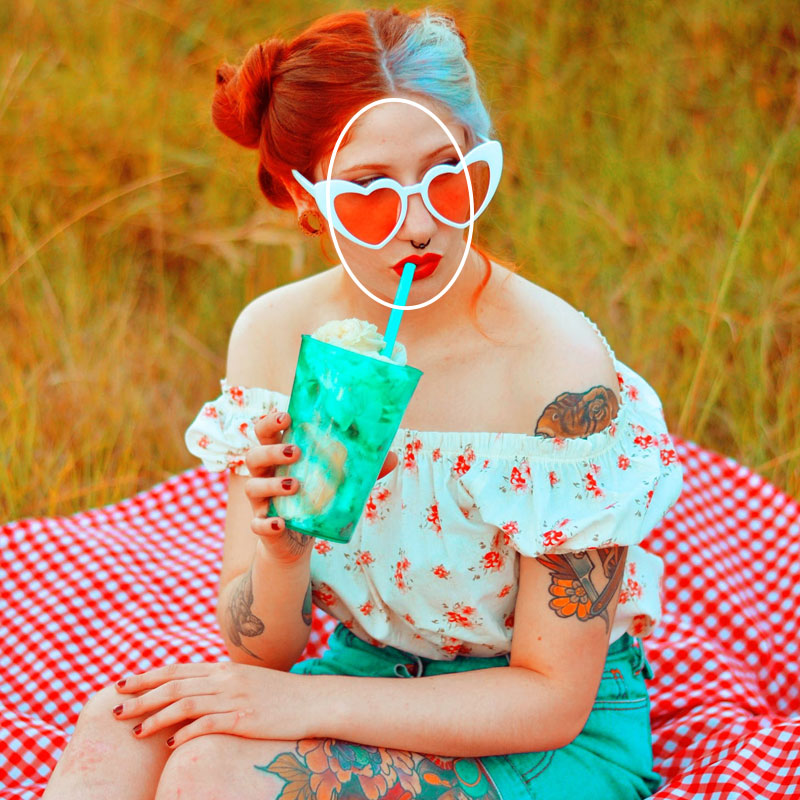 But the question arises here is, how would you know that you are wearing the right pair of eyeglasses? Don't worry, we have an answer for all your questions, just keep reading. People with oval face shape can nail almost any aesthetic but they look beyond perfect with square, oval, round, rectangle, and cat-eye frames. Since people with oval face shape has evenly proportioned featureless, they can be as adventurous as they want to with their looks.
Choosing eyeglasses for an oval-shaped face seems to be easiest as you can wear any style of the frame but only if they are properly sized. So, if you have an oval face shape and you are looking for the perfect pair of eyeglasses, here is a guide that will surely help you in opting for the frame that best suits your face shape.
1.Cat-Eye Glasses for Oval Face Shape
This shape of eyeglasses works perfectly for ladies. But that's not the case gents can also opt for it. Cat-eye glasses goes pretty well with almost all the looks and outfits while enhancing your overall personality. On top of this, the enchanting cat eyeglasses look extra flattering on oval shape shapes. Try it! Besides, such frames give you a bold look and their winged shape enhance your facial features while turning heads wherever you go. On top of this, it gives you an elegant look and due to its high demand, it is available in multiple colours, materials, and texture. The cat-eye frames highlight the structure of your face while bringing your cheekbones into the limelight. Not just this, you can easily carry this immortal cat-eye silhouette as it is wide and rectangular enough to suit oval shape face.
2.Round Glasses for Oval Face Shape
With an oval face shape, you can pull off round glasses as well, without any doubt. Round eyeglasses create a geometric combo while giving you a soft look. To be more specific, retro round frames will help you in making a style statement. However, if you want to try a new look, slightly oversized round glasses will work for you flawlessly. Besides, oval shape face is slightly round, so if you are willing to buy rounded frames that would still create a balance. Also, these types of eyeglasses frames are suitable for both men and women. Simply put, with an oval face shape you can steal the show - so take advantage of it.
3.Square Glasses for Oval Face Shape
Square frames create a flawless geometric look for oval shape face. This look will surely gonna make you stand out from the rest. In addition, square eyeglasses give dimensions to facial features. In simpler terms, it creates a balanced proportion which is why they are still considered trendy. One of the biggest advantages of buying square eyeglasses is that it gives contrast to the oval face by adding sharpness – enhancing the overall look. Not just this, the vintage style square eyeglasses are best for long face shape. However, there are numerous options available in the market for oval face shape but square simply works the best.
4.Rectangle Glasses for Oval Face Shape
After square eyeglasses, another frame that creates flawless geometric shape while complementing your oval shape face is rectangle eyeglasses. Since oval faces are long and rectangle frames are wider – it creates a seamless contrast effect. Not just this, with bold look rectangular frames, gives a professional look as well. Apart from its look, it is the trendiest and most fashionable eyewear nowadays as it draws attention away from the chin. On top of this, these beautiful frames will complement the best of your features.
5.Oval Glasses for Oval Face Shape
If you are not comfortable wearing edgy frames, you can opt for oval eyeglasses. These softer curved frames give you an understated look with stylish appeal. Not just this, oval frames walk the line between sleek and classic circular lensed frames, also, its narrow shape captures the finest element of both. In addition, the soft lines of such frames create amazing contrast for those having more angular features.