The Fashion Footmark of Wayfarer Sunglasses
Wayfarer, the plastic, trapezoidal frames have gained immediate popularity and stayed in vogue for almost 20 years before sinking into fashion and then reappeared again in the 21st century, and have made yet another comeback in modern day fashion. Follow Vlook, let's learn about the fashion footmark of wayfarer sunglasses.
Wayfarers were created by optical designer Raymond Stegeman in 1952 when he procured dozens of patents for Baush and Lomb, Ray-Ban's parent company at the time. At the time of their inception, the wayfarer was seen as a radical design that rivaled the Cadillac's tail fin and design critic Stephen Bayley, the "distinctive trapezoidal frame spoke a non-verbal language that hinted at unstable dangerousness, but one nicely tempered by the sturdy arms which, according to the advertising, gave the frames a 'masculine look." They wayfarers also ushered in the trend of glasses made of plastic and not wire or metal.
In the 1960s, wayfarers grew in popularity from being worn by key figures such as John F Kennedy and Audrey Hepburn. Then in the '70s the popular frames all but disappeared, only to reemerge with a vengeance in the early '80s in a prominent appearance in "The Blues Brothers" in 1980. Though wayfarers enjoyed a great success in that year, the style verged on discontinuation after only 18,000 units were sold worldwide in 1981. However, throughout the early-mid '80s, they began to show up on many popular actors and in numerous films, reestablishing their popularity. Tom Cruise wore them in "Risky Business" (1983), they showed up in "The Breakfast Club" (1985) and then again in "Miami Vice" (1989); Jack Nicholson wore wayfarers throughout the 80's, so did fashion maven Anna Wintour.
Wayfarers even showed up in pop fiction and songs. In brief, Wayfarers were everywhere throughout the '80s, but by the '90s, they experienced a major decline and, once again, disappeared from the public eye in the early 2000s.
In 2001, the style underwent a redesign with frames that were less angular and smaller and were also made of lighter injected plastic. By the late 2000's the sunglasses made a full recovery and are now very popular again. Using smart PR, edgy advertising and grass roots marketing efforts to make the style trendy again. Every year since the wayfarer has shown signs of steady growth with no signs of stopping.
Wayfarers have reemerged in the second decade of the 21st century as a sunglasses mainstay, pervading both pop culture and main street fashion. They've also lent inspiration to designers who use modern techniques to design similar shapes and styles and use new materials & processes to craft sunglasses that have timeless appeal for all tastes.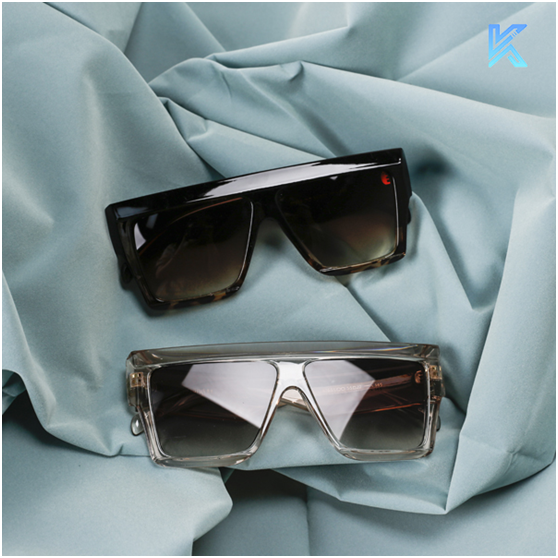 Modern Adaptations
Modern sunglass makers have adapted the wayfarer and added major flare and twists to the design. Proof Eyewear, for example, crafts bamboo and mahogany frames with iridescent colored lenses in their Ontario Wood line for unique and truly interesting looks that, while definitely wayfarers, but totally departures from the old materials and craftwork.
Meanwhile, the traditional wayfarer stylization changed with fun, vibrant colors and reflective lenses that can be worn by anyone.
There's a wayfarer for everyone from more conservative, classic wayfarer-style glasses to brighter, flashier, and more modern versions. Some people say style itself is the only thing that never goes out of fashion, and wayfarers certainly have it spared.