Transparent Glasses Frame Styles | Vlookoptical™
Adding a new pair of eyewear is an exciting way to upgrade your wardrobe and update your look. Transparent eyeglasses are some unique sets that are currently trending. So, what are transparent eyeglasses? These are clear, crystal glasses with colorless frames.
Many transparent frames are designed with strong plastic material known as cellulose acetate or propionate. Some other plastic frame materials used for transparent glasses frames are polyamide, polycarbonate, carbon, nylon, and Optyl.
Transparent frames are often completely colorless, which makes them invisible on the face. However, some pairs may have a slight hue of color, such as Connie, Bobby, Earl, and Rio. You can find a wide collection of clear eyeglass frames on VlookGlasses at great prices.
Are Clear Eyeglass Frames in Style?
Transparent eyeglass frames have always been around but they are more of a big trend now. The best part is that there is no restriction on who can wear a pair. Whether you are young or old, male or female, and irrespective of the shape of your face, you can be sure to find a great pair that will suit your personality.
If you are looking to achieve an immediate cool and fun look without investing much time in choosing what to wear, clear eyeglasses would do the trick. It is therefore not a surprise that clear eyewear is dominating the fashion scene in this fast-paced world.
As mentioned earlier, transparent eyeglasses would look good on anyone, making them the perfect accessory anytime and any day. Regardless of the color of your skin, hair, the shape of your face, or age, you can rock a pair gracefully.
The fact that they are transparent and almost invisible on your face makes them the perfect accessory if you want to highlight your cheekbones and eyes without any distraction. Are you looking for some exciting pair of transparent eyeglass frames? Check out the huge collections available on VlookGlasses. Some designs you can explore include Dora, Remy, and Diego.
How to Choose Transparent Frames
It may surprise you to know that choosing transparent frames is quite easy and it is even easier to pull off a stylish look with a pair. With the right tips, you can easily shop for your transparent frames and rock them for any occasion. Here are some simple tips that you can use to choose the perfect transparent frames that will make you feel comfortable and look your best.
Choose a Frame Shape that Fits your Face Shape
Like other eyewear styles, clear eyeglasses come in various designs and shapes. Therefore, you have to choose your pair based on the shape of your face. Your eyewear must always compliment your facial structure. This means you first need to know your face shape before you choose a transparent frame that will look great and suitable for your face.
For instance, if you have a curvy or round face, rectangular or square frames would look more balanced on you. Meanwhile, a pair of round eyeglass frames on an angular face shape will tone down the sharp angles and give the face softer edges.
You can check a wide collection of transparent eyeglasses for men and women on VlookGlasses and the best part is that they all come at great prices. You will find designs with see-through and white frames while some others would have accent colors that give them a color pop.
Check the Frame Size
Clear eyeglass frames are almost invisible. This means that instead of overshadowing your face, they highlight your features. Also, transparent eyeglass frames are suitable for any face size and shape. For this reason, many people do not pay attention to the frame size when choosing a clear eyeglass frame.
To achieve a perfect look, it is essential to choose the frame size that fits your face. There is a rule of thumb to achieve this. When checking out a pair of clear frames, make sure that it does not hide your brows when you wear them.
If it does, you would look tired or beaten up and that is surely not a look that you would want to achieve. If your pair of clear eyeglass frames are prescription eyewear, also make sure that you choose the right size that will feel comfortable on you.
Transparent Eyeglasses Frames in Tortoise
Clear eyeglass frames have a way of throwing the spotlight on you. If you want to add a touch of glamour and style to your transparent eyeglasses, choose your frames in tortoiseshell and you will be wowed by the look. Whether you want to dress up for an occasion or just achieve a subtle look, transparent eyeglass frames in tortoise will always complement your look.
If you are not sure about the shape to choose, opt for square frames because they will look great on any face shape. They are the perfect pair to accentuate your best features. Are you ready to own your style? Transparent eyeglass frames are the perfect addition to your accessories to achieve the look and style you want.
If you are wondering about where to get the best pair, check out VlookGlasses for a great collection of transparent eyeglasses frames in tortoiseshell. Some great styles and designs you can find at the VlookGlasses online store include Mole and others.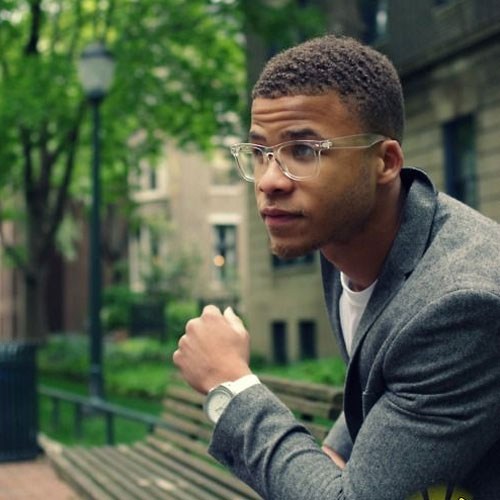 Where to Purchase Transparent Eyeglasses
When it comes to shopping for high-quality and affordable eyeglasses, Vlookoptical is the top site to consider. You will find a huge collection of transparent eyeglasses in different designs, shapes, and sizes on the platform. The best part is that you can shop for your pair from the comfort of your home and have it delivered to your doorsteps without any stress.
So, are you ready to add some exciting eyeglasses to your accessories? Transparent eyeglass frames are the top choice that is currently trending. Visit Vlookoptical and browse through the different designs and styles of eyewear and choose the best that suits your styles and personality. Place your order and expect the delivery to your doorsteps within days.