Best Glasses For Women Over 60 | Vlookoptical™
You are 60+, and so what? That does not mean your fashion sense and needs are to the background. Of course, women over 60 are often the most overlooked demographics in the world of fashion and style.
The focus is almost always on the younger generation and the fashion accessories being designed and introduced reflect this fact. Interestingly, there is another crop of the older generation that is redefining fashion statements. For this older generation, there is no restriction to how you can dress, irrespective of your age.
Even at 60+, you can choose women glasses that reflect your styles and personality without settling for dated and boring-looking pairs. The truth is that when you choose the right pair of glasses, you can take a few years off your real age. If you want to look younger, choose eyewear that complements the shape of your face, hair color, and personality.
Guidelines For Picking Out Eyewear For Women Over 60
When it comes to choosing the perfect eyeglasses, there are three important factors that you should consider. Your facial structure, hair color, and personality are critical considerations when making a choice. Let us look at these in detail.
Facial Structure: Different frames complement different facial structures. There are six different categories of face shapes, and they are pear, round, oval, heart, square, and diamond. Knowing the shape of your face and the perfect glasses that compliment it is important for women over 60. When you know the perfect frames that will compliment your face, it becomes easy to explore different styles and colors.
Hair Color: This is closely related to your personality and style preference because hair colors can be changed easily. The hair color that you carry per time should determine the frame you choose. Combining two loud colors of hair and women glasses may look chic on a younger woman but may look unflattering on women over 60.
Personality: In all the considerations for choosing reader glasses and fashion glasses, your personality is the most determining factor. If you are outgoing, adventurous, and chic, bold and trendy colors may be the perfect choice for you while a conservative person would feel more comfortable with subtle options.
Whether you are looking for trendy and bold cat-eye glasses or clear, subtle rectangular frames, VlookGlasses has got you covered. Some amazing collections you can explore include Dora and Cloud.
Top Eyewear Styles For Mature Women
Being old does not mean you cannot wear stylish eyeglasses. Whether you need prescription eyeglasses or something just for fashion, there are numerous options that you can explore. As mentioned, when choosing your eyewear, you should take the time to reflect on your face shape, hair color, and personality. Here are some top eyeglasses styles for mature women this season.
Rhinestone Cat Eye Glasses
These are some of the most popular fashion styles for both young and old women. They are an absolute reflection of femininity and should be on every woman's eyewear collection. A pair of Rhinestone cat eye glasses pair is an extraordinary statement piece.
If you want to feel sexy and attractive, you should consider a red frame like Ella and Casey on the VlookGlasses store. For fair-complexioned women, black is more appealing, thanks to its neutral feel. Clyde, Chinchilla, Esther, and Arya are some of the options that you can explore on the platform.
Rhinestone cat eyeglasses will be perfect for women with diamond-shaped faces because they tend to draw up your narrow chin and forehead upwards to make you look younger. This pair of women's glasses are sophisticated, timeless, and the perfect eyewear to make a fashion statement.
Vintage Round Glasses Frames
Vintage-inspired eyewear is the perfect choice for people looking for retro style with a touch of contemporary design. They are feminine and have a way of taking a couple of years off your look. They come in different colors, patterns, and styles and some of them are adjustable.
Whether you need something for a formal occasion or special event, vintage round glasses frames would look chic on you. Eva, Sharp, and Vannessa are top designs that you can consider. They are the perfect choice for bold and interesting women looking for eyewear that combines retro with contemporary design.
Red Reader Glasses
Over the years, the red reader glasses have been gaining momentum in popularity and it has become one of the favorites for women glasses. Red is bold, hot, passionate, and adventurous. If these describe your personality, then the red reader glasses should be a part of your eyewear collection.
The eyewear combines functionality with aesthetics as it works perfectly for the workplace and when you need to show off your chic, stylish side, it also works great. Red reader glasses have remained one of the favorites of stylish professional women for a long time.
They come with high-quality acetate and thick frames that make you look strong, confident, sophisticated, and at the same time chic, even at 60+.
Floral Prescription Glasses
Who says you cannot look chic and class with prescription eyeglasses? Gone are the days when you had to wear boring-looking prescription eyewear simply because they are prescribed. Today, there are various designs and styles of prescription glasses that you can explore. The Floral prescription glasses are some of the hottest trends among older women.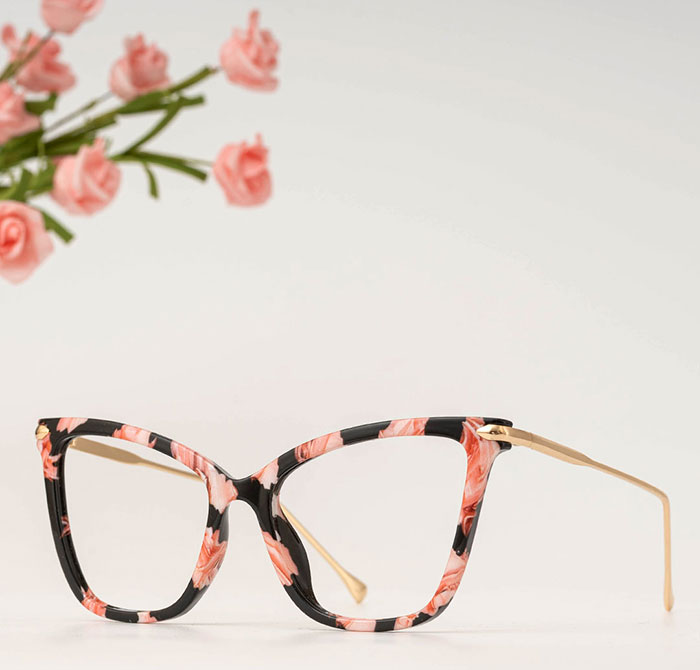 They suit different occasions, which means you do not have to worry about changing your glasses for every outfit. Whether you are on your way to the office or a party, floral prescription glasses blend with the occasion. Some great designs and styles of floral prescription glasses you can find on VlookGlasses include Chinchilla, Vannessa, Vanilla, Rosalia, Shay, Wilder, Maggie, Bonnie, Joyce, and Twinkle, among others.
Conclusionof Best Glasses For Women Over 60
Being over 60 does not mean that you cannot dress fashionably. There are various fashion designs and styles that are tailored for fashionable older women, which means that there is always some for you to showcase your personality.
Eyeglasses are an important fashion statement and they are available for different age groups. When choosing women's glasses, ensure you consider your facial structure, hair color, and personality.