Thick Rimmed Geometric Glasses Frames | Vlookoptical™
Stepping out with a pair of distinctively designed eyeglasses can be a breathtaking sight for the world around you. Unique pairs of glasses frames portray your taste and keen sense of fashion that causes a buzz among the people you surround yourself with. That said, it is probably time to upgrade your collection of eyeglasses frames to stay at par with the trends.
Both men and women all over the world are turning to eyeglasses for vision correction, protection, and also a fashion statement. Regardless of the reason for having glasses, you need to make a statement with your overall eyewear look. For this reason, going all out with a uniquely designed pair of frames is ideal.
Examples of the glasses frames styles that are causing a buzz in the fashion world today are cat-eye, oversized, funky retro, and geometric frames, among others. For you to improve your general appearance, going for the aforementioned styles of glasses frames is the best option available. Not only will you keep up with the latest trends, but also help communicate your personality to the world.
In this article, we focus a lot on geometric glasses frames and how trendy they have become. These glasses exhibit extremely unique properties that accentuate different facial features of the wearer, both men and women are welcome to come and experience the goodness of these thick-rimmed geometrical glasses frames on Vlookoptical.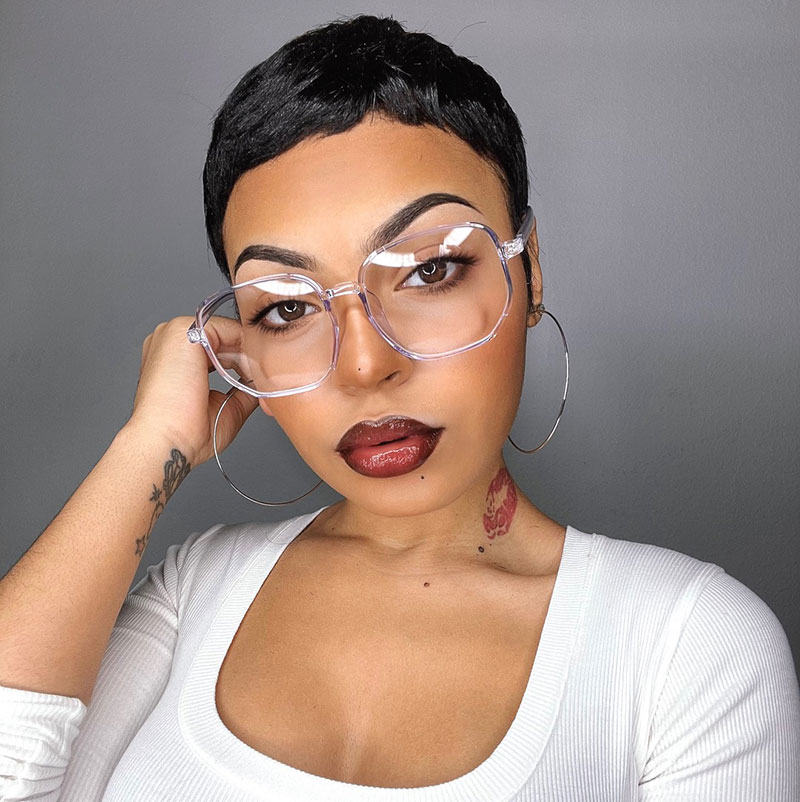 What Are Geometric Shaped Glasses
The recent past has seen glasses evolve from the original round-shaped to a plethora of designs that are fashion-statement making. As part of the many inventions of eyewear, geometric glasses are for sure unique and offer unmatched versatility. Geometric frames are, just as the name suggests, glasses that present different shapes and patterns. In this category, you can find a hexagon or pentagon design of frames that looks good on different face shapes. In simpler terms, the geometric type displays an angular style of frames.
Unlike most trends that you see on the market today, geometric frames provide a style that is far from the usual. The best thing about geometric pair of glasses frames is that they are suitable for males and females. Furthermore, you can wear them for any occasion and still turn heads with your statement-making appearance.
Your Looks with Geometric Glasses
If you are looking to achieve a youthful appearance, you can never go wrong with geometric pair of glasses frames. Therefore, ensure you have picked the right color for your face, and the rest will play out as expected. Don't be afraid to check out these pair of geometric glasses frames on our website. We include a wide array of irregularly-shaped glasses that go well with different face types, genders, and complexions. Those available in thick-rimmed frames are the most popular among the youths and those looking to achieve a more youthful look today.
Geometric Mens Glasses Frames
As mentioned, one of the best qualities of a geometric pair of frames is that it is unisex. This means that it suits both men and women. Men wearing angular frames look more youthful, adventurous, and virile. It is just a matter of choosing the right frame design to match. For instance, a thin-sized geometric frame presents an official appearance. However, thick-rimmed glasses in this category exhibit a lot of energy and gusto and a deep sense of style and precision.
You can pull this look when you feel adventurous, as it will surely deliver that confident appearance that all fashion-conscious men desire. On VlookGlasses, we feature a vast array of thick-rimmed geometric eyewear that blends well with different styles. As you scroll through, you will find that we even offer them at discounted prices to enable affordability.
Womens Geometric Glasses Frames
For years, prescription and non-prescription glasses have raised most eyewear manufacturers' attention in the fashion world. That is why they have come up with a plethora of different designs of glasses to meet the market demands. Geometric glasses frames for women are just part of this innovative creation.
An angular design of glasses frames on women accentuates all their facial features, making them look outstanding. This design creates a fun-loving, youthful, and intelligent look that you can't get anywhere else. Generally, geometric thick-rimmed glasses for women make one look more attractive, confident and command respect.
Geometric Cat Eye Glasses
Speaking of unique styles that eyewear manufacturers come up with, geometric cat-eye is the most outstanding. Cat-eye design of glasses has, for the longest time, been a trend on the market. This design heightens various features on the face, making one look outstanding. Now imagine having a geometric, cat-eye frame design in your eyewear.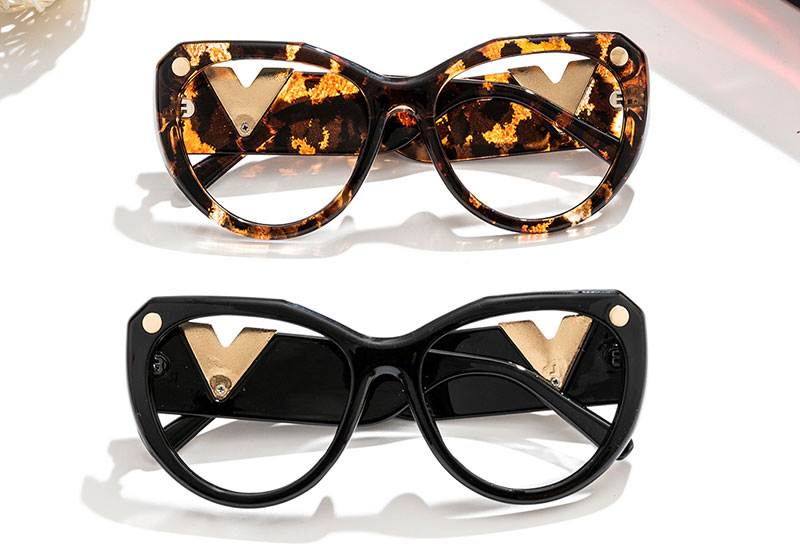 >
You will be the center of attraction while you pass by with geometric cat-eye glasses. While cat-eye glasses are usually ideal for rounder and fuller cheeks, the angular design makes for a versatile option.
Funky Blue Geometric Glasses
Here at Vlookoptical, we are all about the latest trends and styles. That is why we strive to offer the best available eyewear designs for your satisfaction. Funky blue geometric glasses are just perfect for statement-making. Not only are they stylish, but also provide a unique design for your face to make you look outstanding. With a thick-rimmed frame, funky geometric glasses are just a buzz.
Black Glasses Geometric
Geometric thick-rimmed glasses are super trendy. You do not want to miss out on this trend because we have got you covered on Vlookoptical. For a bold statement-making appearance, black geometric glasses frames are your perfect go-to. This design portrays a lot of confidence in the person wearing the glasses.
Conclusion of Thick Rimmed Geometric Glasses Frames
Eyewear trends improve the way one looks. So, if you want to have a change of style for your glasses, ensure you choose the right type of frame that blends well with your face. Thick-rimmed geometric glasses are the most versatile options, offering a wide range of designs for different face shapes.