10 Glasses for Diamond Faces | Vlookoptical™
If you have a diamond face, you might be hard-pressed to choose the right kind of eyeglasses for you. But it should not be like this. There is a large variety of eyewear that will look fabulous on diamond-faced men and women. Here's our take of 10 glasses that are ideal for diamond faces. All these products carry a 12-months warranty and a 14-days return or exchange policy. What more can you ask for?
Brown Cat-eye Glasses Ella: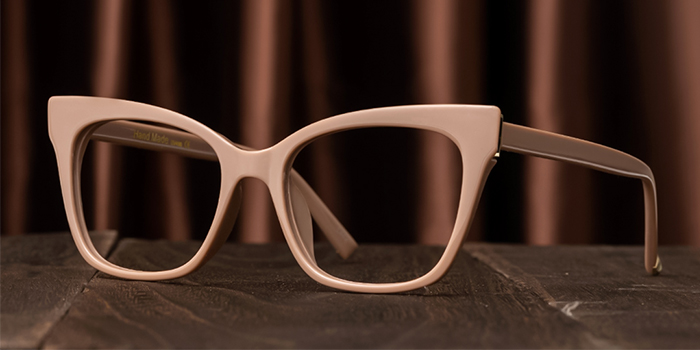 Cat-eye glasses never go out of style. They look chic on almost anyone, but elderly ladies look super cool in them. This particular pair is available with lightweight PC material, and you won't feel a thing wearing it. The build quality is sturdy, and it is available in three eye-catching colors; brown, white, and red. You can pick the one that suits your skin tone the most. Each color has its unique aura that will add to your personality. It is currently on a sale price; grab it while it lasts.
Tortoise Shell Cat-eye Glasses Sharp: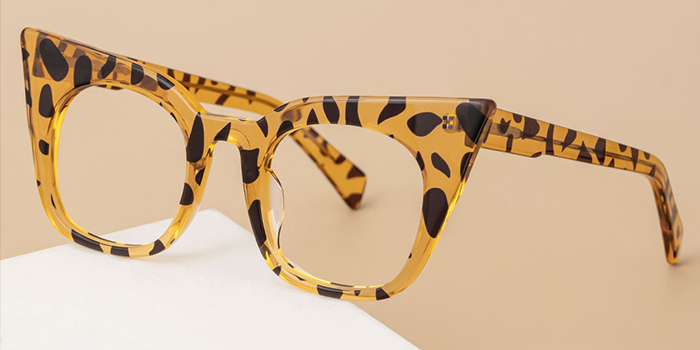 How about showing off a little bit of your wild side? Wear these leopard and zebra-patterned glasses and be the star attraction wherever you go. The bold patterns make a striking fashion statement, yet they do not go over the board with it. The onlookers will find your glasses cool, fun, and funky. The material and the build quality are top-notch. You do not want to miss them. They are currently on sale price too.
Transparent Cat-eye Glasses Blair: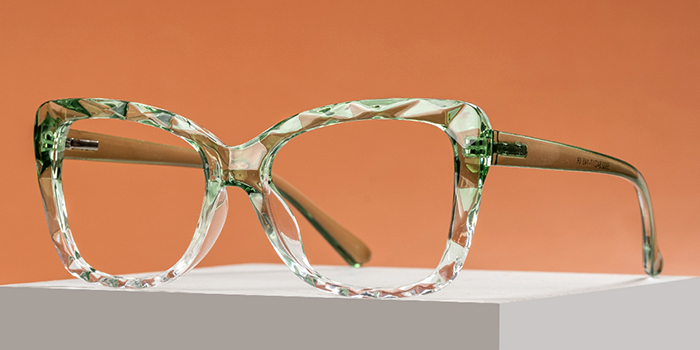 This beautiful pattern is sure to make everyone turn their heads when you wear it. The design looks inspired by some exotic snake species. It has a touch of allure and mystique behind it. The ivory green and red hues are juxtaposed with some pale shades of brown and white to create this masterpiece. The results are nothing less than impressive. Spread some cool vibes by wearing it and be the center of attention. It is on a sale price, so make a run for it.
Black and Gold Browline Eyeglasses Ivan: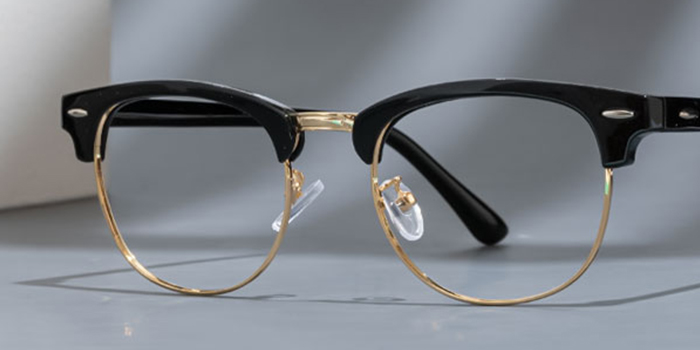 This graceful baby is a hot-selling item for some good reasons. It is a versatile frame as you can wear it with both prescription and sunglasses. The delicate metal rim is joined together with a thick, glossy plastic frame available in six beautiful color schemes. From the demure black color to the funky tortoiseshell, take your pick as per your preferences, skin tone, etc. It also has nose pads to give you comfort and support. A must-try for anyone wanting to buy round eyeglasses adds class to his personality.
Cateye Browline Glasses Rococo: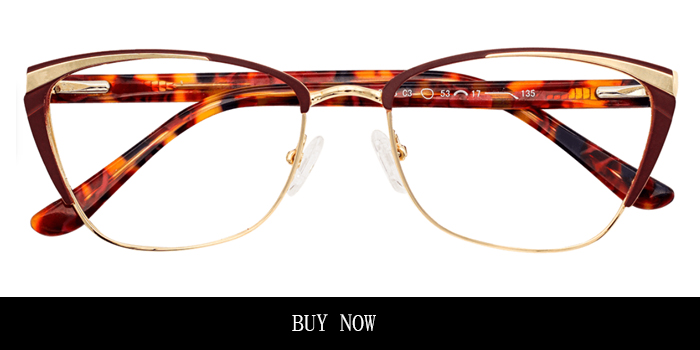 It is rectangle-shaped glasses that are exquisitely designed with a retro look and is available in three attractive colors. Choose between beautiful patterns of purple, red, and tortoise and wear them with panache. The materials are of mixed quality and light in weight. The brow line is dual-toned with a golden accent mixing with the brown tone. The spring hinges make the glasses fit any face and make the wearer feel comfortable.
Rectangle Active Eyeglasses Victory: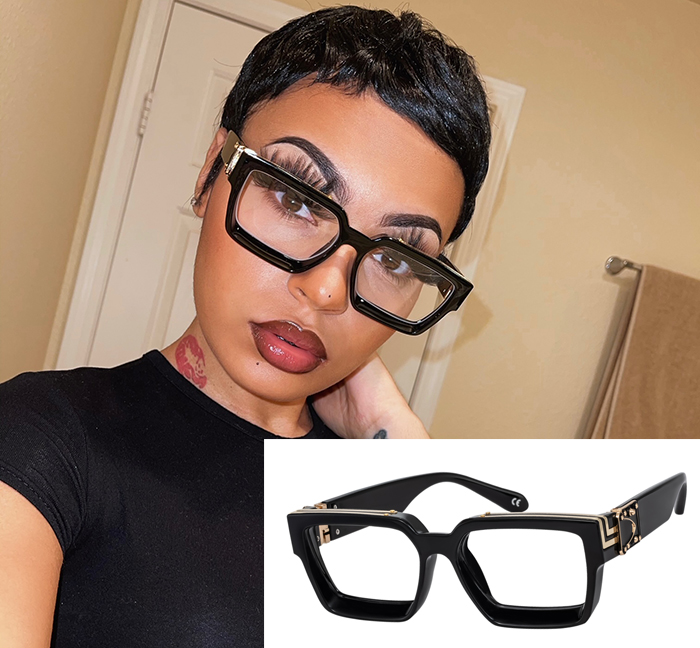 This design leads the way in rectangle glasses. It never goes out of style and continues its popularity run. Here, it is available in three bewitching colors. With stylized hinges in golden color, the solid black is the classic anyone can turn to when it needs. Besides black, a blue pattern is mixed with black and white with pale golden hinges to add some funk to the look. The PC material is both durable and light. Be the style icon that you are by sporting these superb glasses.
Oval Tortoise Glasses With Rhinestones Michael: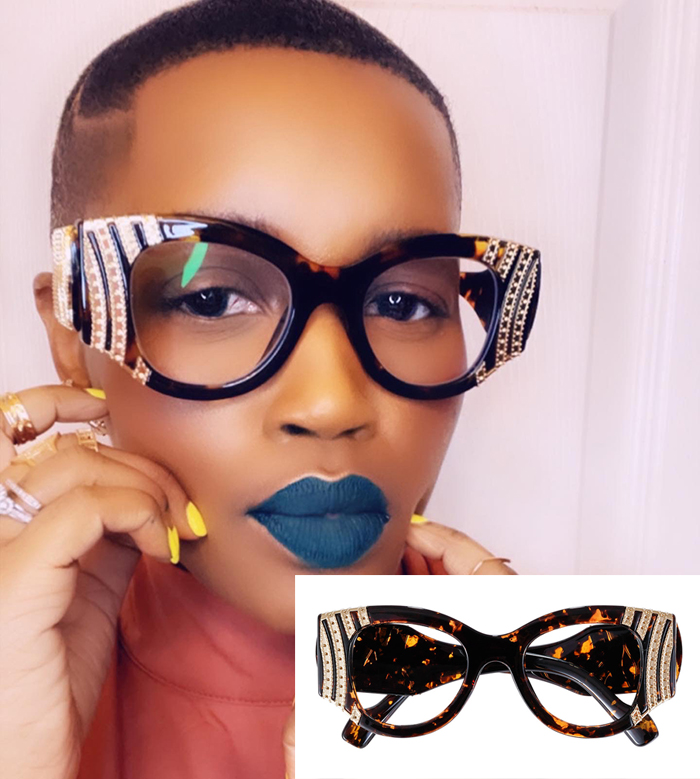 The glitz and glamor of Michael are sure to attract everyone's attention. Cat-eye frames get an ornate treatment here, and Michael is born. The golden ribbons on the front frame look flashy. The available colors are red, green, tortoise, and black. It seems vibrant in every color. Wear Michael whenever you want to don a bold and glittery look. It may not be of everyone's taste, but that is probably the best thing about it.
Square Black and White Glasses Clair: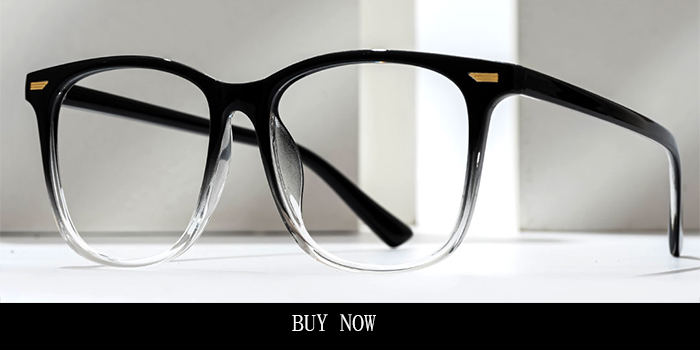 This ever-green square frame is a safe bet for anyone looking to buy a graceful pair of glasses. The frame is available in three colors of black, grey, and transparent white. Of these three, the last one has a unique look. The translucent look is both sullen and stylish. The front frame is accentuated with a gold strip on either side and gives off fashionable vibes in a very understated way. All in all, a classic look with modern packaging is what describes this frame.
Acetate Full-Rim Grey Glasses Frame Alvin: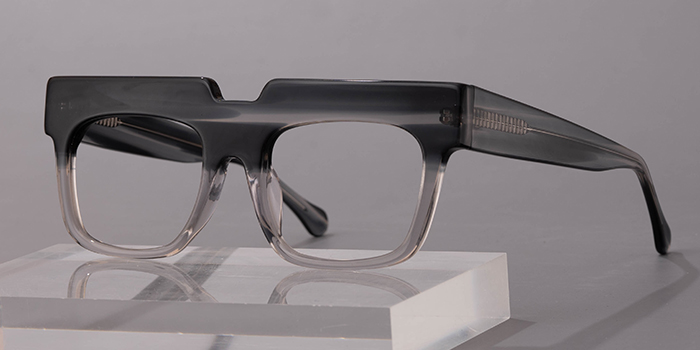 The one thing that stands out in these frames is the thick top bar. It has an imposing presence, and you cannot ignore it. Equally big arms complement the heavy top bar. Yet, the glasses, despite their bulky look, do not look boring. They have a unique look and are decently styled to have a style quotient of their own. These glasses are available in black and two very bright shades of orange and yellow. These colors are bound to add vivacity to their wearers' personalities. The design seems to have a vintage touch as they remind you of the swinging 60s. So, what are you waiting for? Get these glasses and show your swag?
Sophisticated Clear Orange Square Glasses Evere: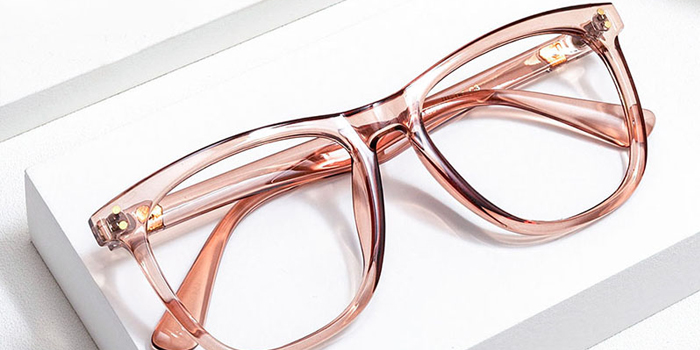 Square glasses also go along with diamond face shapes. Evere is engineered with perfection in mind and is cool to look at and dignified when you wear it. The materials are super-light, flexible, and abrasive-resistant. The available colors are black and transparent orange and grey. The transparent shades are for those who want to look brash but in a restrained manner. The square-cut frame is sure to please every discerning user and get loads of appreciation from onlookers.
Conclusion of 10 Glasses for Diamond Faces:
So, this was our list of 10 of the best eyeglasses for diamond-shaped faces. If you are diamond-faced or know someone who is, we are sure you will find at least one pair here that tickles your fancy.