Eight Stylish Trends in Men's Glasses | Vlookoptical™
Specs have become a great accessory that adds a finishing touch to your dressing. The truth is that they are fast becoming a crucial accessory if you want to look dashing and stand out of the crowd. Of course, finding the right stylish trend for men's glasses is now easy. With a huge variety of designs and styles that are available, you have a plethora of options to choose from.
Thanks to technical innovation, the durability and comfort of wearing these pairs have significantly improved. Men's glasses come in different colors, shapes, and more, and whatever is your personality or style, you are sure to find the perfect pair that fits.
This post looks at the best eight stylish trends in men's glasses that you can find today. It is exciting to know that you will find these designs and styles on VlookGlasses at great prices.
Stylish Men's Glasses are More Accessible than Ever
Some years ago, you barely have many designs to choose from. Then again, many colorful glasses are restricted to the domain of women's eyewear. However, the tide has significantly changed. Today, you will find numerous designs of men's glasses in different shapes and colors. By the way, some are even regarded as unisex, which means they are not gender-restrictive.
The bottom line is that stylish men's glasses are more accessible today than ever. So, when you are ready to upgrade your wardrobe and add a couple of eyeglasses to your collection, here are some great pairs that you may consider.
Basic Black [Horn Rims]
This robust simple rectangular horn-rimmed glasses pair is perfect for men with an oval face, strong features, and high cheekbones. It comes with thick dark frames that say a lot about your confidence and smartness.
You can pair the eyeglasses with black attire to make you stand out from the crowd. Some great options you can find on the VlookGlasses website include Clara, St. Leger, and Emory, among others. All these come at affordable prices that would not dent a hole in your wallet.
Beige is Back [Unisex Glasses]
Beige eyewear is taking the world of fashion by storm and it is fast becoming the new black. It is sometimes called honey, sand, or wheat, but irrespective of the name you know the eyeglasses by, you can be sure that it is one of the stylish trends in men's eyewear.
The different hues of beige are being introduced into the designs and styles of men's glasses and they are becoming more popular by the day. From flesh-toned acetate to brushed beige metal frames, you have numerous options to choose from.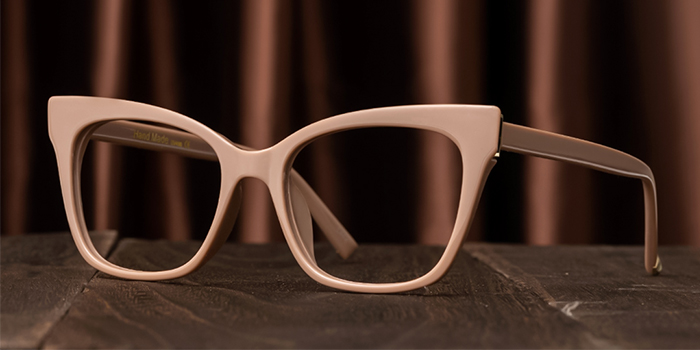 The beige unisex eyewear comes in different colors but if you are looking for something warm with a gold undertone, beige is the right color to choose. The best part is that it flatters most skin colors. Some great styles you can find with VlookGlasses include Chinchilla, Scout, and Stella.
Tortoiseshell Frames
Systematically, tortoiseshell has found its way back on the map of hipster. It stands you out of the crowd and makes you look all put together. Tortoiseshell frames come in different designs and styles with unique shapes that will suit any face structure.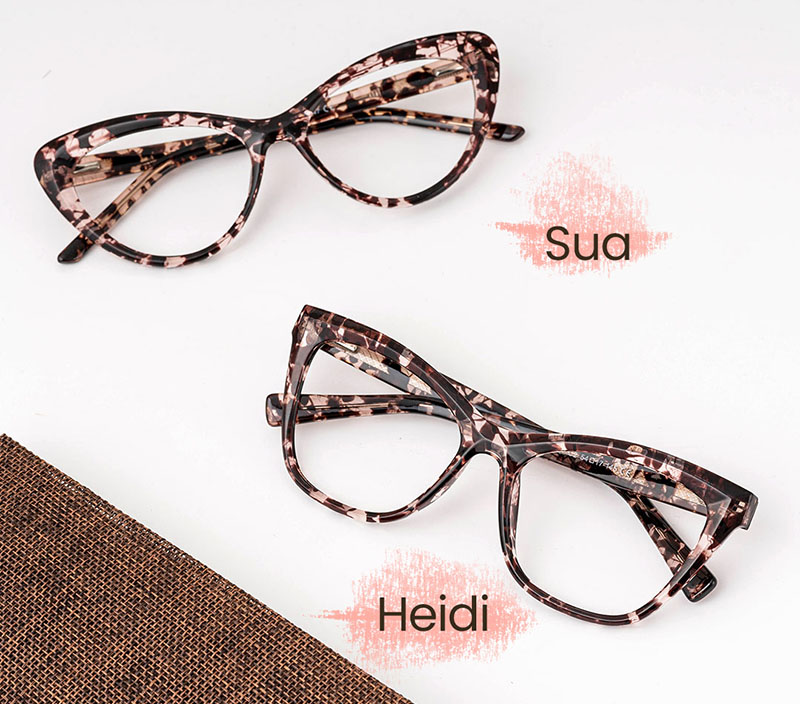 These frames come mostly in acetate and they are durable and flexible. Some Tortoiseshell eyeglasses designs that are available on VlookGlasses are Ivan, Victor, Clyde, Briella, and Ariel, among others. Each of these can be found in different sizes that will suit your face shape.
Feather-Light Glasses
When you are looking for something comfortable and durable, feather-light glasses come in very handy. Thanks to technological advancement, you do not have to wear eyeglasses that put pressure around your nose and ears. Feather-light glasses are what they are - they are very lightweight and do not put pressure on your face.
The best part is that they look fashionable without losing on their durability. You will find contemporary designs with various color options and materials. Some great options to consider from VlookGlasses are Bambie, Polly, Cloudless, Sylph, Mermaid tears, and Bella, among others.
Clear Frames
When you want to play low on the colors, clear frames are your best friends. These pairs are undoubtedly classic and sophisticated and are perfect for getting some style and shape in place. If colors are not your issue, you can choose clear frames with colorful arms to give you a stylish look.
You will find amazing collections of these eyeglasses on VlookGlasses at great prices. When making a choice, ensure you stick to shapes that fit your face shape. Some stylish pairs you can find on the site include Mole, Remy, Bridge, Quinn, and Rio, among others.
Classic Brow-Line Glasses
These pair of eyeglasses are picking up again and getting into the latest trends. Brow-line frames come in a variety of designs including tortoiseshell, patterned metals, classic black and paler frame shades.
Classic brow-line eyeglasses give a masculine-intellectual touch without making you look too full of yourself. VlookGlasses offers a wide selection of these pairs and some amazing designs you can find include Simen, Adrian, Rococo, Chestnut, and Rick, among others.
Retro Round Glasses
The mid-century specs are coming back to life but this time around, they are coming with a bang. Retro round glasses are the favorite of millennials and they come in a variety of designs and shapes. Colors are a significant part of these pairs and you never have to worry about any restrictions.
If you want to showcase a vibrant personality, retro round glasses should be one of your collections. Options of designs that are available include Eva, Vannessa, Aiken, Chaz, Coral, and Beth.
Boxy Wire Frames
The boxy wireframes are a perfect choice for men with round face shapes and features. The frame's style is quite flattering with a retro-bookish touch to it. You can pair it with any casual attire and if you want to dress down for a corporate event, it is also a great choice to consider. You will find stylish options at VlookGlasses at attractive prices.
Conclusion of Eight Stylish Trends in Men's Glasses
These are eight of the most stylish trends in men's eyeglasses. Before you shop for your eyewear, whether prescription or fashion accessories, you should get your actual face shape. This will help you to determine the best style that will suit your facial structure.