The 7 Amazing Vlook Glasses You Need For 2021 | Vlookoptical™
The fact that eyeglasses are essential fashion accessories cannot be overemphasized. Your dressing is not complete without wearing a stylish piece. So, what are the amazing Vlook glasses you should add to your wardrobe for 2021? VlookGlasses offers huge collections of glasses and while shopping you may find it a bit overwhelming with making a choice.
You do not have to worry though, we have curated some top 7 amazing Vlook Glasses that you need to add to your wardrobe. Whether you are looking for a stylish prescription eyeglass or something for fashion with UV protection, you can find them all at Vlook. Let us look at the top eyewear that you can find on the platform.
Yellow Glasses Frames with Tortoise Temples - Elen
It is time to ditch the boring-looking glasses and settle for the translucent design of Elen with its contemporary tortoise temples. One unique thing about this frame is its simplicity in style. It is the perfect choice if you are looking for a classy and stylish piece.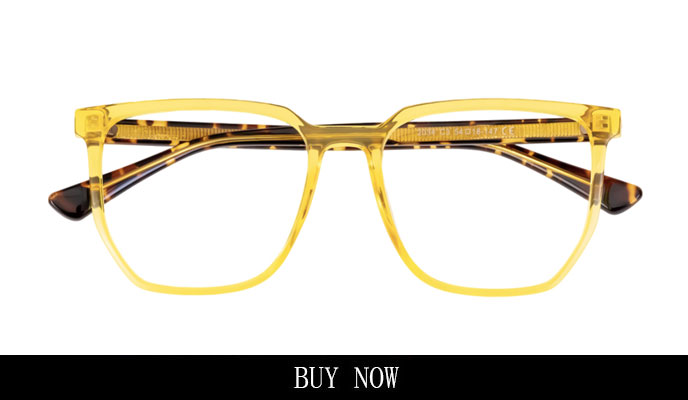 The yellow color adds a stunning and lively feel to it, giving it a youthful look. It does not matter your age; Elen will suit you perfectly well and take some years off your age. The best part is its versatility. You can wear it for any occasion.
Whether you are going for a corporate event, workplace, or informal occasion, Elen Yellow Glasses frame with tortoise temples would be a cool accessory to put the spotlight on you.
Tortoise Glasses Frame with Metal Temples - Esme
Esme has everything you are looking for in eyewear. From its simple design and delicate but sturdy legs to its tortoiseshell frames, you cannot just get enough of this pair of eyeglasses. Esme Tortoise Glasses frame with Metal temples is simple but very fashionable and it is specially designed to decorate your pretty face.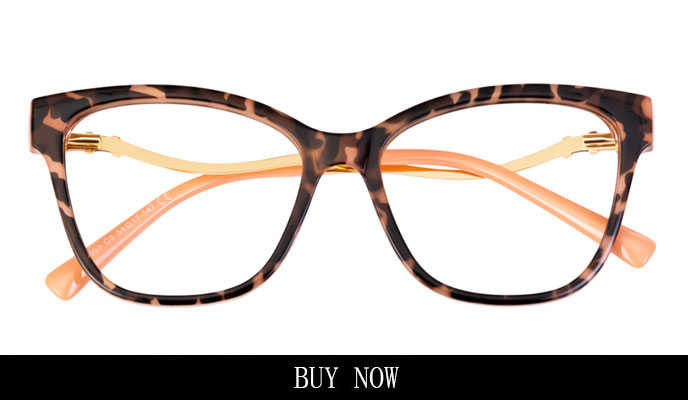 Made of TR90 material, its durability is unquestionable. It is the perfect eyewear for daily use and you never have to worry that people will grow tired of seeing you wearing it. It is a show-stopper any time of the day.
The frame offers a wide vision field that makes everything clearer and the curved mirror leg designs add a touch of class to the whole design. Esme also comes in Black and Blue.
Crystal Clear Glasses Frames - Mole
Mole is a class of its own with its classic and simple design. Well, do not be deceived by the simplicity, it packs some class with it. It does not matter the shape of your face, Mole will look elegant and classy on you. The frames are designed in a simple but fashionable way that gives them a timeless feel.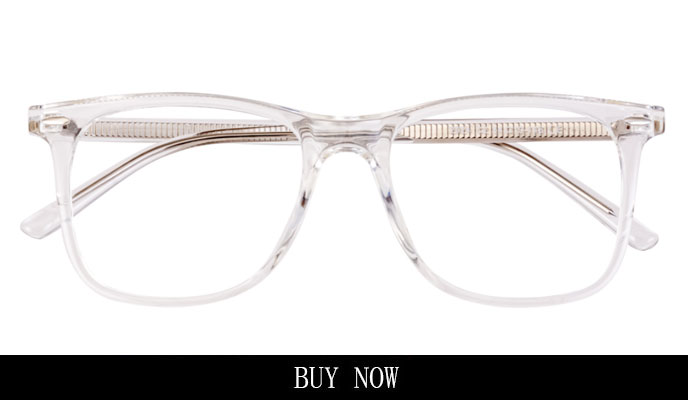 Mole is made of ultra-light TR90 material, which means that you do not have to worry about it getting heavy on your face during the long day. With this crystal clear glasses frame, you can stand out of the crowd as you allow Mole to release its charming and warm aura around you.
If you are looking for a pair of eyewear and you are not sure of the one that will look perfect on you, Mole is surely a classic choice.
Black Glasses Frames with Metal Temples - Wave
Perfect for its exquisite workmanship and validated by its style and class, Wave is a must-have pair in your accessory collection. Made with light and high-quality material, the black glasses frames with metal temples bring out class and elegance at their best.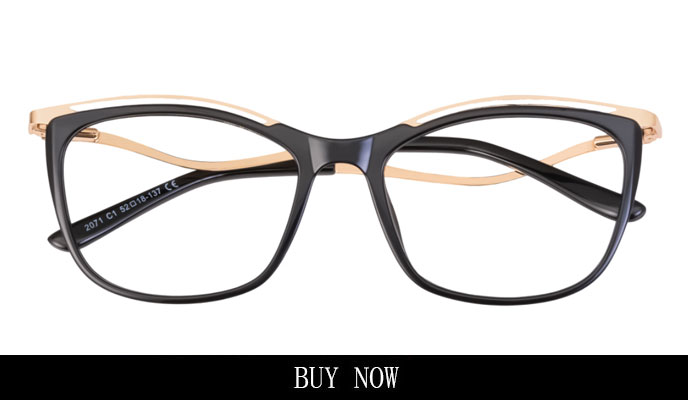 The hollow metal design at the top of the frame gently modifies your eyes to make them appear brighter and livelier. The combination of plastic and metal materials in its design gives it a fashionable and charming appearance. The unique design of the temple gives it a special personality that stands out from the crowd.
Its multi-color design also makes it very unique and attractive in a lot of ways. You should get a piece and rock it to your next event. You surely will stand out from the crowd. By the way, Wave is also perfect for daily use and any occasion.
Purple Cat-eye Glasses Frames with Metal Temples - Crystal
Purple is a color of royalty and wearing a purple cat-eye glass frame surely put you in a special class. Crystal is the perfect eyewear that gives you a special edge in the world of fashion. It stands you out anywhere and reflects that you are in charge.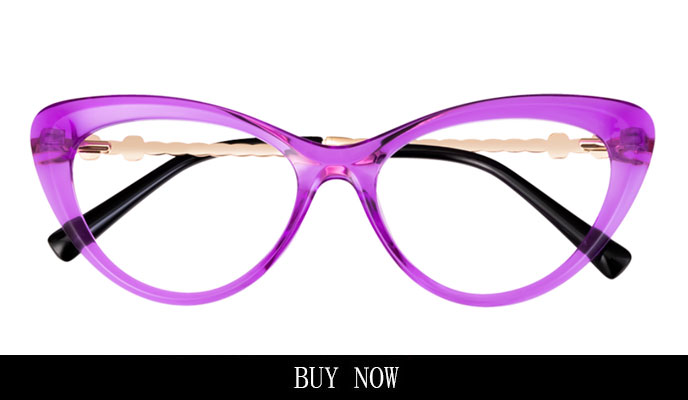 The sharp-angled cat - eye frame makes a strong statement about elegance, unique personality, and exceptional temperament. Made of plastic and metal, you cannot get enough of the charm that this piece bestows on you.
Its hexagonal decoration at the temples gives it a playful and youthful look but does not detract from its full vitality. You should check out this piece if you are looking to make a strong statement with your eyewear.
Thick Black Frames Glasses Rectangle - Victory
When you want to reflect a bold, confident look, Victory is a top choice for the job. It features a great texture and gives off an intoxicating look that you cannot get enough of. The thick black frames design speaks of high-class style, charm, and sophistication that you can only get in the boardroom.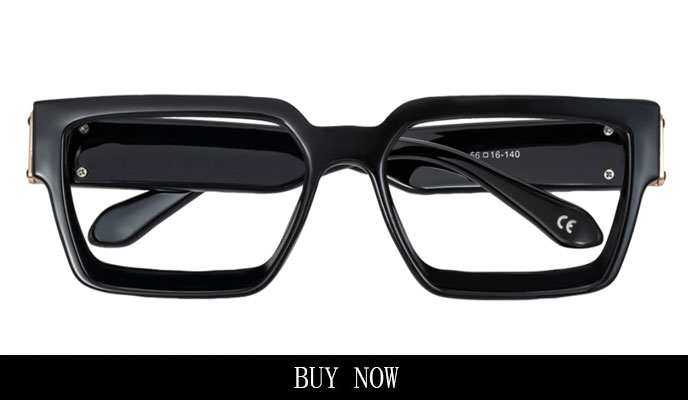 Made of PC material, you never have to worry about it breaking off because it is as strong as they come. Victory is a pair of eyewear you can rock to any event and it will look perfect on just about any clothes. If you are looking for something trendy without loud colors, this thick black frame would be a great choice.
Floral Glasses Frames with Metal Temples - Abby
Abby is unconventional and cannot be boxed up. It is all about fashion expression and personal style. It is the perfect description of beauty and class. The floral glasses frames with metal temples come with TR90 material, which makes it an ultra-light frame piece. This means you never have to worry about pressure around your nose or behind your ears.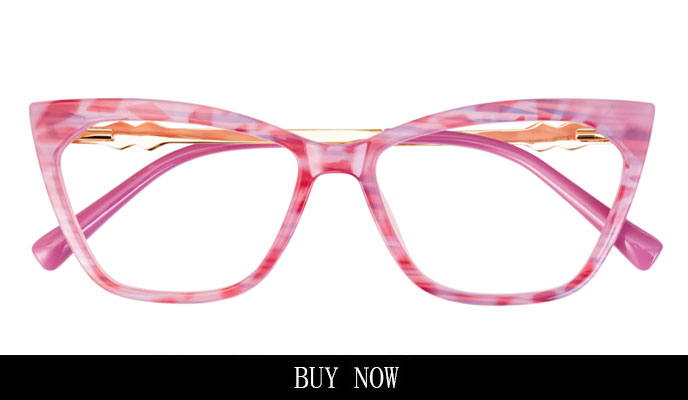 Well, being ultra-light does not mean that it is fragile. The fact is that Abby is characterized by an uncommon super toughness and low friction co-efficient. Its sharp-angled cat-eye frame is all about exhibiting elegance, strong personality, and true temperament.
Conclusion of The 7 Amazing Vlook Glasses You Need For 2021
These are the top 7 amazing Vlook Glasses you should rock in 2021. All these eyeglasses are in stock on VlookGlasses. You can place your order for any of them and have it delivered to your doorsteps without any issue.