Stylish Prescription Glasses for Women | Vlookoptical™
Eyeglasses are small accessories but they make a significant impact on your whole ensemble. Glasses and women pair well together. It does not matter the type, an eyewear gives you a smart and sexy look almost all the time.
So, if you want to take the spotlight and turn heads in a gathering, spotting a pair of stylish prescription glasses for women is a top choice to consider. If you are wondering about how to choose the best eyeglasses, this post shares some of the best women's eyeglasses to revamp your look in 2021. Let us get right into the details already!
The Best Women's Eyeglasses to Revamp Your Look in 2021
If you are on the lookout for a great pair of glasses to add to your collection, we have got the best options for you from VlookGlasses. Of course, there are numerous frame styles and designs for women that have been popular over the years.
However, some have remained at the forefront in the world of fashion and if you want to make a trendy fashion statement, you should have at least a pair in your wardrobe. So, we curate the best women's eyeglasses that you can consider when shopping for your eyewear. The best part is that whatever design and style you want; you can find it on VlookGlasses online store.
Eyewear Trends: Most Popular Styles and Shape
This year has witnessed amazing popular trends in the world of fashion and eyeglasses are not left out. From cat-eye to tortoiseshell and square shapes, you will find trendy eyeglasses with unique details that will make you stand out. Here are some of the best selections that you can find on VlookGlasses.
Women's Floral Pattern Glasses Frames – Fiona
If you want to reflect the look of cool, calm, and collected with a touch of sophistication, Fiona is the perfect eyewear choice for you. It is a broad square frame that is made of the tortoise and black color. The color combination reflects exceptional style compared to a single color.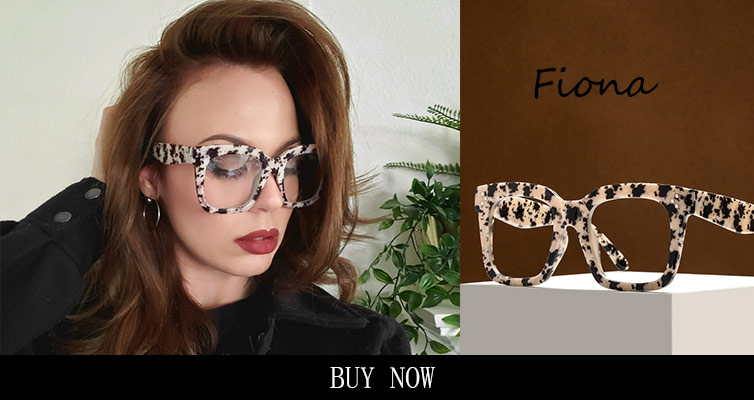 Black is seen as a color of calm and unshaken but the addition of tortoise color; pushes the style of the eyewear a notch higher, giving a trendy and sophisticated look. Whatever your needs are in fashionable eyeglasses, Fiona is sure to meet them. Check out the varieties that are available at the VlookGlasses store.
Female Pink Frame Round Glasses Clear Lenses – Damla
Damla is a true definition of a funky, glamorous, and no-care-in-the-world look. The overall appearance of the eyewear is stylish transparent with a unique and novel design. Although it looks thick, the material is quite very light so it would not put pressure on the ends of your nose or ears. The frame's design is unique, giving off a charming and cute look.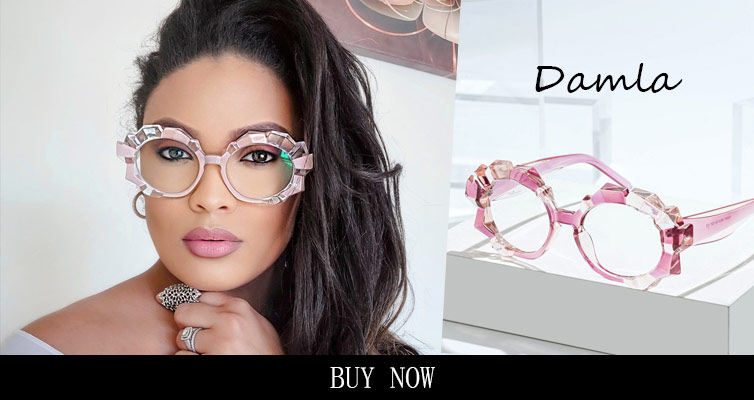 When you need to party with friends or travel, Damla is a perfect choice to stand out from the crowd. The lovely pink color gives you the girly feel that takes some years of your age. Wondering how to get a pair? VlookGlasses has it in stock. You can also find the glasses in red, blue, and brown.
Thick Cat-eye Glasses for Square Face in Tortoise – Arya
Make a loud fashion statement with this pair of thick cat-eye glasses and make a strong impression. Arya is a perfect choice for people with a square face and with the combination of the frame's shape and tortoise color; you can make a dramatic entrance at any event.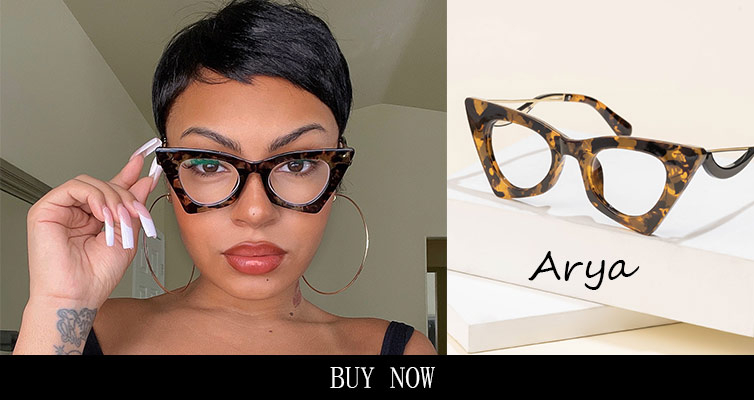 Thanks to its stylish and unique design, you can spot Arya on any occasion and take the spotlight. You will find this pair of thick cat-eye glasses in a variety of colors and the tortoise is the highlight for us. Of course, if you prefer black, white, green, or red, you will find all these collections at VlookGlasses online store.
Funky White Cat-eye Glasses – Ella
When you want to take the center stage without trying too hard, Ella is a top choice to consider. These funky white cat-eye glasses are designed with a PC material, making it a very comfortable choice for everyone.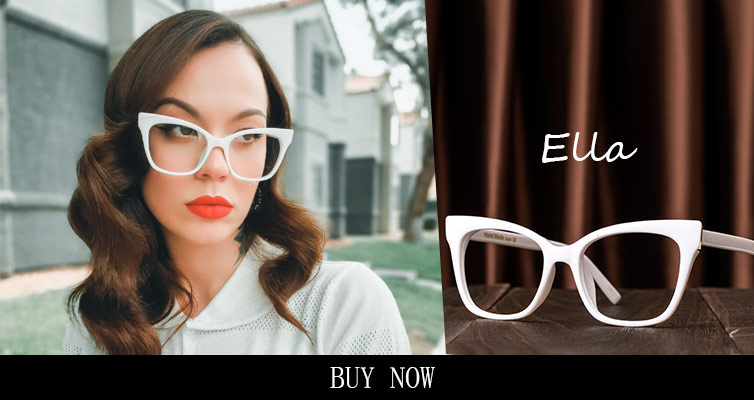 PC material is generally very light and puts little to no pressure on your nose or ears. If you want to shed some years off your age and look more youthful, this funky white cat-eye glasses pair is a great choice for you. You can also find the eyewear in other colors, including red and brown.
Women's Plastic Tortoise Oval Glasses Frames with Rhinestones – Michael
Michael exudes an elegant, fashionable, and noble personality. If you want to take over the boardroom with your presence and show that you have earned your place in a world dominated by men, this piece is a perfect choice. It comes in a variety of colors, including black, red, tortoise, and green.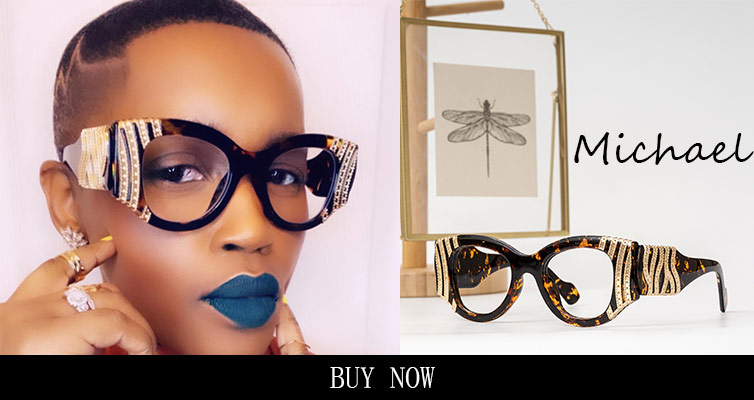 To add a touch of mystery and uniqueness to this eyewear, it features some metallic wide ribbon lines on the temple arms and the front of the frame. It is also designed with PC material for lightness. Being light does not mean it is fragile. It is tough and very durable, making it the trendy cat-eye frame that it is.
Women Wearing Rectangle Glasses Black – Victory
You never can get enough of this pair of women wearing rectangle black glasses and that is why it has been dubbed eyewear with an intoxicating look. It draws your audience in and makes you the center of attraction.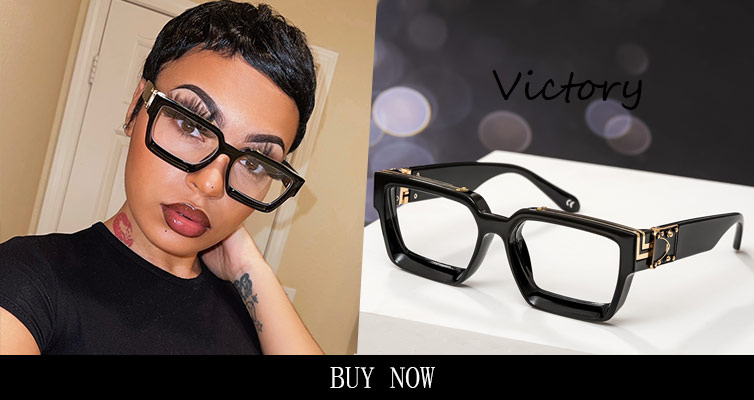 The exceptional texture with exquisite design and styles make this pair a top trend in the world of fashion. If you want to show off a unique charm and personality, Victory stands up to the occasion always. The best part is that it blends perfectly with any clothes and other accessories.
Conclusion of Stylish Prescription Glasses for Women
These are the top stylish eyeglasses for women in 2021. If you are looking to revamp your eyewear collection, these pairs are a great choice. Wondering where to find these collections? Check out VlookGlasses and explore a variety of trendy glasses that will make you look stylish without breaking a sweat.