Prescription Eyeglasses For Women With Rhinestones
Having a pair of nice eyewear can make a great difference in your overall appearance. This is because, besides correcting vision and protecting the eyes, glasses are used to make a fashion statement. And if you want to dress and look the part, you should try keeping up with the latest trends.
Women wearing glasses are deemed as intelligent and stylish. Well, there is no doubt that glasses make them look beautiful while remaining outstanding. All you need to do to achieve good looks while wearing glasses is to choose the one that matches your facial features.
Who said prescription glasses should be boring? Determining the glasses that match your face, hair, eyes, and skin color are essential. This helps you choose the best pair that amplifies your style. We, at Vlookoptical have found out that you can add style to your prescription glasses for a timeless appearance.
Read on to find out more about women's prescription glasses with rhinestones and how to style them.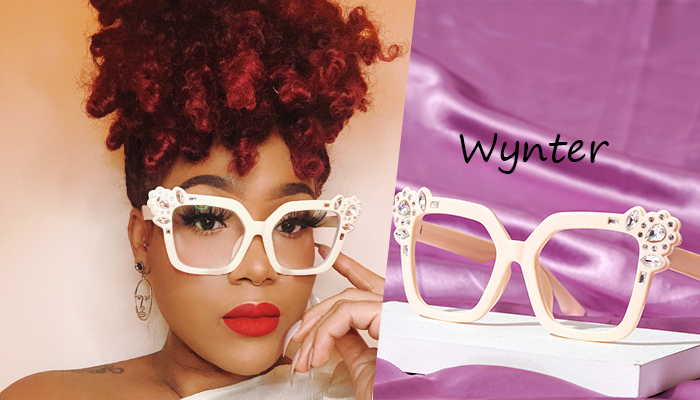 What are Rhinestones on Glasses Frames?
Oftentimes, people talk about various designs that come with glasses frames. Some are determined by the color they come in and the materials they are made of. Plain prescription glasses look flat and boring. However, there are some additions to the frames that make the glasses look stylish and presentable. Among the popular additions are rhinestones.
Rhinestones on glasses are small crystals placed around the frames or on the part of the frames for decorative purposes. These crystals often resemble diamonds (also referred to as fake diamonds) and can be shiny, presenting different colors. The rhinestones on glasses frames replace the boring designs, delivering an elusive hint of sparkle. These glasses present thoughtful designs that are both unique and stylish. In this article, we focus on different women's glasses that have rhinestones to enable an easier buying decision.
Prescription Eyeglasses With Rhinestones
Without a doubt, glasses frames with rhinestones present the most distinctive look that you will not find anywhere else. What's more, the glasses are in style today and bring a more youthful look. Our collection encompasses a plethora of glasses frames with rhinestones to help elevate your style. Scroll through the ones we have selected here to make your shopping experience smooth and effortless.
Vogue Tortoise Shell Glasses With Rhinestones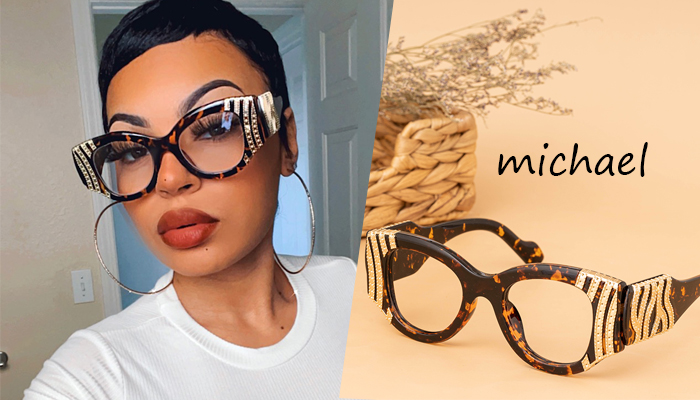 If you are looking to heighten your style, try our Vogue tortoise glasses with rhinestones. For starters, they portray elegance and nobility in any woman that wears them. What's more, the glasses make one look young and vibrant.
Michael, for instance, is the perfect example in this section. It has special features that make the pair look outstanding. The metallic rhinestones are placed on the front part of the frame and some on the temple arms to add a distinctive touch and mystery. It features PC material that is extremely durable for long-term use and comes in a fashionable cat-eye design, highlighting its exclusivity.
If cat-eye is not for you, there is Wynter in this category that also presents elegance and uniqueness. Wynter adopts a rectangular frame design and uses PC material in its construction for maximum durability. The rhinestones are placed symmetrically on either side of the frame to enhance style. Featuring a minimalist color, the diamond crystals ensure a sparkling and unique appearance.
Red Reading Glasses With Rhinestones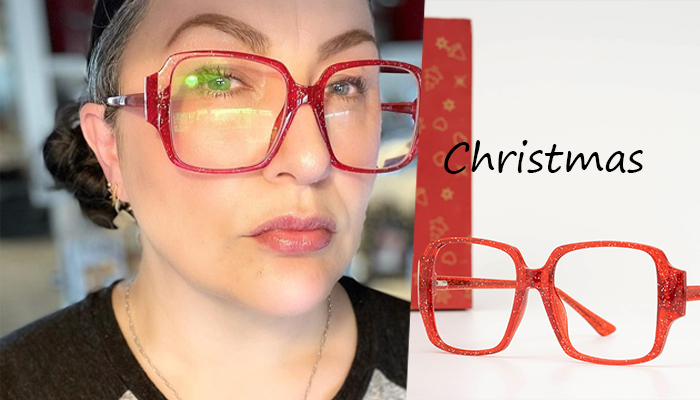 Whoever said that reading glasses should present a nerdy, plain outlook lied. Adding a bit of style to the rather minimalist look of reading glasses delivers elegance and confidence. In our red collection of glasses, we have Prism, which presents the most outstanding design yet.
Prism bridges the gap between simplicity and luxury and displays vivacity towards life. It comes with an archetypal round frame with minimal decoration but with irregular diamond inlay on both sides. In addition, the temple combines a variety of materials that ensure stability and an effortless wearing experience. These glasses are as excellent as they make one look confident. We also have other frame designs and colors that match your face shape, complexion, and eye color.
Cat Eye Sunglasses with Rhinestones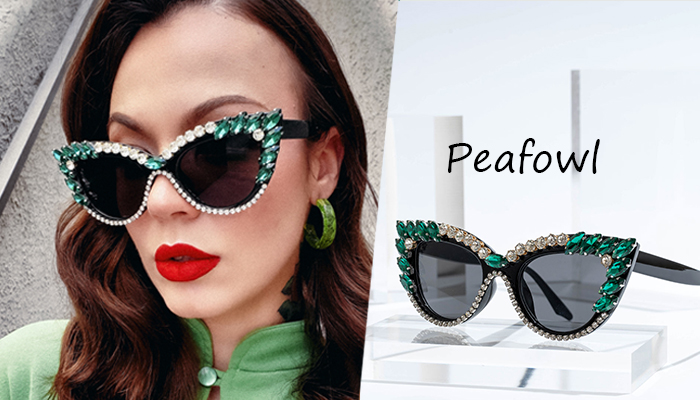 When it comes to sunglasses, you have a wide range from which to choose. However, sunglasses are known to bring style other than protecting the eyes from UV rays. So, if you are going for these, try Peafowl. Peafowl is the perfect definition of style, elegance, and youthfulness. It's the newest in our collection and features diamond crusting on the edges and opens like how a peafowl opens its wings. With these sunglasses, you are sure to turn many heads as you walk by while remaining unique and stylish.
Flat Top Eyeglasses with Rhinestones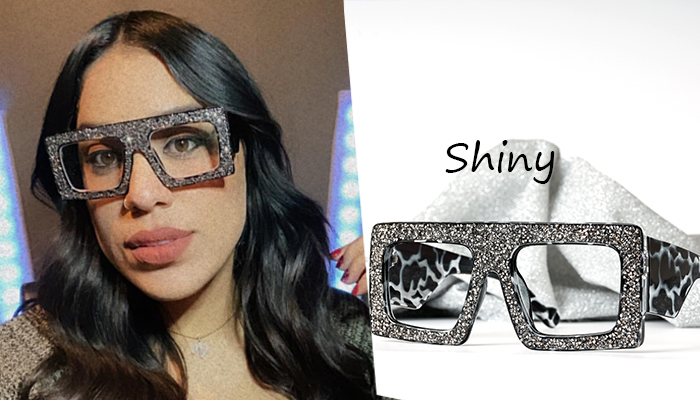 Flat-top glasses are trending today as they present a unique design. For a more outstanding look, we have Shiny in our rectangle glasses category. Shiny presents a wider design with tiny, sparkly decorative rhinestones that deliver special chromatic effects. The effect also prevents the frame from looking bulky when viewed practically. What's even amazing is that the pair shines under the sun or any source of lighting in the room.
Conclusion of Prescription Eyeglasses For Women With Rhinestones
You can easily switch your look from basic to sophistication with shiny eyewear that presents excellent style. Rhinestones are a perfect addition to your frames as they make the glasses look stylish. Whether they are prescription glasses or any other category, rhinestone eyewear aid in elevating one's style. Glasses in our collection are lightweight and comfortable, with rhinestones included. We ensure to make them using durable plastic materials that are lightweight to guarantee maximum comfort.