Eyeglasses for Diamond Face Shape
Indeed, diamonds are a girl's best friend, and this is what we have heard since childhood. But hold on! Do you know people have diamond shape face? Amazed? However, this shape is not very common, but celebrities like Madonna, Meg Ryan, and Elizabeth Hurley have distinguishing diamond-shaped faces. Besides, your face plays a significant role while you are buying yourself a pair of eyeglasses. It is a general rule of thumb when it comes to buying the right pair of eyeglasses; always opt for the frame that complements your features. Whether you need sunglasses or looking for stylish eyeglasses, before spending hours and money, identify your face shape.
You must be wondering how to identify face shape; keep on reading; we have answers for all your questions. But before the fun begins, we would like to grab the attention of our diamond face shape readers. Yes, we'll focus on you, and we will help you find perfect frames for your diamond face shape.
Let's dig in…
How Can I Identify My Face Shape?
Obviously, every face has a different shape. You must be thinking, why do we need to identify face shape. The reason behind this is that a style that looks great on girls with oblong faces won't look good on a girl with a square-shaped face. However, the most noticeable thing in a diamond face shape is the angles and pointed features with the widest part of the face as the cheek. In addition, the forehead and chin appear to give height to your face.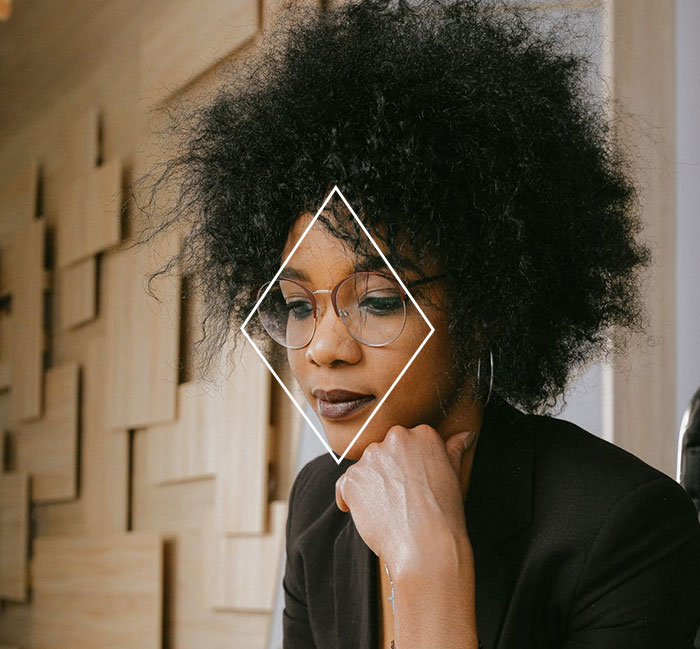 1.Angular cheeks
If you have a diamond face shape, your cheeks would be angular. Besides, in some cases, the cheeks look pointed, making your features look sharp. Not just this, the angles on your face are considered as the widest feature, with the cheekbones places a little higher.
2.Small Forehead
You may have seen many times people with diamond face shape? Don't you? Their forehead is not wide or broad. In other words, the size of the forehead is a little smaller than the cheeks – this depicts the upper curve of the diamond.
3.Pointed Chin
When you look at the diamond, the bottom part seems a little pointed. Similarly, the lower part of the face is pointed and lacks angular features.
4.Narrow Jawline
People having diamond face shape has a narrower jawline. Simply put, the jawline is smooth with no pointed features. Also, the jawline is similar to the heart shape or the triangle face shape.
Best Eyeglasses for Diamond Shaped Face
As discussed earlier, when you opt for frames, always look for glasses that suit your look while complementing your personality. As there are multiple options available in the market, it becomes difficult to choose one. No doubt! It is a bit too tricky. So to solve your problem we have listed down some frames which you can buy if you have a diamond face shape. However, if you have a different face shape – do your research before purchasing anything.
Usually, people with diamond face shape look exceptional in horn-rimmed glasses. However, oval, rectangle, and browline also look fantastic. Just give it a try. Oval-shaped glasses soften the angular lines on your face, whereas rectangular frames contrast flawlessly with your features.
Either you are looking for a modern, sleek, or vintage spired pair of glasses, there are uncountable options available in the market that will surely complement your diamond face shape. Check out some of the possibilities we have mentioned below:
1.Oval Glasses for Diamond Face
Having a diamond face shape means you have to buy glasses with a different shape. Oval glasses would work for you perfectly as they contrast the diamond face shape. Whether you opt for rimless frames or want to make a style statement with thick frames, oval eyeglasses are a perfect choice for you. You must be thinking about why you should buy oval glasses. Anything with curved bottom looks flawless on such face shapes. Simply put, people with diamond face shape can carry pretty well.
2.Rectangle Eyeglasses for Diamond Face
Rectangular eyeglasses are another option for people with a diamond face shape. Such frames look counterintuitive, but the right angle they have helps offset the lines of the face. In simpler, terms don't limit yourself. Besides, eyeglasses with thick rims at the brow line would surely drag the focus on the top of your face while creating a bold look. However, always avoid buying glasses of the wrong size – make sure you buy the right size just according to your temple width and pupillary distance.
3.BrowLine Glasses for Diamond Face
People having diamond face shape can opt for brow line glasses as well. The brow line frames with a double bridge give a feel of aviator glasses. Not just this, it is considered as an attractive choice. Opt for the one that has a bit of detailing on the brow line with half rim, tortoise-shell, deep dark shapes, and other designs.
Wrapping It Up!!!
Before buying glasses, always identify your face shape. And if you have a diamond face shape, we have made a guide for you that will surely complement your looks with your personality. So, buy the frames in the right shapes and let your face look extraordinary. Choosing the right frame will draw attention to your face while making a style statement for you.