Prescription Aviator Eyeglasses Online | Vlookoptical™
There is no doubt that four eyes have never been so on-trend. But from the past few years, trendsetters have turned the fashion world upside down with this new accessory, "Eyeglasses". They are no longer considered as corrective measures; rather, they are treated as an elegant addition to your wardrobe that makes you look unique. In other words, eyeglasses give your overall look a finishing touch while giving you a smarter appeal. However, it is not necessary to wear trendy specs to make a fashion statement only. But if you have poor eyesight, you can get the glass changed with prescription glasses. And by doing so you can stay fashionable and trendy.
Buying a perfect pair of eyeglasses is not an easy task. There are uncountable styles available in different colors and sizes. So, to make the entire process easy for you, we have stock up new and trendy frames that will surely going to complete your look. You must be wondering what would suit you best, opt for aviator eyeglasses – they are guaranteed stunners. At Vlookglasses, they are crafted from polished metal and acetate. Not just this, the iconic nose bridge shape makes a bold statement for you that no other accessory can.
The prescription aviator eyeglasses come in a wide variety of colors. From retro bronze finishes to sleek gunmetal touchups, they give you a bossy look with confidence and precision, that not all! Aviators provide ultimate eye protection from tiny dust particles. Whether you are going for ski touring, sailing the Blue Ocean or mountain climbing, aviators should be your choice. Not just this, if you get the tinted glass for such specs, they can provide the fullest sun blocking as well. In case you play golf or volleyball, do not wear aviators; they are not designed for such activities.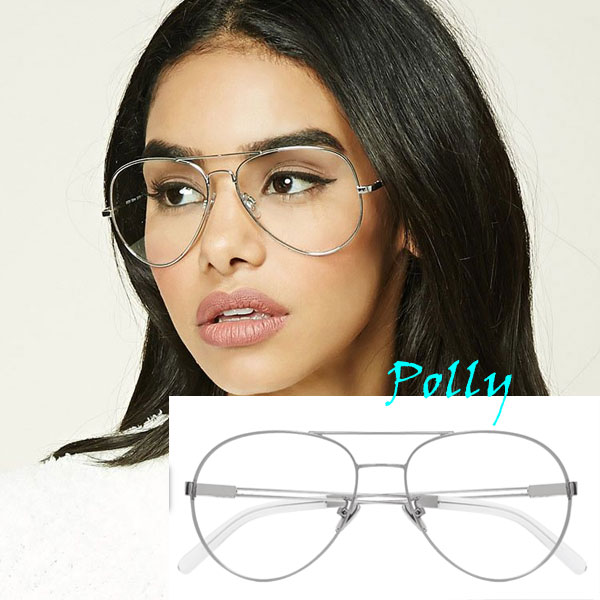 How Much Do Prescription Aviators Eyeglasses Cost?
Prescription eyeglasses' cost typically includes frames, lenses, nose pads (if the frame has that), a case and a cleaning cloth. But if you are looking for an easy on the pocket deal, buy aviator glasses from Vlookglasses. We have coupons on our website to make your purchase easy and affordable. Not just this, from time to time we update our offerings to help you shop better without exhausting your budget. Besides, the cost usually varies due to the nature of prescription and personal preferences. For instance, single vision lenses cost minimal, whereas multifocal lenses, including trifocal, and bifocal are expensive. Not just this, if you have something problematic or unusual, the cost may go up.
The cost of the aviator glasses does not just go up because of the prescription, but here lenses types play a significant role. If you buy conventional plastic, they are popular but less expensive. Aspheric are slim and attractive lenses that help in sharpening peripheral vision. Moreover, wavefront technology has also gained popularity in recent years; it is a vision sharpening lens based on how light travels. Similarly, high index plastic is lighter and thinner lenses with better UV protection. These are formal normal use; if you are an athlete, polycarbonate will work for you as they are ten times more impact resistant than the standard lenses.
Women's Aviator Prescription Eyeglasses
We have a wide range of aviator prescription eyeglasses for women in both acetate and metal. But we suggest you to buy round aviators, not perfectly round – they are more trending nowadays. Its subtle shape with unique look makes all the difference. It is not about prescription eyeglasses only, you can buy aviator sunglasses as well, and they are as trendy as ever. If you think round is not your thing, you can buy squared aviator-style glasses that look positively splendid. Whether you wear it with a silk top, dark jeans or gold jewelry – aviator specs would give you an appealing chic look. We have a wide variety available on our website; please have a look.
Men's Aviator Prescription Eyeglasses
Aviator eyeglasses are the new and the hottest trend for men. This shape becomes popular after the 1940's when pilots used to wear them as sunglasses - ever since they are in fashion. Besides, most of the men aviator glasses are constructed with metal, including double bridge construction. Not just this, aviator glasses are durable and have ability to hold up a high prescription lens. It is the most iconic and classic design that is widely popular these days – a must for men's wardrobe. These sophisticated specs come in gold and silver-tone with an exaggerated full rim. Since they are made up of titanium, keep in mind they can easily be colored. Stronger, durable, and lighter, they're hypoallergenic and have resistance to water and acids. Aviator glasses are available in incredible polarized options and lenses color option at Vlookglasses