Red Eyeglasses Frames Online | Vlookoptical™
Eyeglasses were mainly known to increase vision and perception from the time they were invented up. In the present day, eyeglasses are more than for vision only; most of them are used to showcase different styles and fashion. That is why you can see so many different types of eyeglasses on the market portraying various styles to suit people from all walks of life. The most common quality that portrays one's style is seen in the colored eyeglasses frames.
In this article, we are focusing on red eyeglasses frames online and how they make one look. The appearance of red glasses frames has so much to express your personality as well as your character traits without having to say a word. Most people choose the glasses for various reasons, but keeping up with style is top of the list on the reasons. Reading on to find out more about what red eyeglasses frames are and what they can do.
Red Eyeglasses Frames
If you browse through the internet to find out which eyeglasses are trendy right now, red eyeglasses will be at the top of your search. The main reason for this is that red frames on eyeglasses are exceptionally fashionable and are the perfect go-to if you are looking to heat up your look. Red has a way to express different emotions, personalities, and traits in people. That said, red frames can go with virtually every style, shape, and size of eyeglasses you prefer. With red glasses, you get an all the rage yet bold appearance and also a playful, retro, and even amorous look.
Red eyeglasses frames are a hot trend today and having a plethora of different styles around them, it is easy to get involved in the action. What's even more astounding is the fact that red glasses can move from different designs, shapes, and sizes to blend perfectly with your preferred style. Whether you prefer a geeky look or a more chic style, red glasses get your back.
People who wear red eyeglasses frames are perceived as powerful, energetic, determined, confident, and bold. These glasses are ideal for people who want to make a statement with their appearance and command respect without uttering a word. Among all the brightly colored eyeglasses frames, red is the most outstanding, with various shades, hues, and shapes to suit different people and general styles.
Let's discuss the different types of red eyeglasses in the section below to find out which pair matches your needs.
Red Round Eyeglasses Frames
Round glasses are often associated with antiquity and thus perceived as boring. What you don't know is that with a little bit of color on the frame, your eyeglasses shoot from being flat and boring to elegant and amazing. Red round glasses have this effect. Once you've determined that red is your color depending on your face shape and skin tone, then don't be afraid to try out the round glasses in this color. All the attention will go straight to your eyes and how beautiful they look. The good thing about the red round glasses is that they can be worn by anyone and still look young and beautiful.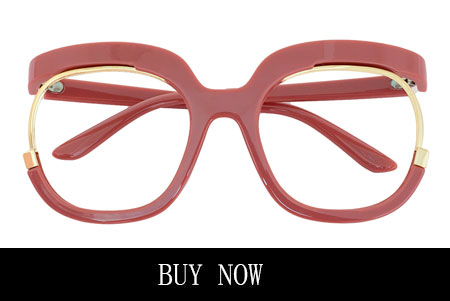 >
Red Cat Eye Eyeglasses
If you are looking for glasses that exude a fashion-forward attitude, you can never go wrong with the red cat-eye eyeglasses. They feature an inexorable retro style that blends well with modern styles. The best bit about these cat eyeglasses is that you can pair them with different outfits in your wardrobes, and you will still appear to stand out from the crowd. This design has a feminine vibe, making it the perfect choice for women looking to up their game in the fashion industry.
Red Plastic Frames Eyeglasses
Plastic frames offer an array of shapes and designs that will blend well with your specific style. Red plastic frames eyeglasses are particularly flexible in this scenario because you get to choose from the different red hues and shades. These glasses are not only trendy but also extremely comfortable since they have a lightweight design. Whether young or old, red plastic frames are the way to go.
Red and Black Eyeglasses Frames
Black has always been a universal design on frames because of several reasons. That is why many people always run to black eyeglasses due to the versatility they offer. However, black only doesn't make one stand out in any crowd. For this reason, combining black and red makes an extraordinary pair of eyeglasses. These eyeglasses portray different personalities as well as styles. You can easily match your outfit with your red and black eyeglasses frames if you want to stand out even more. These colors, red and black, are bold and exude confidence on their own; when combined to make one pair of frames, the results are unmatched.
Conclusion of Red Eyeglasses Frames
Eyeglasses have a way of communicating your style to the world without having to say a word. Therefore, bringing color to your frames shows that you want the world to notice your presence. That is why red glasses frames are the best option for those looking to make a statement with their general appearance. The good thing about red eyeglasses frames is that they never go out of fashion. You can change them up with different hues and shades of the same color to suit your mood. Here at Vlookoptical™, we strive to make sure you have the best of eyeglasses online. We feature plenty of red eyeglasses frames that come in various shapes, sizes, shades, hues, and designs. With that, we ensure there is something for everyone and that something is as trendy as it comes.
We understand that it is usually difficult to shop for your glasses online. For that reason, we have featured an article on our website showing you how to choose the color of your eyeglasses frames. Don't hesitate to get your pair that comes at an affordable price.