Plastic Glasses Frames With Two Tone
If you are looking for hot, trending, and bold eyewear, the plastic glasses frames with two tones come highly recommended. They are versatile and not gender or age-restrictive. The frame styles often feature a bold and dark color at the top with a lighter shade below to balance the bold look.
Some two-tone designs are different from this as some come with arms and frames in different colors, materials, or styles. Some others come with the two-tone at the front. This means that you have a wide variety of options to explore when it comes to plastic glasses frames with two-tone.
This post looks at some innovative two-tone frames eyewear that you can find on VlookGlasses that will suit your personality and style perfectly.
Two-Tone Glasses Black and Pink Rectangle – Arthur
According to fashionistas, black is the new bold. It has never gone out of style and it complements any outfit. It is hip, classy, and fashionable. When paired with pink as two-tone eyewear, you get to have the stylish Arthur from VlookGlasses. Arthur's frame is crafted with TR90 material, which is the most popular ultra-light frame material you can find.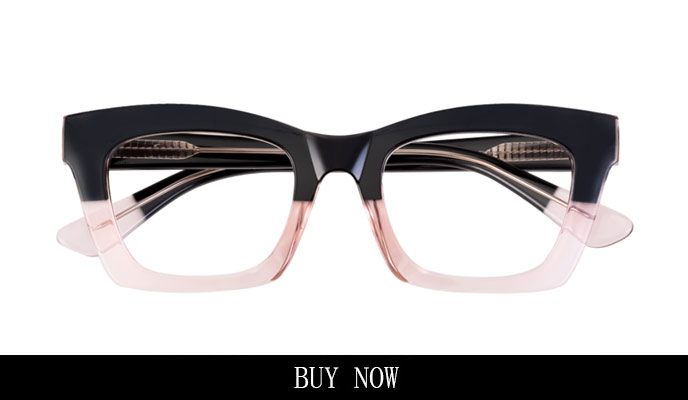 It is known for its extraordinary toughness and very low friction co-efficient. The simplicity and introverted design of Arthur reflect the stability and style of the piece. It is square with unique details and offers a stylish and classy look. Check this piece out on VlookGlasses online store.
Two-Tone Acetate Glasses – Sunrise
Sunrise from the stable of VlookGlasses is another classy example of two-toned eyewear. Spotting an oval shape, which exemplifies a perfect aviator glasses pair, Sunrise is the most striking pair of glasses that you would love. Apart from its classic aviator style, it also has a bigger size with transparent brown frames that makes it unforgettable from the first contact.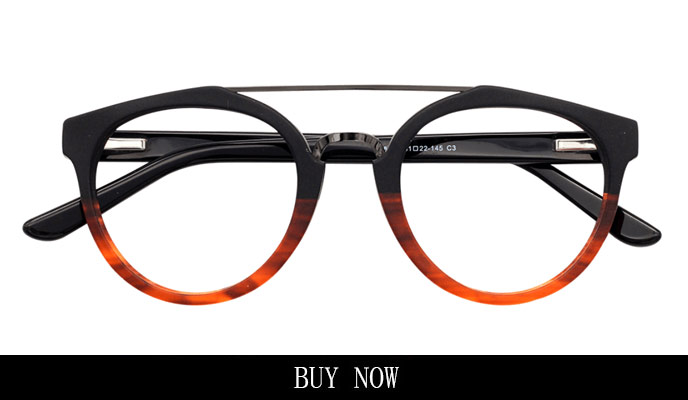 Each temple arm of the eyewear comes with the gorgeous color of a peacock and a double nose bridge design. It also features a unique acetate plain polishing with a flexible spring hinge, making it the perfect choice for any outfit.
Two-Tone Green and White Crystal Glasses – Bayley
If you want something out of the traditional black and brown two-tone glasses, Bayley is your go-to choice. Made of mixed materials, Bayley boasts of ruggedness and flexibility that is long-lasting. The eyewear comes with a transparent design, which is a big trend in 2020 and even now.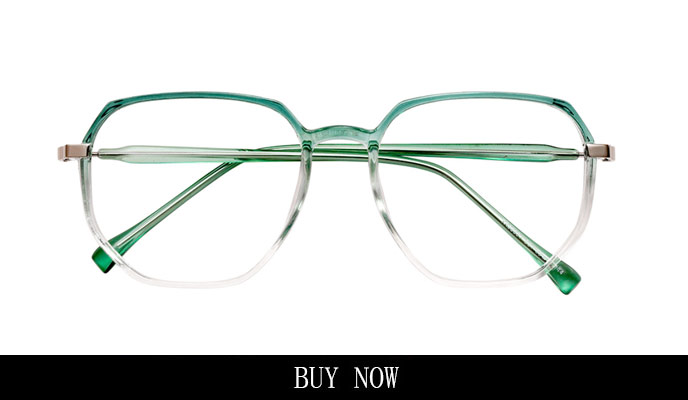 The frame's irregular design also gives it a stylish character that rubs off on the wearer in a good way. Wondering where to find this unique piece of eyewear? Check out the VlookGlasses online store to find the perfect piece for you.
Rectangle Grey White Glasses Two-Tone – Alvin
When you think of a fashionable nerdy look, Alvin comes to mind. If you want to make a fashion statement that says you are intelligent, sophisticated, and stylish, Alvin is the perfect eyewear to consider. Its simple structure gives off a low-key but bold personality. Although it looks light and delicate, it is very sturdy and reliable and it comes in a variety of colors.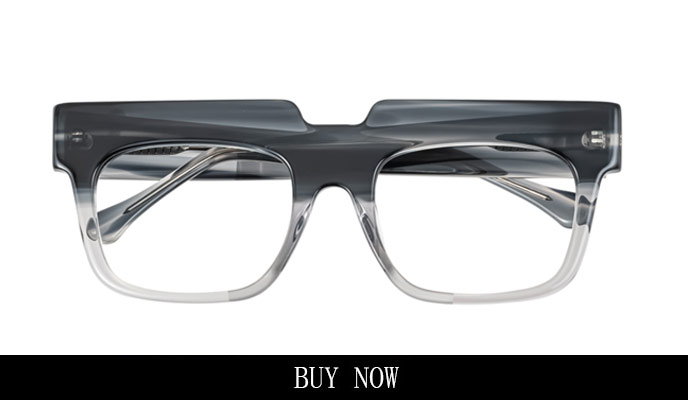 Whatever your gender, age, and personality, you can trust Alvin to give you the look you want to achieve. Whether you want to give off a look of maturity, youthfulness, youngster, or steadiness and calmness, Alvin is the perfect choice to consider.
Two-Tone Metal Green and Pink Glasses – Cherry
Reputed for its classy, trendy with a touch of simplicity, Cherry is a two-tone metal green and pink eyewear that you would want to have in your glasses collection. Made of a metal frame, it has the contrasting attributes of sturdiness but light-weight and fashionable but simple.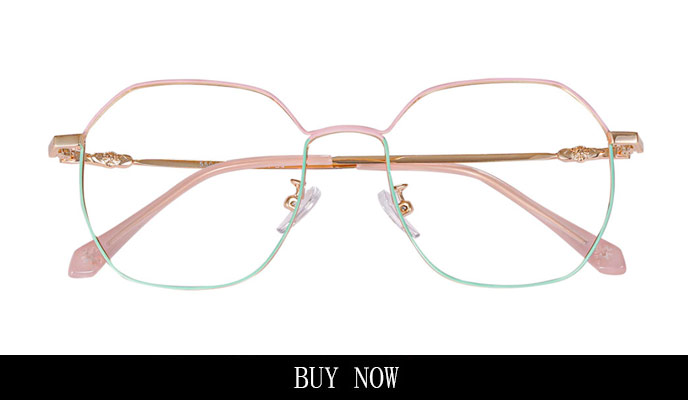 The frame comes green and pink and matches up with gold hinges. The one-piece design reflects absolute style and charm. The flower sculptures at the temple arms give it a delicate and elegant look that will suit any personality.
Cream and Black Glasses Two-Tone – Clair
Think of classic square frame glasses and you have Clair right there with you. Its classic design has remained trendy for a long time and adding it to your collection is a smart choice on your part. It comes in three different colors and you can be sure to find the perfect color that suits your temperament and fashion style.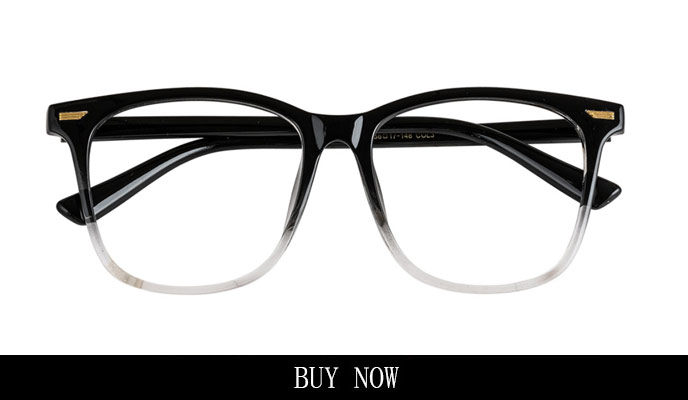 Clair comes with a gradual black gradient frame design that makes you look fashionable and unique, irrespective of your outfit. The transparent style gives off a look of stylish fashion that will stand the test of time. VlookGlasses has Clair in stock and you can check out the cream and black two-tone design for an absolutely gorgeous look.
Cat Eye Glasses Vintage Two-Tone Brown and Bling – Emma
Emma is an embodiment of calmness, affectionate, and warm light. The eyewear comes in two colors and fine flashes that will make you stand out in any gathering. The two-tone brown and Bling gives off a youthful and lively look with a feeling that you do not have any care in the world.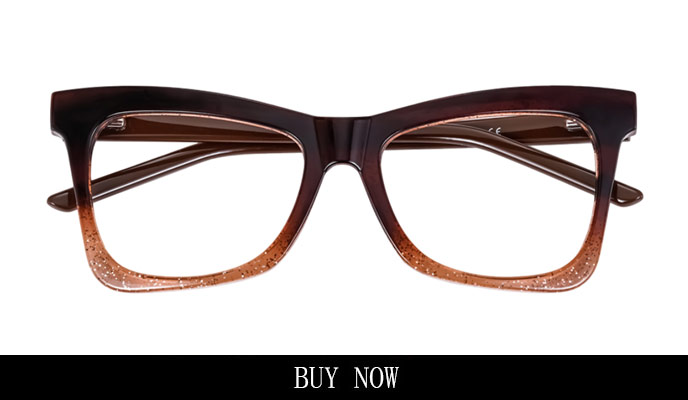 It also shows off a sense of generosity and simplicity that makes you look innocent, warm, and intelligent all at once. It is cat Eye shaped and the plastic material makes it very comfortable when you put it on. The concise and restrained design style shows off a slender side that makes the frame looks lithe on your face.
Two-Tone Black Tortoise Glasses – Bennett
If you like being the center of attraction, Bennett is a pair of eyeglasses that you need in your collection. The two-tone black tortoise glasses come in cat-eye and rectangle shapes. Its frame features abrasion resistance that is made of plastic, making it fadeless and light. The upper part of the frame is black while the lower part is a tortoiseshell.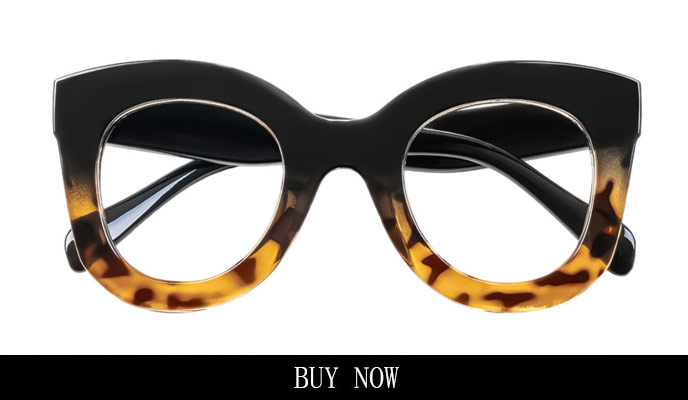 The combination of these two colors makes the frame very unique and highly attractive. Featuring an ornament at the frame temples, Bennett is designed to look bold and class without being monotonous. If you want other colors apart from black, you can find Bennett in red or blue also at VlookGlasses.
Conclusion of Plastic Glasses Frames With Two Tone
Two-tone glasses often come in the traditional variety of brown and black colors. However, you will find various contrasting frames with vivid colors, such as tortoiseshell, green, blue, pink, white, and more. VlookGlasses offers a variety of well-crafted two-tone glasses that are of high quality and rich in colors and styles at great prices. Check out the platform to explore a range of designs and colors that appeal to your fashion sense.