Oversized Prescription Glasses and Frames
Almost everyone, especially A-list celebrities, is making oversized glasses their best eyewear choice. This is because, unlike most styles of eyeglasses, oversized glasses are especially flattering to a wide array of face shapes and sizes. Many have further explained that these glasses provide better protection from dust and sun and also offer a broader visual field. While that is true, oversized glasses have a way of complementing the features on one's face, something that other frame styles struggle to achieve.
If you have heard about oversized glasses and frames but haven't tried them just yet, let's give you a reason to. Read on to find out more about this style of glasses.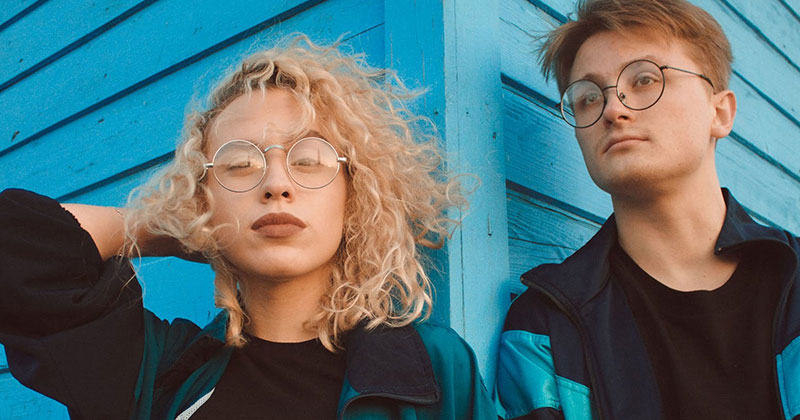 What Are Oversized Prescription Glasses and Frames?
Oversized glasses and frames are just as the name suggests, they have large lenses as well as frames. Most times, prescription glasses are used to improve one's vision and protect the eyes rather than make a statement while expressing one's style. However, both scenarios are put together to deliver comfort and style.
Getting the Right Fit for Oversized Glasses and Frames
Large glasses are often one-size-fits-all. Thus when you are interested in them, you shouldn't worry much about the fit. They are not your usual type of glasses because they are suitable for both broad or narrow faces and large or small faces.
While the oversized glasses are good and flattering, they also have their downsides if they don't get your PD right. If the glasses are too oversized for your face to handle, they tend to compromise your comfort, more so, your vision. The discomfort occurs especially when the eyes are not positioned in the middle of the lenses. That is why it is important to check for PD with your oversized glasses to avoid discomfort.
How can you do you check for PD? Easy. While facing ahead, your pupils should naturally find themselves centered horizontally in the lens opening part of the frame. The distance between the angle of your eye and the edge of the lens is supposed to be equal on both sides. What's more, your eyes should occupy the upper half of the lens while your lower eyelashes stay vertically in the middle of the lens opening. Ensure your brows are seen above the uppermost part of the frame. Getting oversized eyeglasses and frames that are well-proportioned wholly with your face is the best thing you can do to enjoy their goodness. (There is one blog to introduce how to measure PD)
Oversized eyeglasses and frames tend to be heavier. For that reason, make sure their weight is well spread above the bridge of your nose/ nose pads to guarantee comfort. If not, the oversized frames often put pressure on your temples, irritate or crease your skin. To do this, you should put on the glasses and smile widely. If the cheeks come in contact with the lenses, then that's not your fit.
For best results, go for oversized glasses that blend well with your face shape. Large, square, and rectangular frames are well-suited for round faces while oval and round frames for angular faces. However, if you want something new, you can always try experimenting with large glasses and frames.
The oversized glasses and frames come in various shapes and styles to meet the demands of every person who fancies the idea of eyewear. Keep reading to find out more about the different designs there are with oversize glasses and frames.
Purple Cat Eye Glasses Vintage Oversize
Cat-eye glasses in a vintage style are popular today, especially among the youth and celebrities. For more style, eyewear manufacturers have added more color and increased the size of both the lenses and frames. That is why you see many confident people rocking purple cat-eye glasses in vintage and oversize styles. They are stylish and boost the wearer's confidence.
Oversized Clear Glasses
This design of glasses is oversized with large frames that are transparent. If you are looking to add more fun and style to your overall look, then oversized clear glasses are the perfect go-to. Clear frames have been on the market for quite some time now. However, it was until recently that the oversized options became popular. The good thing about these glasses is that they are suitable for both male and female wearers. Clear glasses are sometimes called colorless, transparent, or translucent glasses.
Women in Oversized Glasses Images
While oversized glasses are a thing for everyone in the world, women tend to look smarter and better when they have them on. These glasses have a way of flattering the shape of a woman's face and complementing the facial features. Scroll below to see women in oversized glasses images.
Men's Oversized Black Frame Glasses
Both men and women have embraced the use of oversized glasses and frames. However, some colors are suitable for each gender. Black oversized glasses frames are ideal for men especially those who are looking to make a bold statement with their overall appearance. As you can see, there is something for everyone in the field of oversized glasses frames on this website.
Conclusion
Oversized prescription eyeglasses are trending today and with good reason. Besides bettering one's vision, they protect your eyes and generally enhancing your appearance. Although oversized glasses have been with us for a while, they are now popular for the different designs and styles they portray. If you are looking to have a statement-making look, then going for oversized glasses and frames is a good choice. In addition, they boost your confidence while providing additional comfort if you choose the right fit.