Colorful Eyeglasses Frames - Multi-Colored Eyewear | Vlookoptical™
Why be bland? When you can look sophisticated yet classy at the same time just by wearing eyeglasses. Eyeglasses are the fashion accessory that helps you in making a style statement. Nowadays, people do not wear eyeglasses as vision correctors, but they opt for them to look trendy and bold. Not to mention, eyeglasses showcase your personality in an entirely different light, while the colors you pick reflect your personality traits.
Keeping in view the preferences of fashion freaks, opticians have made numerous options available for eyeglasses wearers. Among all the trendy specs, colorful frames are in high demand. People are opting for funky colorful frames to stand out from the crowd. Whether you want colorful frames in prescription glasses or looking for tinted glass to look classy - Vlookoptical has got you covered.
But bear in mind, buy an eyeglass frame is a daunting task. The decision to pick up colors and style is simply outrageous. However, people have preferences, but the majority opt for the eyeglasses that are in vogue. Today, bright-colored glasses are in fashion, and people are going crazy about colored prescription spectacles.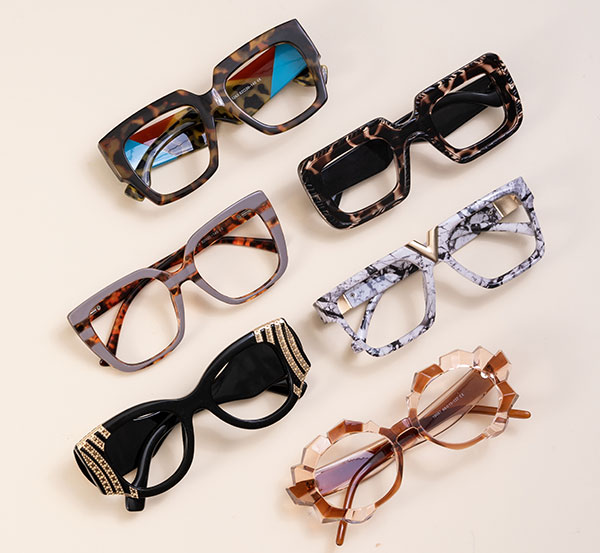 If you are planning to buy eyeglasses any time soon, why not have a little fun with your eyeglasses frame? But if you think you can take a fashion risk on your own, let us help you decide. Let's have a look at different colorful frames that will not only make you look modern but will also help in making you look younger.
What Color Frames Make You Look Younger?
Indeed, the style you carry makes you look younger or older than your age. So, if you are among those who want to look younger - colorful eyeglasses can serve the purpose. The color you pick can change the entire perspective of your personality for others. Not just this, different colors create different viewpoints and expressions. Here are some unique colors and how they can characterize your personality differently.
Yellow: Such colorful frames make you look cheerful, and if you have a joyful personality, this color should be your choice. However, it is the color of energetic, upbeat, and creative thinkers. So, if you think you are among those, get your hands on it immediately.
Red: Even this color can be your choice if you want to look younger or fresh. It is an exuberant color that brings you into the limelight. On the other hand, red gives you a confident feel while making you look bold and powerful.
Keywords: colorful frames; eyeglasses; prescription glasses; tortoise frames
Blue: This color works best for the people trying to cope up with your grey hair. With blue color glasses, you can flaunt your old hair as it complements greys in every way possible. Besides, both and women can pull off this color confidently - it goes well with almost all the outfits and looks. Amazingly, this color can easily be found in frames of your choice.
Multi Colored Prescription Eyeglass Frames
People may wear eyeglasses to correct vision or as a fashion accessory, but there is one thing in common among all the eyeglasses wearers - they want to look great in the glasses they pick. Here multi-colored prescription eyeglasses can help; they make you look elegant yet stylish both at the same time. There is no second thought about it that the bold and chic colored patterns with flawless design and styles turn heads while making you look different. The multi-colored prescription eyeglasses go perfectly well with people of all ages while balancing the bold look. Moreover, multi-colored eyeglasses add colors to your personality, which makes you look lively.
Rainbow Eyeglass Frames
Multi-colored eyeglasses have many variations, and rainbow eyeglasses frames are among them. Rainbow frames give you a sparkling four-season touch with an entirely different look. Not just this, signature prints inspired by the rainbow make you look trendy while enhancing your vision. Don't forget, the glasses you wear tell a lot about your personality - so, choose wisely. It is the perfect way to showcase your inner rainbow. Just like other glasses, rainbow glasses are available in almost all frames styles and designs. Moreover, such glasses bring about positivity in your personality while making you appear more vivid.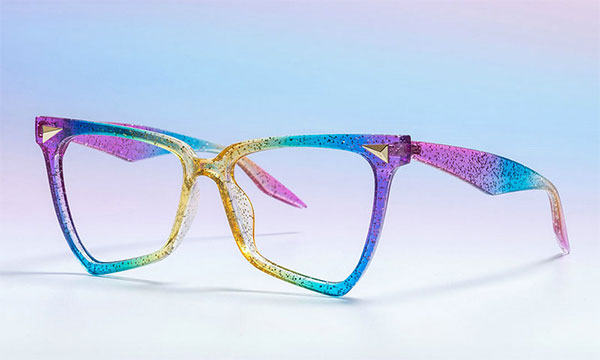 Multi Colored Tortoise Eyeglass Frames
Just like rainbow eyeglasses, multi-colored frames are available in tortoise patterns as well. Both men and women can wear them quickly as it complements both genders. Tortoiseshell patterns have spots of honey, amber, and brown shell on it. Recently, trendsetters have come up with floral twist which gives you a contemporary look while making strong statement. Hipster-geek and retro-vintage frames are happening right now, and you seriously can't miss out. The shape gives structure to an eyeglasses frame; however, the color fills it with energy and life.
The Bottom Line…
Color defines you as a person and which mood you are in. From essential black, brown, white and blue, you will find various eye-popping colors like bright yellow, red, pink, purple, and many more. Besides, every color has its charm and attraction, but before picking up on any specs, make sure it suits your personality.