Black And Gold Eyeglasses For Men Women | Vlookoptical™
It's time to say bye to your dull and boring self with stylish black gold eyeglasses. Eyeglasses nowadays serve as a vision corrector while making you look modern. Not just this, it transforms your attitude, outlook with self-image. Look around, and you will see every other person with different specs depending on their face shape. You must be wondering what role face shape plays in picking up eyewear. Let us break the ice for you. On every face shape, you must wear what looks good on you.
People have different face shape like square, circle, oval or diamond-shaped face and for each face shape, the opticians have other eyeglasses. The ill-fitting eyeglasses cannot steal the spotlight for you. Hence, it is necessary to opt for glasses that complement your face shape, skin tone, eye color, and the style you carry.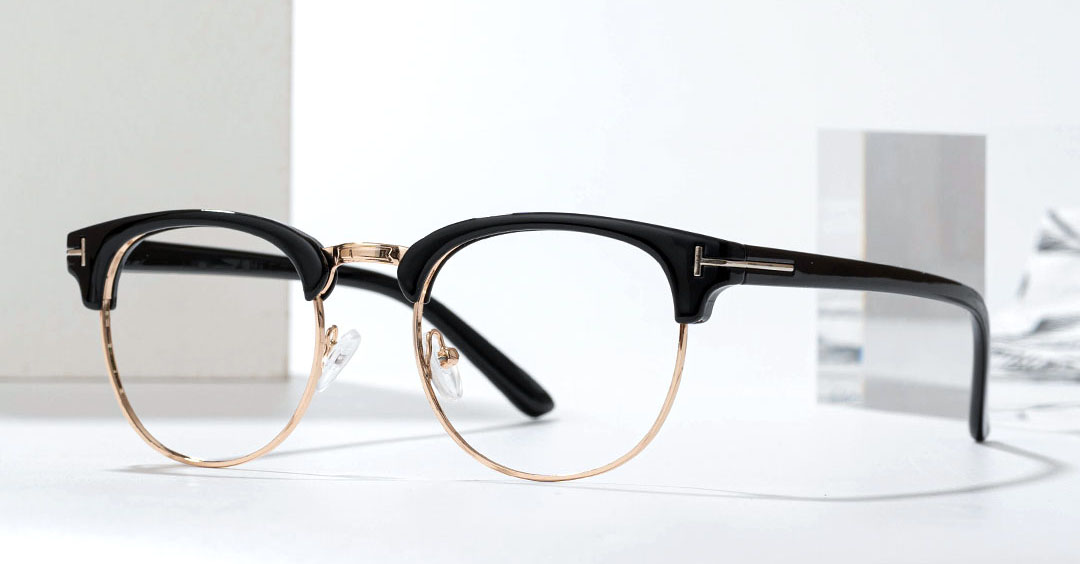 Besides, with time the trend is changing. People used to wear glasses in one tone in the old times, but now people pick glasses that have some texture or colors in them - just like tortoiseshell eyeglasses. Considering the demand for eye wearers, Vlookoptical has come up with a new pair of eyeglasses with the name "Black gold Eyeglasses". Both men and women can easily pull them off at parties or formal meetings.
The new trendy specs are available in a wide range of colors, designs, shapes, and patterns. If you want to explore more about black gold glasses, keep reading the article. We have gathered some valuable information for you.
Let's dig in…
Blackgold Eyeglasses for Men
Just like other glasses, black gold glasses are available in almost all shapes:
1.Semi-Rimmed
These glasses are among the most popular styles in the market. They have gained momentum over the past few decades. Semi-rimmed glasses are best for people looking to create a unique look with a modern touch. Not just this, its half-frame in gold creates a dramatic look for you that enhances your features.
2.Thick Rimmed
With a trendy look, thick-rimmed glasses are durable too. Thick-rimmed glasses in a black gold frame give you a sophisticated look while making you look bold. Best for business meetings and informal meet-ups, they're standing still and will surely be in fashion for years to come.  
3.Classic Style
They're making a comeback, and with black gold glasses, they're redefining the style. The black in the frame highlights the beautiful eyes, whereas the gold makes you look stunning. Blackgold frames in the classic style are signature accessories for people who want to make a style statement.
Eyeglasses For Women Black And Gold Frame
We know women opt for different stuff. Explore black gold glasses for women below:
1.Oval Glasses
As we discussed earlier, when it comes to picking out the right pair of specs, find the one that suits your face shape. If you have a diamond face shape, black gold glasses in oval shape will look flawless. However, it entirely depends on your choice whether you want to opt for a thick frame or rimless frame.
2.Horn-Rimmed Glasses
If you want to create a vintage look but differently – try horn-rimmed glasses in black gold. These glasses are similar to cat-eye frames. This shape of glasses balances out the angles while drawing the attention away from your jawline. Besides, these glasses give you a traditional look with a stylish touch making your first impression count.
Black And Gold Aviator Eyeglasses
There is no need to mention that aviator glasses are famous for their classic looks. Moreover, they are available in a variety of colors – both frames in glasses. But keeping in mind the sophistication, fashion freaks have come up with a new variation in aviator glasses. They have recently introduced black gold aviator glasses.
This color will draw attention to your face while giving you a completely different look. Its large teardrop lens, prominent double bridge, and metal frame in black gold create an iconic look. Whether you are looking for frames to wear in the daytime or night, black gold aviator eyeglasses should be your choice.
Black And Gold Clubmaster Eyeglasses
These glasses present an intelligent yet timeless concept showcasing style and character. And its new variation in black gold, featuring half framed design, gives you a look that turns heads. On top of this, these retro eyeglasses are inspired by the style in the 50s, and indeed it is making a solid comeback. Usually, such eyeglasses are worn by intellectuals. Not just this, youngsters who want to stand out of the crowd also pick clubmaster eyeglasses.
Apart from the frame, you can get the glasses tinted in colors you like. Its fine details, vintage look, and classy feel make it the best choice for fashion lovers. Undeniably, it is one of the most famous designs in eyeglasses, and often it is sported by famous actors, celebrities, fashion icons, and singers. Furthermore, these fashionable glasses draw attention on their own – however, there are many different ways to style them and look elegant.