How to Clean Your Glasses Rightly?
One thing that glasses wearers must do is to clean glasses. Clean glasses correctly will help them keep in good condition, find out the problems of glasses in time, and make glasses play a better role, avoiding the harm to eyesight and eyes. Do you clean your glasses rightly every day?
Right steps of cleaning glasses:
It is not a tedious and difficult task to clean your glasses. Follow these tips to clean your eyeglass lenses and frames without risk of scratching the lenses or causing other damage. These cleaning tips will help you keep your glasses in great shape, too.
1.Before cleaning your eyeglasses, make sure your hands are free from dirt, grime, lotion and anything else that could be transferred to your lenses. Use lotion-free soap or dishwashing liquid and a clean, lint-free towel to clean your hands.
2.Put the glasses in a sink with warm water; avoid using overheated water to clean glasses, so as not to destroy the lens layer.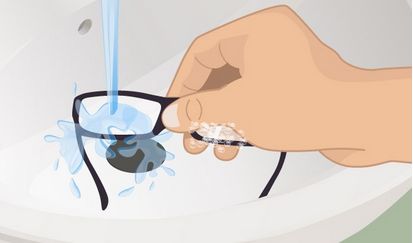 3.Put a drop of mild detergent on the lens or a drop or two on the finger.
4.Rub the lenses, nose pads and the end of the temple arms with your hands gently, but nothardly. At the same time, clean the edge of the lens and frame border, since skin grease and dust often hide in small cracks.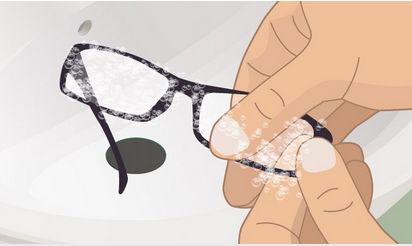 5.Rinse both sides of the lenses and frames carefully and thoroughly, otherwise thedetergent stains will remain after the lenses are dry.
6.Gently shake the glasses to eliminate most of the water from the lenses.
7.Wipe the lenses with a cloth without cotton dust or tissue to remove residual moisture and carefully dry the lenses and frames.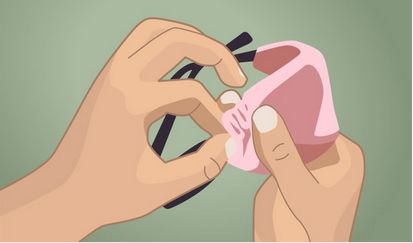 Little Tip: The following cleaning methods are incorrect, which will damage the lenses and cause coating scratches and other problems.
Clean lenses directly with a shirt or other cloth, especially dry lenses;

Use household glass cleaner or surface cleaner to clean glasses, which may damage the coating.

Wipe the dry lenses directly with tissue; there will be particulate matter on the surface of the tissue that cannot be seen by the naked eye. It will lead to lens scratches and other problems, and will leave paper scraps on the lens.

Wipe the lenses back and forth. Actually, wipe the lenses towards one direction is correct.
How to store glasses correctly?
Frequent removal of glasses may make most people tired of storing glasses, but correctly incorporating glasses can greatly prolong the lifespan of glasses. Therefore, when you do not use glasses, properly collect them to avoid lens scratches and stains.

When taking off the glasses, do not put the lenses downward, but should put the temple arms downward.

When you don't use glasses, put it in a glasses case. If there is no case available, wrap it in a soft cotton cloth and place them properly.

When sleeping, remove glasses and place it in places where it is not easy to fall, such as bedside table. Prevent extrusion while sleeping.
Buy frame at VlookOptical.com, get FREE blue light blocking lenses with water-resistant coating, which will dry immediately after washing with detergent and throwing off. And there is no need to wipe!