How to choose the suitable frame
People used to buy expensive glasses from local optical stores, so they can try the glasses on and experience the material, size, shape of glasses. However, is buying glasses online as good as buying glasses from optical stores? Don't worry, in order to cater your personal needs, we created our Frame Measurement Guide to find ideal and the most flatting eyeglasses for you. In this platform, we provide the frame measurements for you, in which way, you can find the right size fit. In addition, we offer low price but high-quality glasses, so you can save a bundle from Vlook.
Follow the guide below to measure the size of your glasses. After, you determine your frame measurement, you can select the style of glasses you want, then, let's learn the meanings of each data on the frame and find the perfect glasses for yourself.
How to Read Frame Dimensions?
In most case, your glasses may have numbers printed on the inside of the temple arm, which indicates three frame dimensions. Note: all this numbers are in millimeters. From left to right is lens width, bridge width and temple length.
Lens width: This is the first number appears on your frame dimensions which measures the entire horizontal width of each lens at its widest point.
Bridge Width: This is the second number appears on your frame dimensions which measures the distance between your two lenses.
Temple (Arm) Length: This is the last number appears on your frame dimensions which measures length of the front of the frame on either side from each screw to its temple tip, including the ear bend.
The number that are not printed on the temple of your glasses:
Lens Height: This is the vertical height of your eyeglass lenses. The lens height is important when measuring bifocals or progressive lenses.
The Frame Width: measures the entire horizontal front of the frame, from the furthest extended point on either side.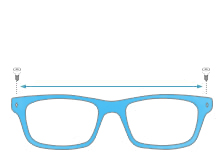 Now that we have learned about the frame sizes, how we can select a suitable frame?
Generally, we recommend you to figure out the suitable frame size in three ways:
1. Check the size data of you-already-have glasses inside.
2. If the data is fuzzy, meaure the size by a ruler.
3. Go to the shop to try on and write down the suitable size.
Glasses Size Chart and Filter Function
Vlookglasses provide 4 different frame size Extra-small, Small, Medium, and Large. Each size group is based on frame width. Choosing the right frame size is important for you to make sure the new glasses fiting your face perfectly.
You can use the filter function to select the most suitable frame.