Clear Eyeglasses Plastic Frames
The days are gone when people used to wear boring eyeglasses meant to save the failing vision – specs are now a fashion statement. Many people now wear them despite having perfect vision. It is considered as trendy yet attractive accessory that enhances your overall look while adding value to your style statement. Whether you wear specs with prescription lenses or just as a fashion statement, it gives you a fresh look.
From the past few years, eyeglasses have become a "Must Buy" accessory. Either you are a student who wants to impress their fellows or a businessman who wants to look passionate – perfect pair of eyeglasses can do wonders for you. Since there are uncountable options available in the market, you may get confused. So, to help you buy gorgeous pair of eyeglasses, we have gathered some insightful information for you; keep reading!
What Glasses Are In Style 2021 Women's?
There are a lot of stylish specs available in different materials, shapes, and sizes that favor the bold. But if colorful or bigger isn't your thing – clear glasses in plastic material should be your choice. If you think that clear eyeglasses are boring, let us break the ice for you. From the last few decades, fashion brands have introduced the revamped classic shapes that make you look different and stylish at the same time.
Among all those trendy specs, clear glasses are the ones that have gained popularity. Every other person nowadays buys clear glasses as they give you a sophisticated look without hiding your features. However, with such a change in fashion trend, it is no surprise that even plastic material is available in a wide of colors and sizes – opt for the ones that go with your personality.
Clear glasses are not the only ones that are making big in 2021; cat-eye, oversized and geometrical are also trending for both men and women. While clear eyeglasses have been around for a while now, they have become another option for making a style statement. Not just this, transparent frames create a more exquisite look, and if you buy bold-colored rims, that would surely help you stand out from the crowd. Clear glasses have multiple benefits; they are almost invisible from a distance and see-through. In case you want to add a touch of fun, buy a transparent frame that features a hint of color.
Such glasses types suit almost every face shape. Whether you have a round, oval, or square face shape, clear glasses are best of all. On top of this, clear specs complement all complexions, and you do not have to worry about your glasses clashing with your outfit or look.
The list of advantages does not end here – unlike other specs, clear eyeglasses are durable. They do not just give you the freedom of wearing the outfit in any color; they are economical as well. As far as the lenses are concerned, they can easily be swapped when needed. To be more specific, its transparency makes it more durable as they do not fade like the other plastic ones. Whether you want to dress to impress or you want to create a subtle look, clear glasses will surely ace the job.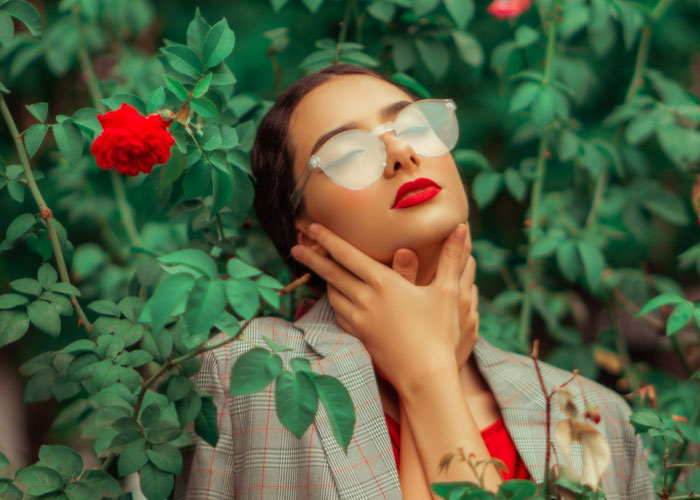 Clear Eyeglasses for Women
1.Women's Clear Rectangle Eyeglasses
Just like other materials, clear glasses come in different shapes and sizes. The rectangular glasses in plastic material give a sophisticated yet modern look. Not just this, they are suitable for almost every face shape. There is no doubt that rectangular eyeglasses have a business-like appeal, and our collection of daring colors will help you make a strong statement.
2.Women's Clear Round Eyeglasses
If you think frames in rectangles won't look good on you. You can opt for round eyeglasses; they can be subtle style enhancers or statement makers – depending on the look you choose. On top of this, round eyeglasses add intellectual charm to your personality, making you look more professional.
3.Women's Clear Cat Eyeglasses
Cat eyeglasses give you a glamorous look with glitzy touch. Its bold curves, sharp looks, and vintage aesthetic hold a universal charm. With a cheeky sense of humor and old-school appeal, cat eye glasses create a refreshingly unique look. Not just this, it gives you a dramatic look while complementing the wearer's cheekbones and eyes.
Clear Eyeglasses for Men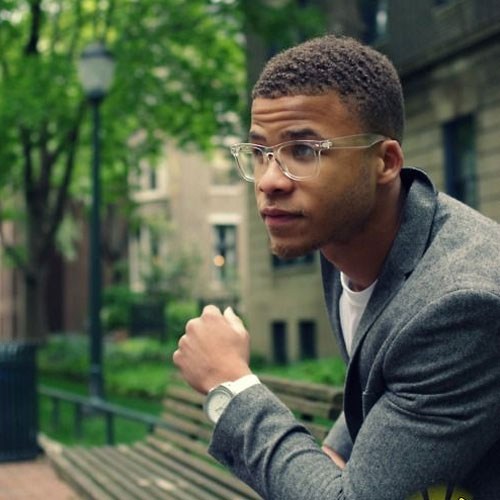 If you want to know a new and popular trend in men's eyeglasses frame styles, you are at the right spot. Transparent frames are the ones that have gained popularity from the last few years. Beyond the trend, clear eyeglasses are the best and stylish pair for men who want to look sophisticated yet fashionable. They are almost invisible from a distance; such frame has a funky vibe that gives you a bold look. Not to mention, they have been around since forever, but from the last few years that have gained much popularity, as celebrities and late-night TV hosts are supporting them. As we have discussed already, clear glasses go perfectly with all the complexions, face shapes, and outfits. So, if you are looking for clear eyeglasses, look no further Vlookoptical has got you covered.