Best Glasses for Blonde Hair - Vlookoptical™
When shopping for eyewear in any store, you are taken through long fitting processes and picking the right frame for your face. This is normal everywhere to ensure you are satisfied with your purchase. To make it easier, eyewear manufacturers devised ways to determine the best eyewear that matches your face.
The major factors affecting how you wear your eyeglasses include face shapes, eye color, complexion, and hair color. Doing this has greatly minimized the number of hours spent at the eyewear store looking for the perfect glasses frames. What is more, it has further simplified the buying decision with all the information available online about glasses worldwide.
In this article, we discuss the color of glasses frames that go well with blonde hair. Here, you get to know the different designs and colors that correspond with your blond hair and how you can style them for a sophisticated allure.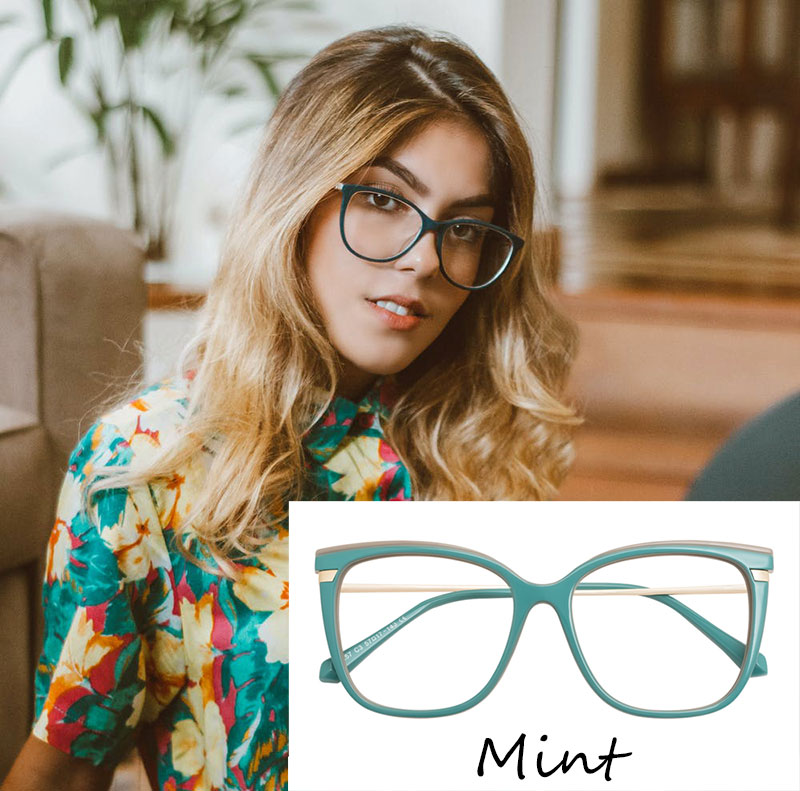 What Colour Glasses Look Best On Blondes?
Let's start with the common black frames glasses. You can never go wrong with black frames for different skin tones and hair colors. This is because black matches virtually every hair color and complexion. In as much as it may seem common, black frames on blondes portray massive boldness and confidence. Black frames display an intellectual appearance while remaining stylish throughout.
In a similar fashion, cool colors on glasses frames are ideal for blondes because they accentuate the features on the face, and also display boldness. Navy blues and deep purples are just the perfect combination of glasses frames for blonde hair that deliver a statement-making appearance.
With warm blond hairs (honey-like hair or with bronze undertones), they also have their corresponding color of glasses frames. This category includes golden hair and dirty blond, which is usually darker than the actual blonde. Here, going for shades of brown, pink, and pastel reds is most ideal.
Cool blondes, on the other hand, have their blonde hair on the lighter side of the spectrum. Here, the perfect match is those dark-colored frames we have mentioned in the above section. Lack, deep purples, and cool pinks heighten their overall appearances.
Matching Your Eye Colour To Your Frames
Oftentimes, when picking the color for glasses frames, we tend to forget this important aspect of eye color. The color of the eyes also plays a huge role in determining the frame color of your glasses. There are blue, hazel, green, grey, brown, and black eye colors. So, if you are going to choose your frame colors, ensure to take your eye color into account.
Best Glasses For Blonde Hair & Blue Eyes
Mostly, vivid eye colors, i.e., blue and green benefit from wearing glasses frames in the same color or warmer shades. In this case, blondes with blue eyes look spectacular wearing blue color glasses frames like our Hector and Event on VlookGlasses. The blue color frames help bring out the blue eyes while providing a cool appearance that contrasts the blonde hair.
Still on the blondes with blue eyes, pairing with tortoise frame bring out a sense of style and belonging in the fashion world. Aside from being the latest trend in eyewear, tortoise frames provide an extensive array of striking color patterns. Here on Vlookoptical, we combine great design and color to ensure there is something for everyone. For instance, Michel presents both plain blues and tortoise that make a perfect match for blue-eyed blondes. Hulda and Victory are equally as good a choice for blondes with blue eyes.
Glasses For Blondes With Green Eyes
Blondes and green eyes make such a unique and beautiful combination. However, when it comes to styling eyewear, you have to ensure the colors combine in perfect harmony. Earthy browns, as well as golden tones, bring a nice contrast with green eyes. Tortoise frames fit right into this category such as theseChinchilla, Fiona, and Lois on our latest glasses frames collection.
Olive garden glasses are also an ideal combination for blondes with green eyes. You will perfectly rock the Sharp, Lily, and Victor from our VlookGlasses selection. What's more, you can add a bit of deep pinks and purples to brighten up your facial features while staying in line with your blonde hair.
Glasses For Blonde Hair & Brown Eyes
Most people fit into the brown eyes category, but blondes make them unique. That said, brown-eyed blondes have a wide range of color glasses frames to choose from. This ranges from plain colors to more complex designs such as lavender, olive, or salmon frames.
However, if you want a bold and statement-making appearance, sticking to plain black and brown glasses frames is most ideal. The dark colors of glasses frames pop your brown eyes while contrasting with the color of your hair. This, in turn, provides an outstanding overall look. Arya, Knight, and Ivan are a perfect match for this category.
Conclusion Of Best Glasses For Blonde Hair
Eyeglasses add a sense of fashion to our overall appearance besides protecting our vision and rectifying eyesight. For this reason, you should aim to look good while staying chic. So, if you are blonde or decide to wear your new look, we have your back. Our glasses collection comprises plenty of color options for your frames that match your blonde hair.
As mentioned at the beginning of this article, many people spend a lot of time finding the right fit for their glasses frames. The good news is that here at Vlookoptical, we offer remote fitting on our website. We do this using our Virtual Try-On Tool here. This tool measures your facial dimensions accurately to make your shopping experience fast and smooth. You simply upload your photo, then the tool tries to fit the glasses you have chosen to see if they match your face.