Best Glasses Styles For Men's Face Shape | Vlookoptical™
With endless possibilities when shopping for men's eyeglasses, the process of finding the best option can be daunting. There are numerous styles, shapes, and colors to explore. Interestingly, one thing that every shopper of eyewear has in common is the desire to find a pair of frames that is trendy. No one wants to wear eyeglass that makes them look like something from the 80s magazine.
With the ever-changing trends in the world of fashion accessories, choosing the right frame becomes more challenging. The good news is that you can work around it. Choose an eyeglass frame that suits the shape of your face and you would be fine.
With this, you avoid the problem associated with the fast-paced changes in the world of fashion while maintaining a pair of eyeglasses that suits your face shape for long.
How to Choose the Right Eyeglasses for Your Face Shape
The first step is to identify the shape of your face. When you do this, it becomes easier to choose the right spectacles whenever you are shopping for eyewear. Thankfully, technology has made the process very simple. Some apps let you upload your photo to determine your face shape.
If you do not want to go through this route, you can take a picture on your device and use an e-pen to trace the highlight of the shape of your face. With this, you can get your correct face shape. There are generally five types of face shapes and they include Oval, Square, Round, Heart-shaped, and Diamond.
This post looks at the process of finding the best glasses styles for different face shapes for men. Let us get right into the detail.
Men's Glasses Frames for Oval Faces
An oval face shape is widest around the cheeks and narrower around the chin and forehead. This face shape is pretty common and rectangular frames will look great on it. You can choose eyeglasses with an angular shape to complement your gentle facial structure. Some great rectangular design frames that you can find on VlookGlasses include Ring, Lily, Mole, and Skye.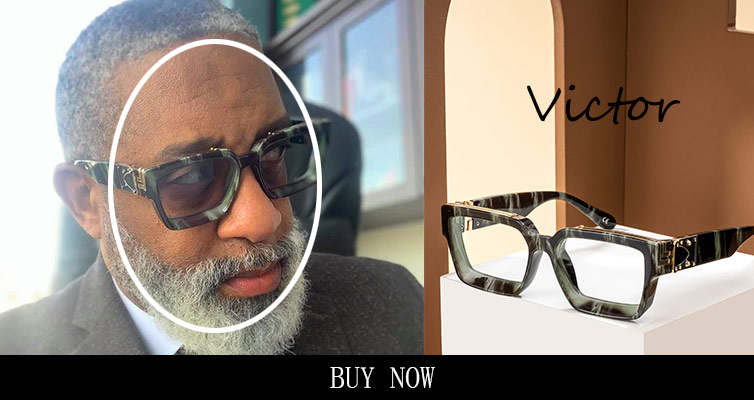 If you want something bold and brave, you can explore a frame that has a strong browline. A round pair of glasses will give you a bolder and more creative and aesthetic look. These are perfect for regular wear. Some pairs that you can find on VlookGlasses include Ivan, Eva, Vannessa, Aiken, Chestnut, and Bill, among others.
Men's Glasses Frames for Square Faces
A square face shape has a lot of similarities with a round face. They both have equal height and width, and the features have sharp angles with a strong jaw and broad chin. If you want to soften your look and give a gentle impression, round frames would look divine on you.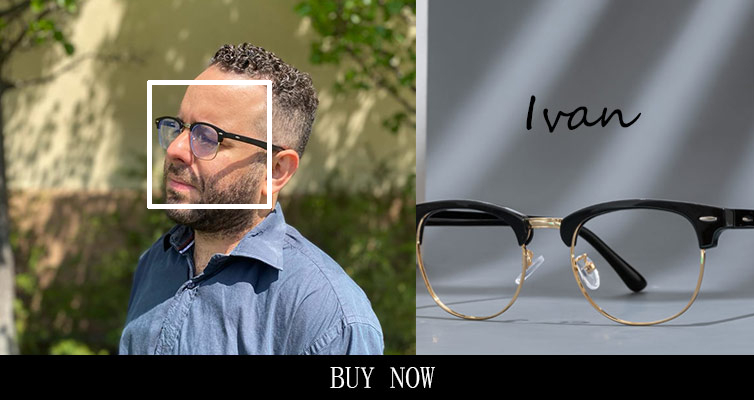 However, if you love the strong profile that your face shape gives you, you can explore square-shaped glasses to achieve an imposing, bold, and confident look. However, ensure that the frames you choose are large with even width and height. Choose slim frames as dark and thick frames will give you an overpowering expression, except that is the impression you want to create.
However, you should note that choosing such frames would detract from your general appearance. Therefore, stick with slim pairs. Some great options you can explore include Arda, Ethel, Becca, Bernard, and Carlson from VlookGlasses.
Men's Glasses Frames for Round Faces
A round face has the same height and width with curvy cheeks and chin. The general appearance of a round face is soft and you are likely to have a dimple on your jawline or softer cheeks. For this face shape, square eyeglass frames would be the best glasses styles to choose. Rectangular and flat pairs will make your face look thinner and longer.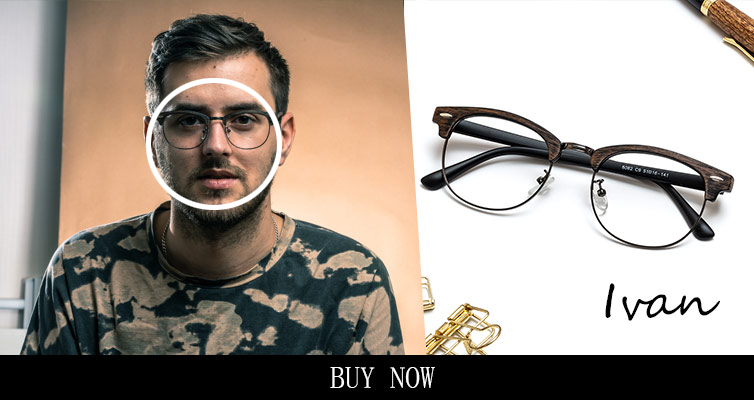 Angular eyewear with straight edges contrasts your rounded facial structure nicely. If you have pale skin, you may want to consider square tortoiseshell eyeglasses to get a classic look. However, if you want something that will make you look neutral without the color tones; you can consider monochrome acetate, such as Flame from VlookGlasses.
Men's Glasses Frames for Heart Faces
A heart-shaped face has wide cheekbones and a narrow chin. The definition of a heart-shaped face is the irregular V-shape hairline of the face. It shares a lot of similarities with an oval face but the hairline gives it more firmness, which categorizes it as a heart-shaped face. The exciting thing about this face shape is that it is adaptable, which means you can explore many options of eyeglasses.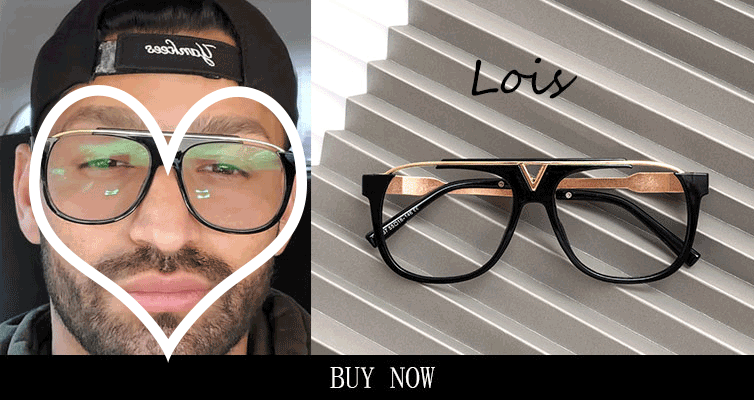 In most cases, your personality and fashion style will determine your choice of eyewear. You may want to consider rectangular or square eyeglasses to create balance for your hairline. Some great styles and designs that are available on VlookGlasses for this face shape include Esme, Ring, Event, Arthur, and Terence, among others.
Men's Glasses Frames for Diamond Faces
Diamond face shape comes with narrower chins and foreheads and full cheeks. When choosing men's eyeglasses for this shape of the face; more rounded and lighter options are mostly recommended. If you want to add a bit of weight around the top of your face, browline styles of frames would also not be a bad idea to get a balanced look.
VlookGlasses has exciting options that you can explore and some great choices you can consider include Simen, Vannessa, Adrian, Chaz, Coral, and Pompous, among others.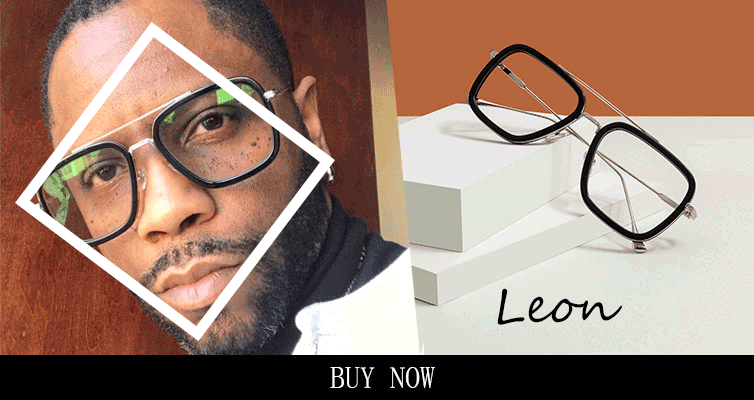 Conclusion of Best Glasses Styles For Men's Face Shape
Choosing the best glasses styles for men's face shape does not have to be difficult. If you know your face shape, half of the problem is solved. All you have to do is choose the perfect design and style that suits your facial structure. This post looks at different face types and eyewear that suit each of them. All these styles of glasses come in different materials, colors, and sizes.
This means that irrespective of your color preference or design, you are sure to find a great choice that will fit your needs. You can check out numerous collections of eyeglasses for men that are available on VlookGlasses.